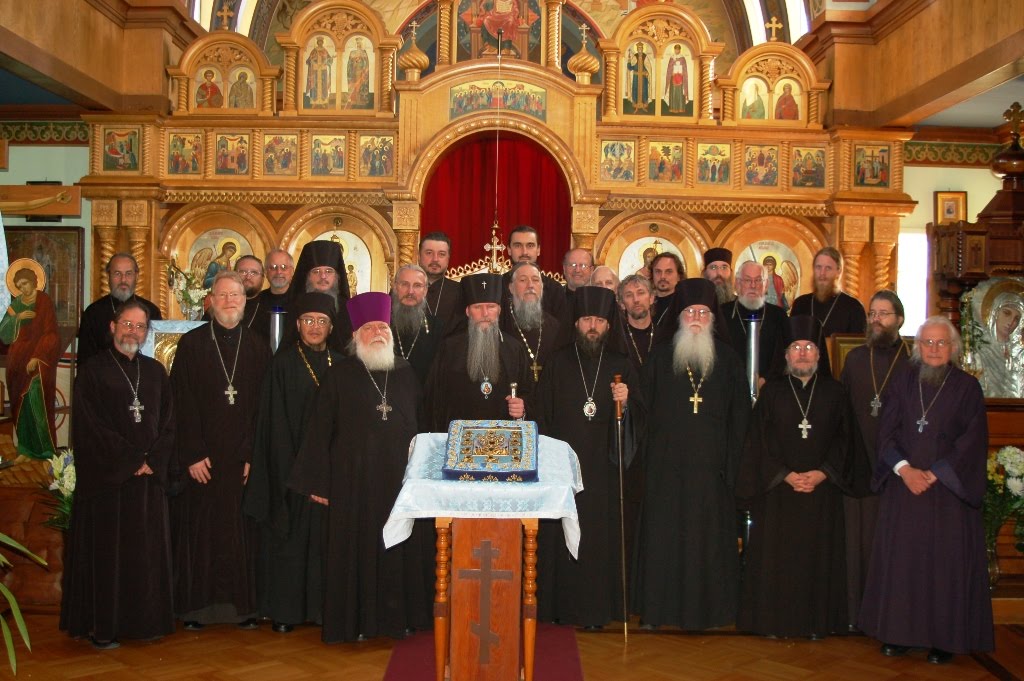 Glory to Jesus Christ! Glory to Him forever!
Saints of the Day
October24 / November 6. Martyr Arethas and those with him, including Martyr Syncletica and her two daughters. BlessedElesbaan, king of Ethiopia. St. Athanasius, Patriarch of Constantinople. St. Arethas, recluse of the Pskov Caves. St. Sisoes, Schemamonk of the Kiev Caves. St. Theophilus the Silent of the Kiev Caves. St. Senoch, abbot of Tours (Gaul). New-Martyr BishopLawrence of Balakin (1918). Icon of the Most Holy Theotokos The Joy of All Who Sorrow. ) Repose of Blessed Elder Zosimas (Verkhovsky) (1833)
Photo of the Day
Pastoral Conference participants.  (Click to enlarge.) Quote of the Day
"- I think about…that older generation that is now almost gone, and I want to weep for the young know-it-alls who have missed the point. But the understanding comes only through real suffering, and how many can do that?"
Fr. Seraphim Rose
Scripture Readings for the Day
Colossians 4:10-18
10 Aristarchus my fellow prisoner greets you, with Mark the cousin of Barnabas (about whom you received instructions: if he comes to you, welcome him), 11 and Jesus who is called Justus. These are my only fellow workers for the kingdom of God who are of the circumcision; they have proved to be a comfort to me.
12 Epaphras, who is one of you, a bondservant of Christ, greets you, always laboring fervently for you in prayers, that you may stand perfect and complete in all the will of God. 13 For I bear him witness that he has a great zeal for you, and those who are in Laodicea, and those in Hierapolis. 14 Luke the beloved physician and Demas greet you. 15 Greet the brethren who are in Laodicea, and Nymphas and the church that is in his house.
Closing Exhortations and Blessing
16 Now when this epistle is read among you, see that it is read also in the church of the Laodiceans, and that you likewise read the epistle from Laodicea. 17 And say to Archippus, "Take heed to the ministry which you have received in the Lord, that you may fulfill it."
18 This salutation by my own hand—Paul. Remember my chains. Grace be with you. Amen.
Luke 10:1-15
The Seventy Sent Out
1 After these things the Lord appointed seventy others also, and sent them two by two before His face into every city and place where He Himself was about to go. 2 Then He said to them, "The harvest truly is great, but the laborers are few; therefore pray the Lord of the harvest to send out laborers into His harvest. 3 Go your way; behold, I send you out as lambs among wolves. 4 Carry neither money bag, knapsack, nor sandals; and greet no one along the road. 5 But whatever house you enter, first say, 'Peace to this house.' 6 And if a son of peace is there, your peace will rest on it; if not, it will return to you. 7 And remain in the same house, eating and drinking such things as they give, for the laborer is worthy of his wages. Do not go from house to house. 8 Whatever city you enter, and they receive you, eat such things as are set before you. 9 And heal the sick there, and say to them, 'The kingdom of God has come near to you.' 10 But whatever city you enter, and they do not receive you, go out into its streets and say, 11 'The very dust of your city which clings to us we wipe off against you. Nevertheless know this, that the kingdom of God has come near you.' 12 But I say to you that it will be more tolerable in that Day for Sodom than for that city.
Woe to the Impenitent Cities
13 "Woe to you, Chorazin! Woe to you, Bethsaida! For if the mighty works which were done in you had been done in Tyre and Sidon, they would have repented long ago, sitting in sackcloth and ashes. 14 But it will be more tolerable for Tyre and Sidon at the judgment than for you. 15 And you, Capernaum, who are exalted to heaven, will be brought down to Hades.