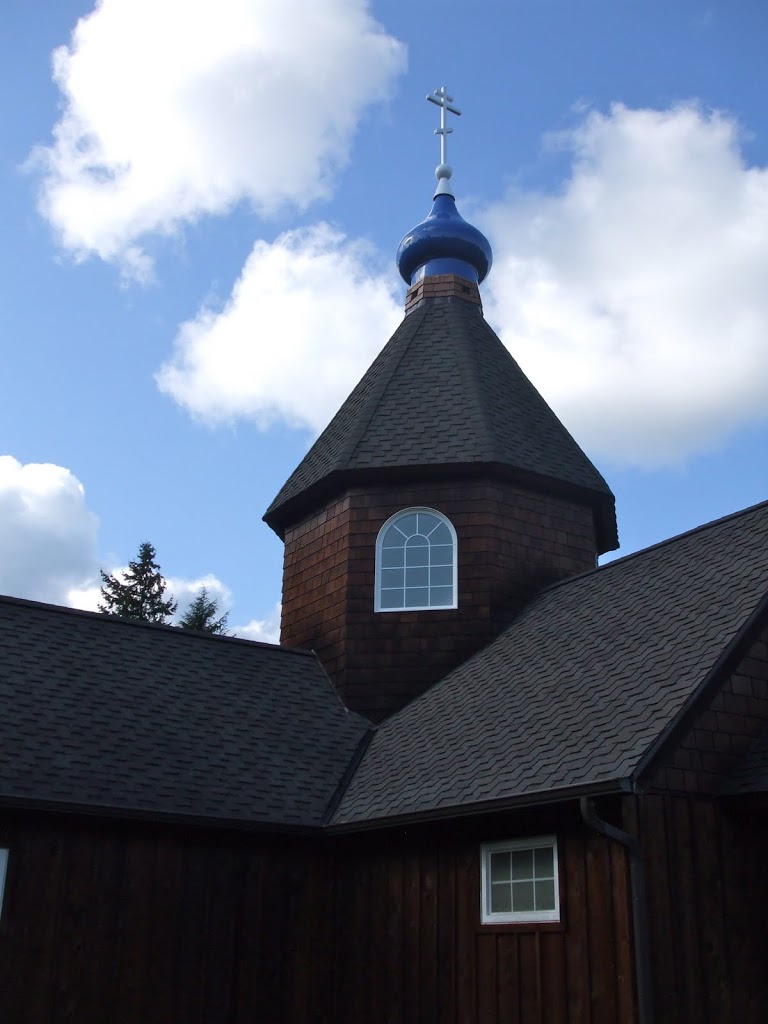 Glory to Jesus Christ! Glory to Him forever!
Saints of the Day
September 24 / October 7. Holy Protomartyr and Equal-to-the-Apostles Thecla [II Tim 3:10-15; Matt 25:1-13]. St. Coprius of Palestine. St. Nicander, hermit of Pskov. St. Abramius, abbot of Mirozh (Pskov). Martyrdom of St. Galacteon, monk of Vologda. Saints Stephen (in monasticism Simon), David and Vladislav of Serbia. St. Dorothy of Kashin. Icons of the Most Holy Theotokos of Mirozh and of the Myrtle Tree. Repose of Schema-archimandrite Gabriel of Pskov-Eleazar Monastery (1915).
Photo of the Day
Quote of the Day
"In acquiring the Spirit of God consists the true aim of our Christian life, while prayer, fasting, almsgiving and other good works done for Christ's sake are merely means for acquiring the Spirit of God."
there is a footnote here which states 'good works' means also 'virtues'
St. Seraphim of Sarov
Scripture Readings for the Day
Ephesians 5:25-33
25 Husbands, love your wives, just as Christ also loved the church and gave Himself for her, 26 that He might sanctify and cleanse her with the washing of water by the word, 27 that He might present her to Himself a glorious church, not having spot or wrinkle or any such thing, but that she should be holy and without blemish. 28 So husbands ought to love their own wives as their own bodies; he who loves his wife loves himself. 29 For no one ever hated his own flesh, but nourishes and cherishes it, just as the Lord does the church. 30 For we are members of His body, of His flesh and of His bones. 31 "For this reason a man shall leave his father and mother and be joined to his wife, and the two shall become one flesh." 32 This is a great mystery, but I speak concerning Christ and the church. 33 Nevertheless let each one of you in particular so love his own wife as himself, and let the wife see that she respects her husband.
Luke 4:1-15
Satan Tempts Jesus
1 Then Jesus, being filled with the Holy Spirit, returned from the Jordan and was led by the Spirit into the wilderness, 2 being tempted for forty days by the devil. And in those days He ate nothing, and afterward, when they had ended, He was hungry.
3 And the devil said to Him, "If You are the Son of God, command this stone to become bread."
4 But Jesus answered him, saying, "It is written, 'Man shall not live by bread alone, but by every word of God.'"
5 Then the devil, taking Him up on a high mountain, showed Him all the kingdoms of the world in a moment of time. 6 And the devil said to Him, "All this authority I will give You, and their glory; for this has been delivered to me, and I give it to whomever I wish. 7 Therefore, if You will worship before me, all will be Yours."
8 And Jesus answered and said to him, "Get behind Me, Satan! For it is written, 'You shall worship the LORD your God, and Him only you shall serve.'"
9 Then he brought Him to Jerusalem, set Him on the pinnacle of the temple, and said to Him, "If You are the Son of God, throw Yourself down from here. 10 For it is written:
'He shall give His angels charge over you,
To keep you,'
11 and,
'In their hands they shall bear you up,
Lest you dash your foot against a stone.'"
12 And Jesus answered and said to him, "It has been said, 'You shall not tempt the LORD your God.'"
13 Now when the devil had ended every temptation, he departed from Him until an opportune time.
Jesus Begins His Galilean Ministry
14 Then Jesus returned in the power of the Spirit to Galilee, and news of Him went out through all the surrounding region. 15 And He taught in their synagogues, being glorified by all.