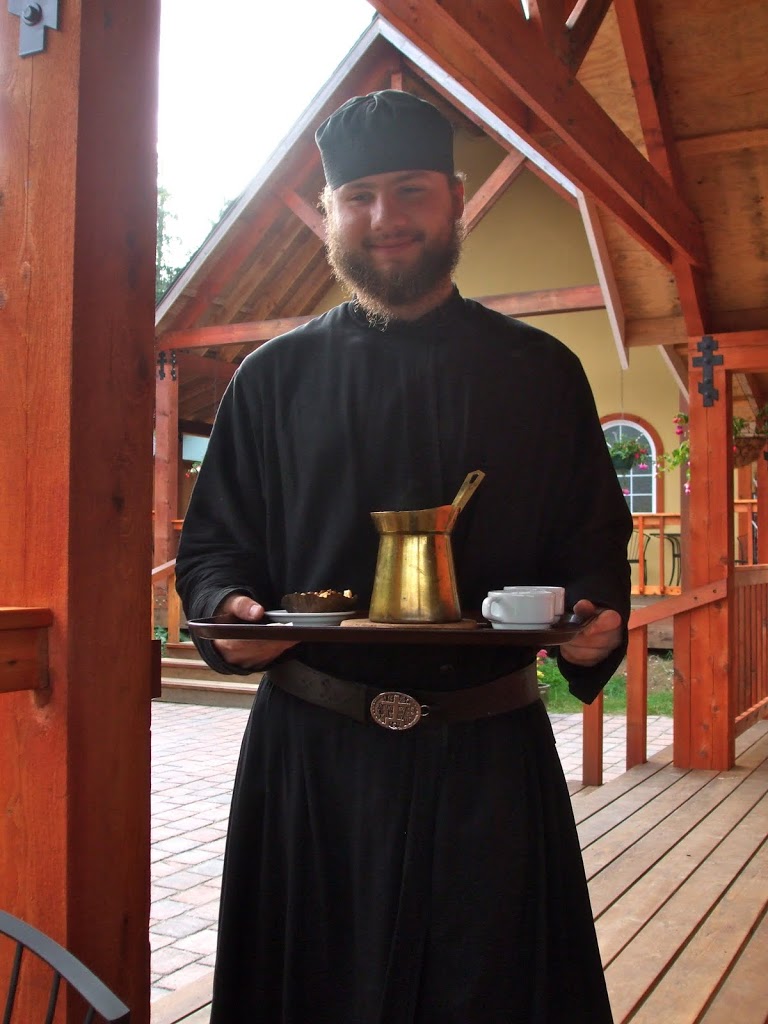 Glory to Jesus Christ! Glory to Him forever!
Saints of the Day
October 8 / 21. St. Pelagia the Penitent. Virgin Martyr Pelagia of Antioch. St. Thais (Taisia) of Egypt. St. Dositheus, abbot of Verkneostrov (Pskov). St. Tryphon, abbot of Vyatka. Martyr Ignatius of Bulgaria.
Photo of the Day
Novice Christos, serving the monastery's Greek style coffee, Byzantium.
Quote of the Day
What Saint Theophan the Recluse had to say when asked directly whether grace existed in the Roman Catholic Church:
"It seems that our Church is condescending to Catholics and recognizes the potency not only of Catholic baptism and the other mysteries, but also of ordination, which is very significant. Therefore, it is better for us to refrain both from the asking of such questions, as well as resolving them. We must hold to only one thing, that one should not go over to the Catholics, because among them some parts in the structure of their confession and church order are defective or changed by departure from the more ancient ones. More than this I do not know what to say." (Collected
Letters, Vol. 7, Moscow, 1994, p. 202).
Scripture Readings for the Day
Philippians 2:24-29
24 But I trust in the Lord that I myself shall also come shortly.
Epaphroditus Praised
25 Yet I considered it necessary to send to you Epaphroditus, my brother, fellow worker, and fellow soldier, but your messenger and the one who ministered to my need; 26 since he was longing for you all, and was distressed because you had heard that he was sick. 27 For indeed he was sick almost unto death; but God had mercy on him, and not only on him but on me also, lest I should have sorrow upon sorrow. 28 Therefore I sent him the more eagerly, that when you see him again you may rejoice, and I may be less sorrowful. 29 Receive him therefore in the Lord with all gladness, and hold such men in esteem;
Luke 6:46-7:1
Build on the Rock
46 "But why do you call Me 'Lord, Lord,' and not do the things which I say? 47 Whoever comes to Me, and hears My sayings and does them, I will show you whom he is like: 48 He is like a man building a house, who dug deep and laid the foundation on the rock. And when the flood arose, the stream beat vehemently against that house, and could not shake it, for it was founded on the rock. 49 But he who heard and did nothing is like a man who built a house on the earth without a foundation, against which the stream beat vehemently; and immediately it fell. And the ruin of that house was great."
Luke 7
Jesus Heals a Centurion's Servant
1 Now when He concluded all His sayings in the hearing of the people, He entered Capernaum.