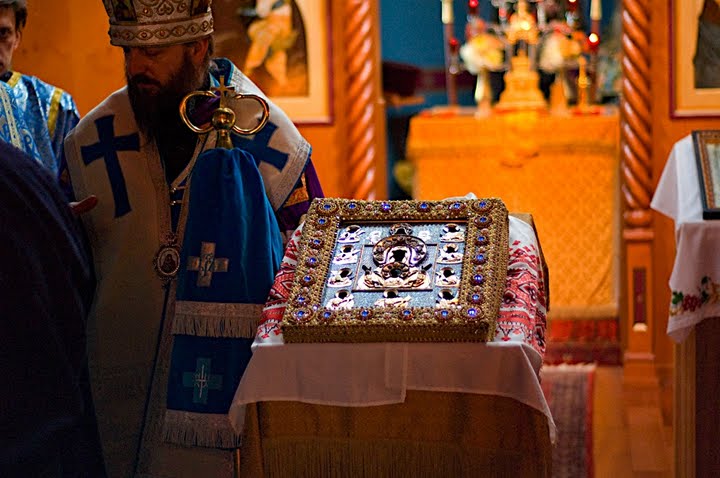 Glory to Jesus Christ! Glory to Him forever!
Protection of the Theotokos
Saints of the Day
October 1 / 14. The Protection of Our Most Holy Lady the Theotokos and Ever-Virgin Mary. Apostle Ananias of the Seventy ) St. Romanus the Melodist (Sweet-Singer). St. Sabbas, abbot of Vishera (Novgorod). Martyr Michael, abbot in Armenia, and 36 Fathers with him. Martyr Domninus of Thessalonica. St. John Kukuzelis of Mt. Athos. St. Gregory the Singer of Mt. Athos. Commemoration of Apparition of the Pillar with the Robe of the Lord under it at Mtskhet in Georgia. Repose of Schema-hieromonk Euthemius of Valaam (1829).
Photo of the Day
The Kursk-Root Icon, together with Vladyka Theodosy, in our monastery's temple.
Quote of the Day
"Do you see how many good things temptations and afflictions cause? So if you too want to see, to taste the love of Christ, endure whatever comes upon you — not whatever you like, but whatever the Lord wants to test you with. What we suffer voluntarily is absolutely nothing in comparison with the trials the Lord sends us against our will. The hostile devil fights us bone against bone and blood against blood, as much as God allows. He fights so much, that one melts and flows like wax before the fire. But when the trial passes, you are totally filled with joy."
Elder Joseph the Hesychast
Scripture Readings for the Day
Philippians 1:12-20
Christ Is Preached
12 But I want you to know, brethren, that the things which happened to me have actually turned out for the furtherance of the gospel, 13 so that it has become evident to the whole palace guard, and to all the rest, that my chains are in Christ; 14 and most of the brethren in the Lord, having become confident by my chains, are much more bold to speak the word without fear.
15 Some indeed preach Christ even from envy and strife, and some also from goodwill: 16 The former preach Christ from selfish ambition, not sincerely, supposing to add affliction to my chains; 17 but the latter out of love, knowing that I am appointed for the defense of the gospel. 18 What then? Only that in every way, whether in pretense or in truth, Christ is preached; and in this I rejoice, yes, and will rejoice.
To Live Is Christ
19 For I know that this will turn out for my deliverance through your prayer and the supply of the Spirit of Jesus Christ, 20 according to my earnest expectation and hope that in nothing I shall be ashamed, but with all boldness, as always, so now also Christ will be magnified in my body, whether by life or by death.
Luke 5:33-39
Jesus Is Questioned About Fasting
33 Then they said to Him, "Why do the disciples of John fast often and make prayers, and likewise those of the Pharisees, but Yours eat and drink?"
34 And He said to them, "Can you make the friends of the bridegroom fast while the bridegroom is with them? 35 But the days will come when the bridegroom will be taken away from them; then they will fast in those days."
36 Then He spoke a parable to them: "No one puts a piece from a new garment on an old one; otherwise the new makes a tear, and also the piece that was taken out of the new does not match the old. 37 And no one puts new wine into old wineskins; or else the new wine will burst the wineskins and be spilled, and the wineskins will be ruined. 38 But new wine must be put into new wineskins, and both are preserved. 39 And no one, having drunk old wine, immediately desires new; for he says, 'The old is better.'"