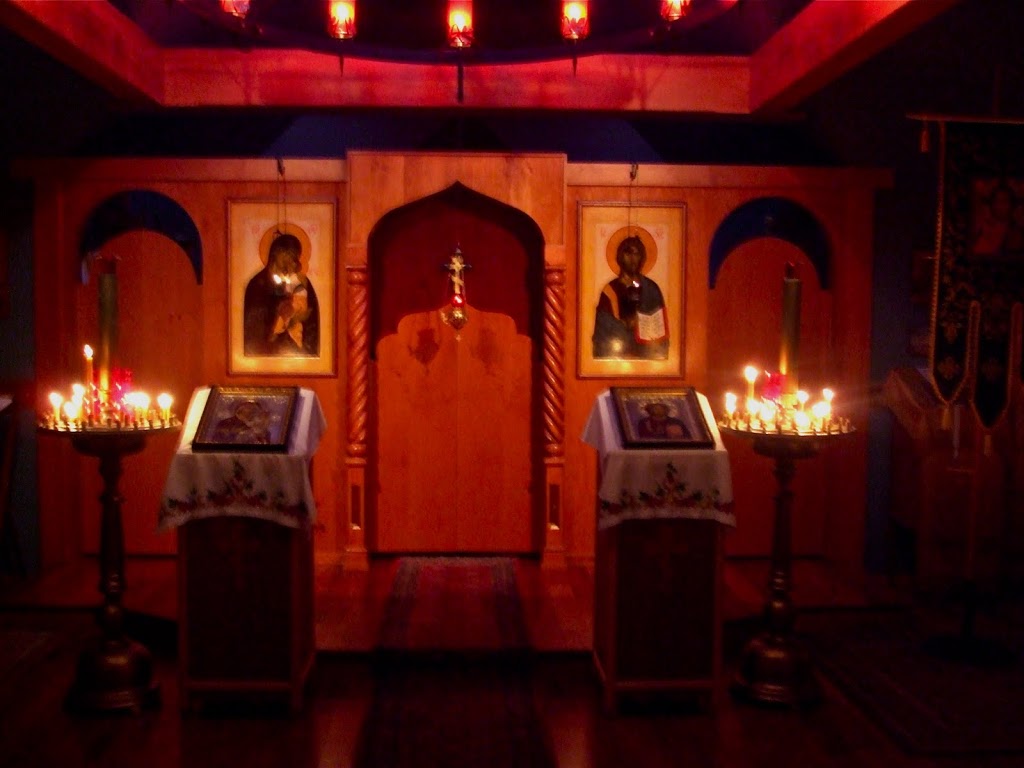 Glory to Jesus Christ! Glory to Him forever!
Saints of the Day
October 7 / 20. Martyrs Sergius and Bacchus in Syria [Heb 11:33-40; Lk 21:12-19]. Martyrs Julian presbyter and Caesarius deacon, at Terracina. Martyr Polychronius. Virgin Martyr Pelagia of Tarsus. St. Sergius, abbot of Nurma (Vologda), disciple of St. Sergius of Radonezh. St. Sergius the Obedient of the Kiev Caves. Martyrs Eusebius and Felix at Terracina. Op. re. St. Martinian, abbot of Byelozersk. New-Martyr Priest Valentine (Sventitsky) (1931). (Greek Calendar: St. Leontius the Governor. 99 Fathers of Crete.) Repose of Bishop Jonah of Manchuria (1925)
Photo of the Day
Photo taken at the end of the Vigil Service.
Quote of the Day
"Blessed is he who is vigilant in prayer, reading and good works; he will be enlightened and will not fall asleep unto death."
Ephraim the Syrian
Scripture Readings for the Day
Philippians 2:16-23
16 holding fast the word of life, so that I may rejoice in the day of Christ that I have not run in vain or labored in vain.
17 Yes, and if I am being poured out as a drink offering on the sacrifice and service of your faith, I am glad and rejoice with you all. 18 For the same reason you also be glad and rejoice with me.
Timothy Commended
19 But I trust in the Lord Jesus to send Timothy to you shortly, that I also may be encouraged when I know your state. 20 For I have no one like-minded, who will sincerely care for your state. 21 For all seek their own, not the things which are of Christ Jesus. 22 But you know his proven character, that as a son with his father he served with me in the gospel. 23 Therefore I hope to send him at once, as soon as I see how it goes with me.
Luke 6:37-45
Do Not Judge
37 "Judge not, and you shall not be judged. Condemn not, and you shall not be condemned. Forgive, and you will be forgiven. 38 Give, and it will be given to you: good measure, pressed down, shaken together, and running over will be put into your bosom. For with the same measure that you use, it will be measured back to you."
39 And He spoke a parable to them: "Can the blind lead the blind? Will they not both fall into the ditch? 40 A disciple is not above his teacher, but everyone who is perfectly trained will be like his teacher. 41 And why do you look at the speck in your brother's eye, but do not perceive the plank in your own eye? 42 Or how can you say to your brother, 'Brother, let me remove the speck that is in your eye,' when you yourself do not see the plank that is in your own eye? Hypocrite! First remove the plank from your own eye, and then you will see clearly to remove the speck that is in your brother's eye.
A Tree Is Known by Its Fruit
43 "For a good tree does not bear bad fruit, nor does a bad tree bear good fruit. 44 For every tree is known by its own fruit. For men do not gather figs from thorns, nor do they gather grapes from a bramble bush. 45 A good man out of the good treasure of his heart brings forth good; and an evil man out of the evil treasure of his heart brings forth evil. For out of the abundance of the heart his mouth speaks.