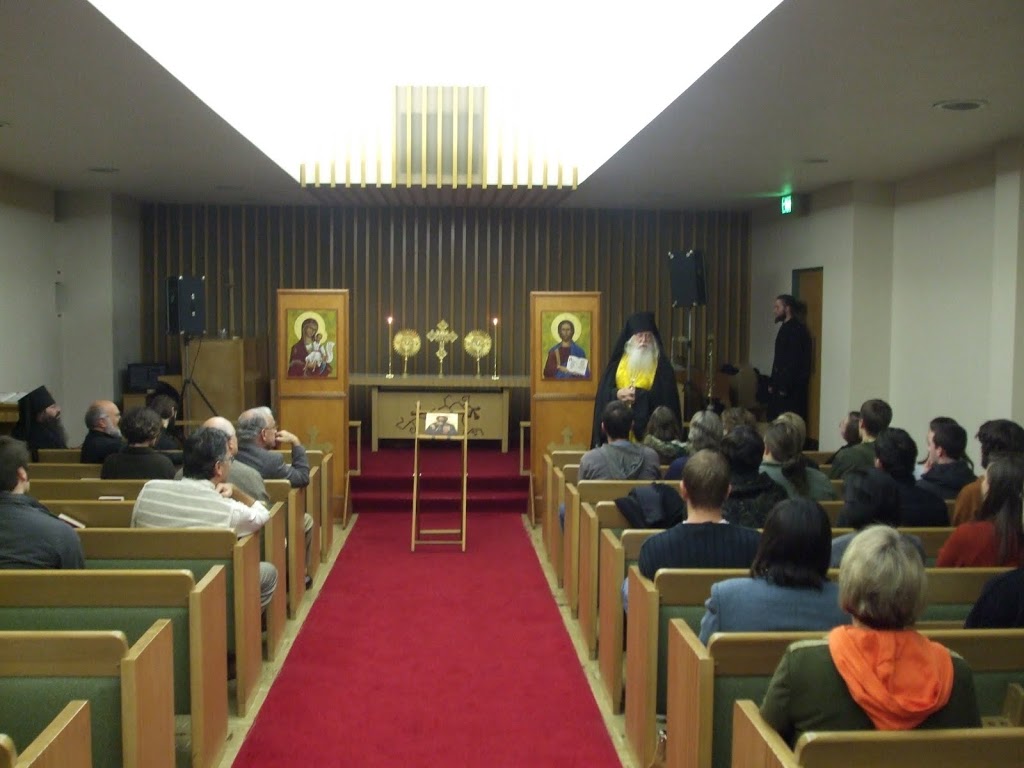 Glory to Jesus Christ! Glory to Him forever!
Saints of the Day
October 16 / 29. Martyr Longinus the Centurion who stood at the Cross of the Lord [II Tim 2:1-10; Matt 27:33-54]. St. Malus the hermit. St. Eupraxia, abbess, before tonsure Princess Euphrosyne of Pskov. St. Longinus the gate-keeper of the Kiev Caves. St. Gall, Enlightener of Switzerland. (Greek Calendar: St. Sabinus, monk.)
Photo of the Day
Abbot Tryphon, giving a talk on Orthodoxy, following the celebration of the first Vesper Service in a chapel at Seattle Pacific University. Our monastic community will be serving Vespers twice monthly, as a means of bringing Holy Orthodoxy to the students and faculty of this university. Please keep this outreach ministry of the monastery in your holy prayers.
Quote of the Day
One monk, a disciple of Fr. Leonid, came to him one evening when the brethren were visiting the staretz for the daily manifestation of thoughts. When everybody had left, he asked the staretz: "I observed this evening how the brethren have been coming to you and how they have been received by you. One monk came before everybody but waited longer than anyone else and came to see you the last. Others, arriving, waited a little and then came to you and explained their cases. Some people did not want to wait at all but as soon as they arrived, they went forward and demanded to be received at once. Is there some difference?" "There is a difference," the staretz said, "a big difference. Those who, coming to me, do not want to wait and try to come first of all, are unable to retain in their memory what I tell them. They ask again, and again forget. But those who come to ask my advice and wait with patience and humility, allowing all others to come before them, considering others better than themselves, keep my word firmly in their heart. They will remember as long as they live what I said."
Scripture Readings for the Day
Colossians 1:24-29
Sacrificial Service for Christ
24 I now rejoice in my sufferings for you, and fill up in my flesh what is lacking in the afflictions of Christ, for the sake of His body, which is the church, 25 of which I became a minister according to the stewardship from God which was given to me for you, to fulfill the word of God, 26 the mystery which has been hidden from ages and from generations, but now has been revealed to His saints. 27 To them God willed to make known what are the riches of the glory of this mystery among the Gentiles: which is Christ in you, the hope of glory. 28 Him we preach, warning every man and teaching every man in all wisdom, that we may present every man perfect in Christ Jesus. 29 To this end I also labor, striving according to His working which works in me mightily.
Luke 9:7-11
Herod Seeks to See Jesus
7 Now Herod the tetrarch heard of all that was done by Him; and he was perplexed, because it was said by some that John had risen from the dead, 8 and by some that Elijah had appeared, and by others that one of the old prophets had risen again. 9 Herod said, "John I have beheaded, but who is this of whom I hear such things?" So he sought to see Him.
Feeding the Five Thousand
10 And the apostles, when they had returned, told Him all that they had done. Then He took them and went aside privately into a deserted place belonging to the city called Bethsaida. 11 But when the multitudes knew it, they followed Him; and He received them and spoke to them about the kingdom of God, and healed those who had need of healing.