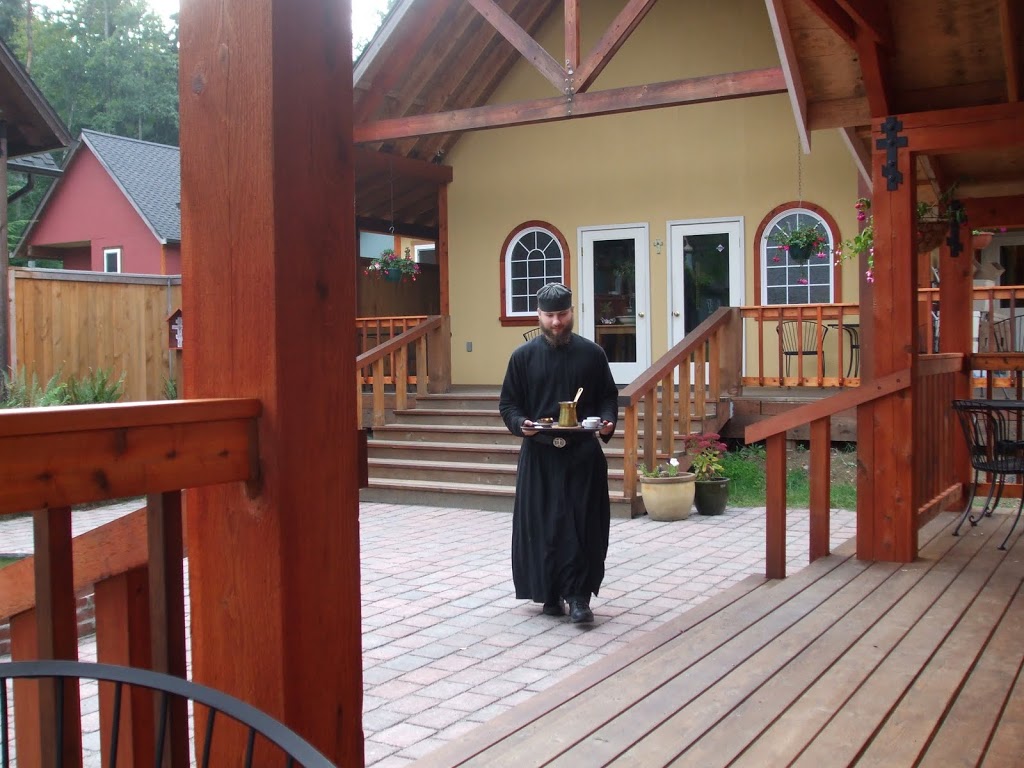 Glory to Jesus Christ! Glory to Him forever!
Saints of the Day
October 9 / 22. Holy Apostle James, son of Alphaeus. St. Andronicus and his wife St. Athanasia of Egypt. Righteous Forefather Abraham and his nephew Righteous Lot. Martyrs Juventius and Maximus at Antioch. St. Peter of Galatia. St. Publia the Confessor of Antioch. St. Stephen the New of Serbia (same as July 19). Icons of the Most Holy Theotokos Korsun (Cherson) and Assuage My Sorrow.
Photo of the Day
Novice Christos, serving the monastery's Greek style coffee, Byzantium.
Quote of the Day
"True patience consists in bearing calmly the evils others do to us, and in not being consumed by resentment against those who inflict them. Those who only appear to bear the evils done them by their neighbors, who suffer them in silence while they are looking for an opportunity for revenge, are not practicing patience, but only make a show of it. Paul writes that 'love is patient and kind.' It is patient in bearing the evils done to us by others, and it is kind in even loving those it bears with. Jesus himself tells us: 'Love your enemies, do good to those who hate you, pray for those who persecute and malign you.' Virtue in the sight of others is to bear with those who oppose us, but virtue in God's sight is to love them. This is the only sacrifice acceptable to God."
St. Gregory the Great
Scripture Readings for the Day
Philippians 3:1-8
All for Christ
1 Finally, my brethren, rejoice in the Lord. For me to write the same things to you is not tedious, but for you it is safe.
2 Beware of dogs, beware of evil workers, beware of the mutilation! 3 For we are the circumcision, who worship God in the Spirit, rejoice in Christ Jesus, and have no confidence in the flesh, 4 though I also might have confidence in the flesh. If anyone else thinks he may have confidence in the flesh, I more so: 5 circumcised the eighth day, of the stock of Israel, of the tribe of Benjamin, a Hebrew of the Hebrews; concerning the law, a Pharisee; 6 concerning zeal, persecuting the church; concerning the righteousness which is in the law, blameless.
7 But what things were gain to me, these I have counted loss for Christ. 8 Yet indeed I also count all things loss for the excellence of the knowledge of Christ Jesus my Lord, for whom I have suffered the loss of all things, and count them as rubbish, that I may gain Christ.
Luke 7:17-30
17 And this report about Him went throughout all Judea and all the surrounding region.
John the Baptist Sends Messengers to Jesus
18 Then the disciples of John reported to him concerning all these things. 19 And John, calling two of his disciples to him, sent them to Jesus, saying, "Are You the Coming One, or do we look for another?"
20 When the men had come to Him, they said, "John the Baptist has sent us to You, saying, 'Are You the Coming One, or do we look for another?'" 21 And that very hour He cured many of infirmities, afflictions, and evil spirits; and to many blind He gave sight.
22 Jesus answered and said to them, "Go and tell John the things you have seen and heard: that the blind see, the lame walk, the lepers are cleansed, the deaf hear, the dead are raised, the poor have the gospel preached to them. 23 And blessed is he who is not offended because of Me."
24 When the messengers of John had departed, He began to speak to the multitudes concerning John: "What did you go out into the wilderness to see? A reed shaken by the wind? 25 But what did you go out to see? A man clothed in soft garments? Indeed those who are gorgeously appareled and live in luxury are in kings' courts. 26 But what did you go out to see? A prophet? Yes, I say to you, and more than a prophet. 27 This is he of whom it is written:
'Behold, I send My messenger before Your face,
Who will prepare Your way before You.'
28 For I say to you, among those born of women there is not a greater prophet than John the Baptist; but he who is least in the kingdom of God is greater than he."
29 And when all the people heard Him, even the tax collectors justified God, having been baptized with the baptism of John. 30 But the Pharisees and lawyers rejected the will of God for themselves, not having been baptized by him.