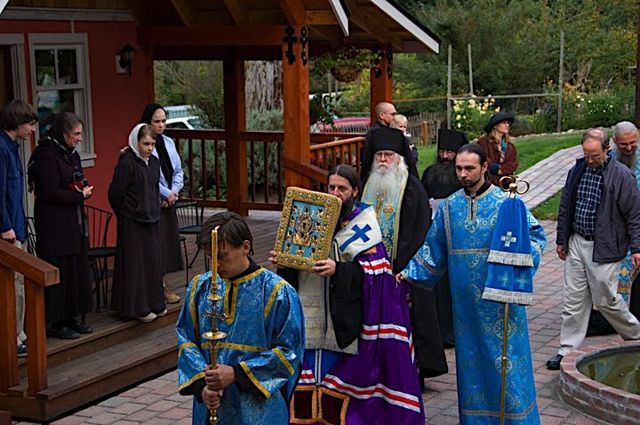 Glory to Jesus Christ! Glory to Him forever!
Saints of the Day
October 2 / 15. Hieromartyr Cyprian and Virgin Martyr Justina of Nicomedia [I Tim 1:12-17; Jn 10:9-16]. Blessed Andrew, fool-for-Christ at Constantinople. St. Anna of Kashin. Blessed Cyprian of Suzdal, fool-for-Christ. St. Cassian, monk of Uglich. Martyrs David and Constantine, princes of Georgia. New-Martyr George of Philadelphia in Asia Minor (Mt. Athos). (Greek Calendar: St. Damaris of Athens. St. Theophilus the Confessor. Great-Martyr Theodore Gavra of Atran in Chaldea.) Repose of Schema-hieromonk Theodosius of Karoulia, Mt. Athos (1937).
Photo of the Day
The Kursk-Root Icon, carried aloft by Bishop Theodosy of Seattle.
Quote of the Day
"We declare, then, that the speculative, critical, and wold-surveying faculty of the soul is its peculiar property by virtue of its very nature, and that thereby the soul preserves within itself the image of the divine grace; since our reason surmises that divinity itself, whatever it may be in its inmost nature, is manifested in these very things, – universal supervision and the critical discernment between good and evil."
St. Gregory of Nyssa
Scripture Readings for the Day
Philippians 1:20-27
20 according to my earnest expectation and hope that in nothing I shall be ashamed, but with all boldness, as always, so now also Christ will be magnified in my body, whether by life or by death. 21 For to me, to live is Christ, and to die is gain. 22 But if I live on in the flesh, this will mean fruit from my labor; yet what I shall choose I cannot tell. 23 For I am hard-pressed between the two, having a desire to depart and be with Christ, which is far better. 24 Nevertheless to remain in the flesh is more needful for you. 25 And being confident of this, I know that I shall remain and continue with you all for your progress and joy of faith, 26 that your rejoicing for me may be more abundant in Jesus Christ by my coming to you again.
Striving and Suffering for Christ
27 Only let your conduct be worthy of the gospel of Christ, so that whether I come and see you or am absent, I may hear of your affairs, that you stand fast in one spirit, with one mind striving together for the faith of the gospel,
Luke 6:12-19
The Twelve Apostles
12 Now it came to pass in those days that He went out to the mountain to pray, and continued all night in prayer to God. 13 And when it was day, He called His disciples to Himself; and from them He chose twelve whom He also named apostles: 14 Simon, whom He also named Peter, and Andrew his brother; James and John; Philip and Bartholomew; 15 Matthew and Thomas; James the son of Alphaeus, and Simon called the Zealot; 16 Judas the son of James, and Judas Iscariot who also became a traitor.
Jesus Heals a Great Multitude
17 And He came down with them and stood on a level place with a crowd of His disciples and a great multitude of people from all Judea and Jerusalem, and from the seacoast of Tyre and Sidon, who came to hear Him and be healed of their diseases, 18 as well as those who were tormented with unclean spirits. And they were healed. 19 And the whole multitude sought to touch Him, for power went out from Him and healed them all.