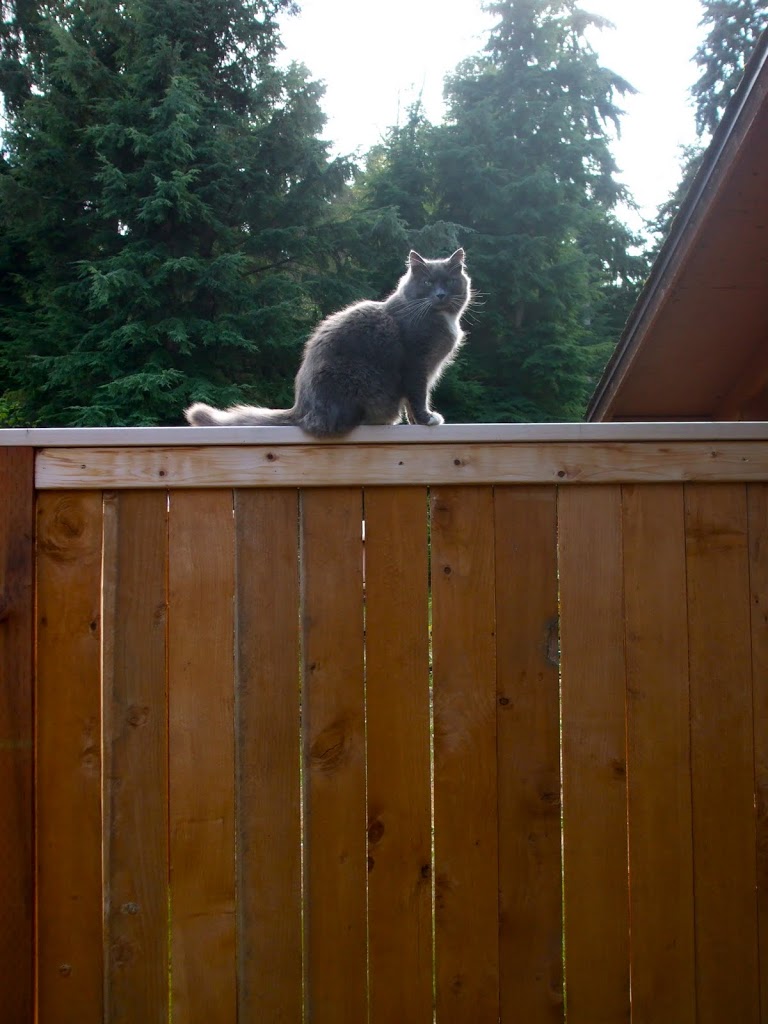 Glory to Jesus Christ! Glory to Him forever!
Saints of the Day
September 21 / October 4. Apodosis of the Exaltation of the Cross. Apostle Quadratus of the Seventy. Opening of the Relics of St. Demetrius, Metropolitan of Rostov. Hieromartyr Hypatius, Bishop of Ephesus, and his presbyter Andrew. Martyr Eusebius of Phoenicia. Martyr Priscus of Phrygia. Martyrs Eusebius, Nestabus and Zeno of Gaza. Saints Isaacius and Meletius, Bishops of Cyprus. St. Joseph of Zaonikiev Monastery (Vologda). St. Daniel, abbot of Shuzhgorsk (Novgorod). (Greek Calendar: St. Jonah the Sabbaite.)
Photo of the Day
Hammie, our Norwegian Forest Cat, sitting atop the enclosure wall.
Quote of the Day
"…For the Cross of the Lord, an instrument of torture in the intention of the Jews, is become glorious in the might of the Crucified. The multitude raged against one man; Christ had compassion on all men. What was inflicted through cruelty was suffered by majesty: so that in the permitting of the evil deed, the purpose of the eternal will might be accomplished."
St. Leo the Great "On the Passion of our Lord"
Scripture Readings for the Day
Galatians 2:16-20
16 knowing that a man is not justified by the works of the law but by faith in Jesus Christ, even we have believed in Christ Jesus, that we might be justified by faith in Christ and not by the works of the law; for by the works of the law no flesh shall be justified.
17 "But if, while we seek to be justified by Christ, we ourselves also are found sinners, is Christ therefore a minister of sin? Certainly not! 18 For if I build again those things which I destroyed, I make myself a transgressor. 19 For I through the law died to the law that I might live to God. 20 I have been crucified with Christ; it is no longer I who live, but Christ lives in me; and the life which I now live in the flesh I live by faith in the Son of God, who loved me and gave Himself for me.
2 Corinthians 6:16-7:1
16 And what agreement has the temple of God with idols? For you are the temple of the living God. As God has said:
"I will dwell in them
And walk among them.
I will be their God,
And they shall be My people."
17 Therefore
"Come out from among them
And be separate, says the Lord.
Do not touch what is unclean,
And I will receive you."
18 "I will be a Father to you,
And you shall be My sons and daughters,
Says the LORD Almighty."
2 Corinthians 7
1 Therefore, having these promises, beloved, let us cleanse ourselves from all filthiness of the flesh and spirit, perfecting holiness in the fear of God.
Mark 8:34-9:1
Take Up the Cross and Follow Him
34 When He had called the people to Himself, with His disciples also, He said to them, "Whoever desires to come after Me, let him deny himself, and take up his cross, and follow Me. 35 For whoever desires to save his life will lose it, but whoever loses his life for My sake and the gospel's will save it. 36 For what will it profit a man if he gains the whole world, and loses his own soul? 37 Or what will a man give in exchange for his soul? 38 For whoever is ashamed of Me and My words in this adulterous and sinful generation, of him the Son of Man also will be ashamed when He comes in the glory of His Father with the holy angels."
Mark 9
Jesus Transfigured on the Mount
1 And He said to them, "Assuredly, I say to you that there are some standing here who will not taste death till they see the kingdom of God present with power."
Matthew 15:21-28
A Gentile Shows Her Faith
21 Then Jesus went out from there and departed to the region of Tyre and Sidon. 22 And behold, a woman of Canaan came from that region and cried out to Him, saying, "Have mercy on me, O Lord, Son of David! My daughter is severely demon-possessed."
23 But He answered her not a word.
And His disciples came and urged Him, saying, "Send her away, for she cries out after us."
24 But He answered and said, "I was not sent except to the lost sheep of the house of Israel."
25 Then she came and worshiped Him, saying, "Lord, help me!"
26 But He answered and said, "It is not good to take the children's bread and throw it to the little dogs."
27 And she said, "Yes, Lord, yet even the little dogs eat the crumbs which fall from their masters' table."
28 Then Jesus answered and said to her, "O woman, great is your faith! Let it be to you as you desire." And her daughter was healed from that very hour.