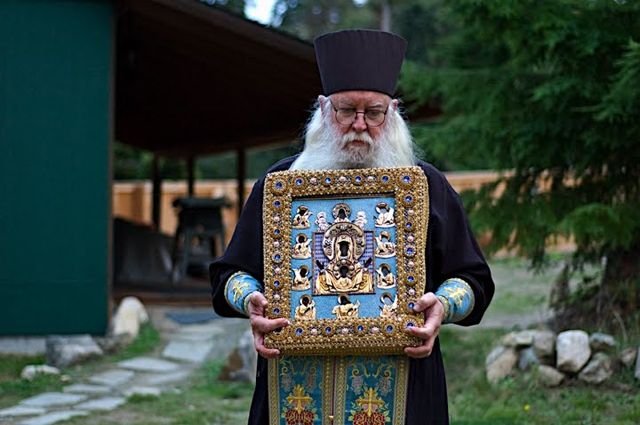 Glory to Jesus Christ! Glory to Him forever!
Saints of the Day
October 5 / 18. Saints Peter, Alexis, Jonah, Philip, Hermogenes (Germogen) and Tikhon, metropolitans of Moscow. Martyr Charitina of Amisus. Martyr Mamelta (Mamelchtha) of Persia. Hieromartyr Dionysius, Bishop of Alexandria. St. Damian the Healer and Saints Jeremiah and Matthew, clairvoyants of the Kiev Caves. St. Charitina, princess of Lithuania. St. Cosmas, abbot in Bithynia. St. Gregory of Chandzoe in Georgia. St. Eudocimus the Unknown, monk of Vatopedi Monastery on Mt. Athos. Namesday of New-Martyr Crown Prince Alexis. (Greek Calendar: St. Methodia of Cimola.) Repose of Nun Agnia (Countess Orlova-Chesmenskaya) (1848).Video of the Day:http://www.youtube.com/watch?v=62X7YEDkm-s&feature=player_embedded#
Photo of the Day
Abbot Tryphon, holding the miraculous Kursk-Root Icon.
Quote of the Day
"…to those who partake [of the Body and Blood of Christ] worthily with faith, it is for the remission of sins and for life everlasting and for the safe-guarding of soul and body; but to those who partake unworthily without faith, it is for chastisement and punishment, just as also the death of the Lord became to those who believe life and incorruption for the enjoyment of eternal blessedness, while to those who do not believe and to the murderers of the Lord it is for everlasting chastisement and punishment."
St. John of Damascus
Scripture Readings for the Day
2 Corinthians 11:31-12:9
31 The God and Father of our Lord Jesus Christ, who is blessed forever, knows that I am not lying. 32 In Damascus the governor, under Aretas the king, was guarding the city of the Damascenes with a garrison, desiring to arrest me; 33 but I was let down in a basket through a window in the wall, and escaped from his hands.
2 Corinthians 12
The Vision of Paradise
1 It is doubtless not profitable for me to boast. I will come to visions and revelations of the Lord: 2 I know a man in Christ who fourteen years ago—whether in the body I do not know, or whether out of the body I do not know, God knows—such a one was caught up to the third heaven. 3 And I know such a man—whether in the body or out of the body I do not know, God knows— 4 how he was caught up into Paradise and heard inexpressible words, which it is not lawful for a man to utter. 5 Of such a one I will boast; yet of myself I will not boast, except in my infirmities. 6 For though I might desire to boast, I will not be a fool; for I will speak the truth. But I refrain, lest anyone should think of me above what he sees me to be or hears from me.
The Thorn in the Flesh
7 And lest I should be exalted above measure by the abundance of the revelations, a thorn in the flesh was given to me, a messenger of Satan to buffet me, lest I be exalted above measure. 8 Concerning this thing I pleaded with the Lord three times that it might depart from me. 9 And He said to me, "My grace is sufficient for you, for My strength is made perfect in weakness." Therefore most gladly I will rather boast in my infirmities, that the power of Christ may rest upon me.
Luke 6:31-36
31 And just as you want men to do to you, you also do to them likewise.
32 "But if you love those who love you, what credit is that to you? For even sinners love those who love them. 33 And if you do good to those who do good to you, what credit is that to you? For even sinners do the same. 34 And if you lend to those from whom you hope to receive back, what credit is that to you? For even sinners lend to sinners to receive as much back. 35 But love your enemies, do good, and lend, hoping for nothing in return; and your reward will be great, and you will be sons of the Most High. For He is kind to the unthankful and evil. 36 Therefore be merciful, just as your Father also is merciful.