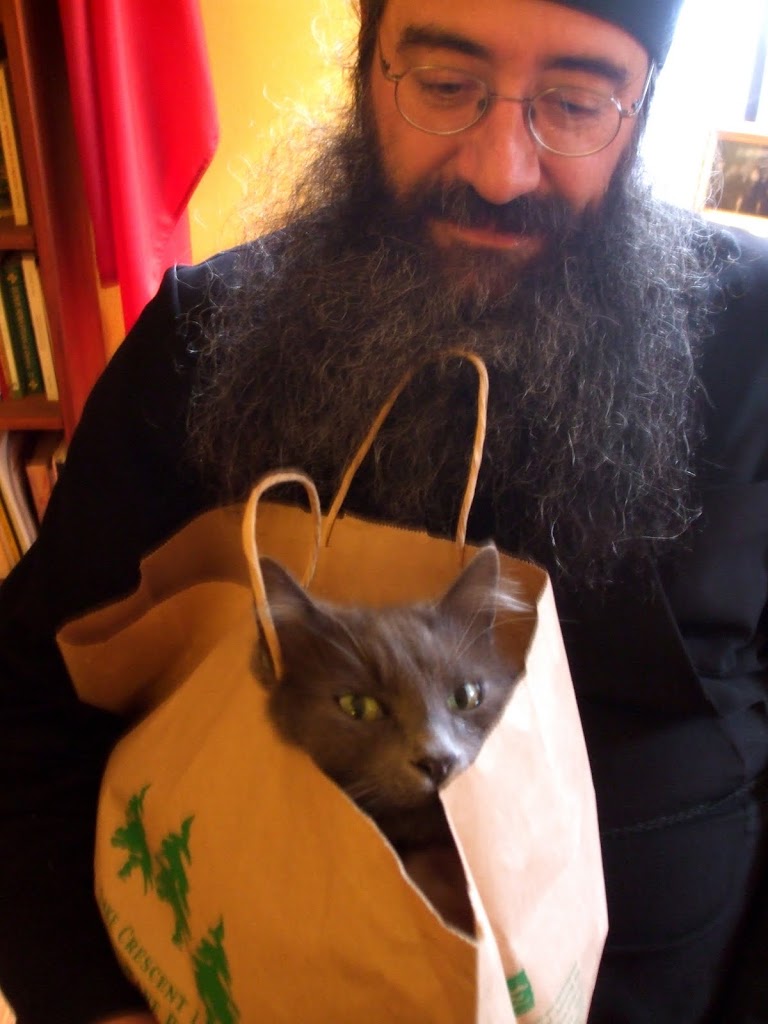 Glory to Jesus Christ! Glory to Him forever!
Saints of the Day
September 28 / October 11. St. Chariton the Confessor, abbot of Palestine [(1) Wis 3:1-9; (2) Wis 5:15-6:3; (3) Wis 4:7-15. Matins: Matt 4:25-5:12. Liturgy: II Cor 4:6-15; Lk 6:17-23]. Prophet Baruch. Martyrs Alexander, Alphius, Zosimas, Mark, Nicon, Neon, Heliodorus and 24 others in Pisidia and Phrygia. Martyrdom of St. Wenceslaus, prince of the Czechs. St. Herodion, abbot of Iloezersk. St. Chariton, monk of Syanzhemsk (Vologda). (Greek Calendar: Martyr Eustace of Rome.)
Photo of the Day
Hammie, together with Hierodeacon Paul (who'll be ordained into the holy priesthood on the 20th of December).
Quote of the Day
"For repentance is the way and the key to the Kingdom of Heaven, without which no one can enter into it."
St. Alexander of Svir
Scripture Readings for the Day
2 Corinthians 9:6-11
The Cheerful Giver
6 But this I say: He who sows sparingly will also reap sparingly, and he who sows bountifully will also reap bountifully. 7 So let each one give as he purposes in his heart, not grudgingly or of necessity; for God loves a cheerful giver. 8 And God is able to make all grace abound toward you, that you, always having all sufficiency in all things, may have an abundance for every good work. 9 As it is written:
"He has dispersed abroad,
He has given to the poor;
His righteousness endures forever."
10 Now may He who supplies seed to the sower, and bread for food, supply and multiply the seed you have sown and increase the fruits of your righteousness, 11 while you are enriched in everything for all liberality, which causes thanksgiving through us to God.
Luke 5:1-11
Four Fishermen Called as Disciples
1 So it was, as the multitude pressed about Him to hear the word of God, that He stood by the Lake of Gennesaret, 2 and saw two boats standing by the lake; but the fishermen had gone from them and were washing their nets. 3 Then He got into one of the boats, which was Simon's, and asked him to put out a little from the land. And He sat down and taught the multitudes from the boat.
4 When He had stopped speaking, He said to Simon, "Launch out into the deep and let down your nets for a catch."
5 But Simon answered and said to Him, "Master, we have toiled all night and caught nothing; nevertheless at Your word I will let down the net." 6 And when they had done this, they caught a great number of fish, and their net was breaking. 7 So they signaled to their partners in the other boat to come and help them. And they came and filled both the boats, so that they began to sink. 8 When Simon Peter saw it, he fell down at Jesus' knees, saying, "Depart from me, for I am a sinful man, O Lord!"
9 For he and all who were with him were astonished at the catch of fish which they had taken; 10 and so also were James and John, the sons of Zebedee, who were partners with Simon. And Jesus said to Simon, "Do not be afraid. From now on you will catch men." 11 So when they had brought their boats to land, they forsook all and followed Him.