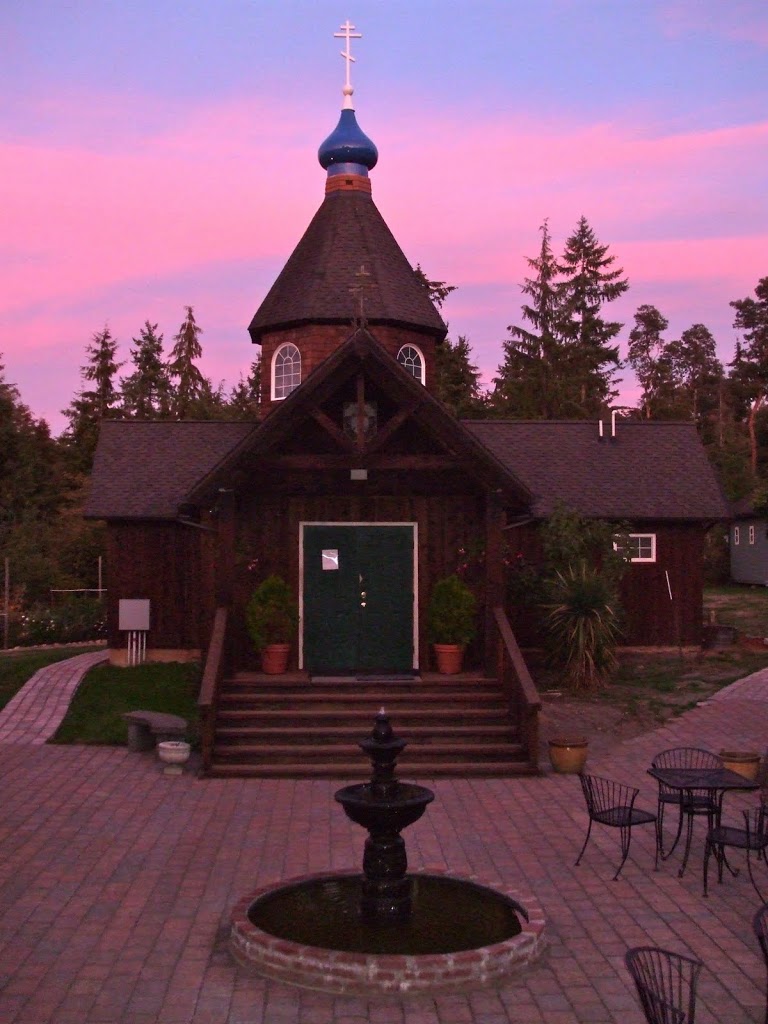 Glory to Jesus Christ! Glory to Him forever!
Saints of the Day
September 27 / October 10. Martyr Callistratus and his company (49 Martyrs). St. Sabbatius, Wonderworker of Solovki. Apostles Mark, Aristarchus and Zenas of the Seventy. Martyr Epicharis of Rome. St. Ignatius, abbot in Asia Minor. New-Martyr Aquilina of Thessalonica. (Greek Calendar: Martyr Fortunatus and Hieromartyr Philemon. Martyr Gaiana. 25 Martyrs drowned in the sea.) Repose of Schemamonk Archippus of Glinsk Hermitage (1896).
Photo of the Day
The Monastery Church of the Holy Protection.
Quote of the Day
"One ignorant of the spiritual path is not on his guard against his impassioned thoughts, but devotes himself entirely to the flesh. He is either a glutton, or dissipated, or full of resentment, anger and rancour. As a result, he darkens his intellect, or he practises excessive asceticism and so confuses his mind."
St. Hesychios the Priest
Scripture Readings for the Day
1 Corinthians 15:39-45
39 All flesh is not the same flesh, but there is one kind of flesh of men, another flesh of animals, another of fish, and another of birds.
40 There are also celestial bodies and terrestrial bodies; but the glory of the celestial is one, and the glory of the terrestrial is another. 41 There is one glory of the sun, another glory of the moon, and another glory of the stars; for one star differs from another star in glory.
42 So also is the resurrection of the dead. The body is sown in corruption, it is raised in incorruption. 43 It is sown in dishonor, it is raised in glory. It is sown in weakness, it is raised in power. 44 It is sown a natural body, it is raised a spiritual body. There is a natural body, and there is a spiritual body. 45 And so it is written, "The first man Adam became a living being." The last Adam became a life-giving spirit.
Luke 4:31-36
Jesus Casts Out an Unclean Spirit
31 Then He went down to Capernaum, a city of Galilee, and was teaching them on the Sabbaths. 32 And they were astonished at His teaching, for His word was with authority. 33 Now in the synagogue there was a man who had a spirit of an unclean demon. And he cried out with a loud voice, 34 saying, "Let us alone! What have we to do with You, Jesus of Nazareth? Did You come to destroy us? I know who You are—the Holy One of God!"
35 But Jesus rebuked him, saying, "Be quiet, and come out of him!" And when the demon had thrown him in their midst, it came out of him and did not hurt him. 36 Then they were all amazed and spoke among themselves, saying, "What a word this is! For with authority and power He commands the unclean spirits, and they come out."