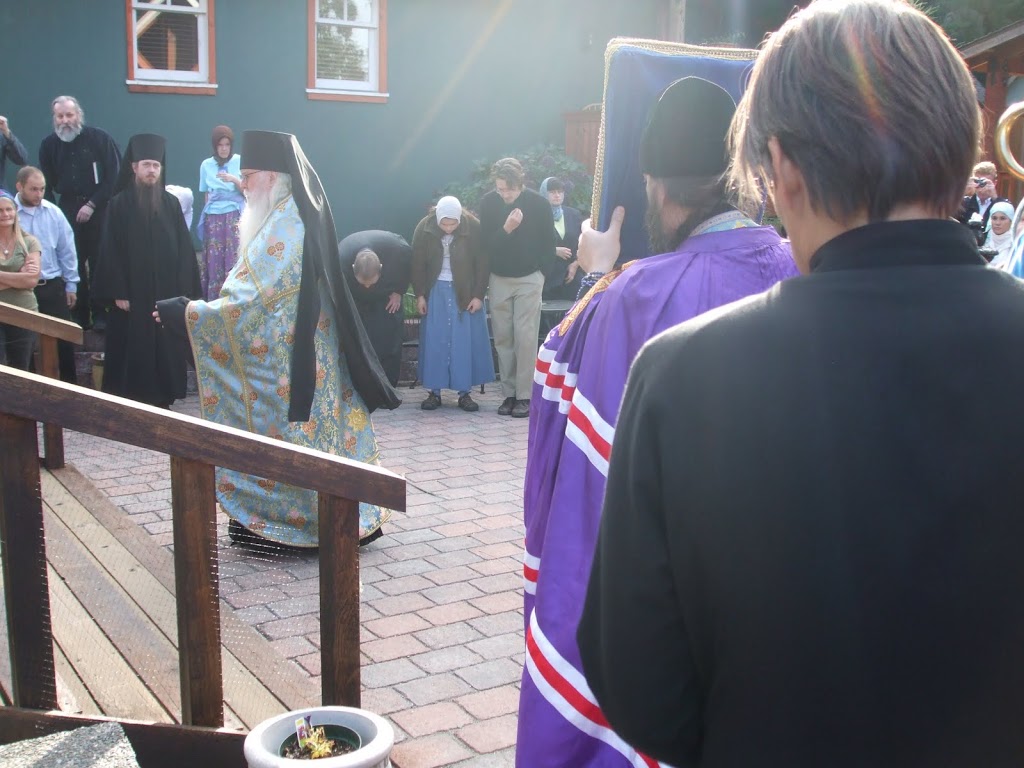 Glory to Jesus Christ! Glory to Him forever!
Saints of the Day
September 29 / October 12. St. Kyriacos the Hermit of Palestine St. Theophanes the Merciful of Gaza. Martyrs Dada, Gabdelas and Casdoe (Casdoa) of Persia. Martyr Gudelia of Persia. Eighty Holy Martyrs of Byzantium. St. Cyprian, abbot of Ustiug (Vologda). New Hieromartyr John, Archbishop of Riga in Lativa (1934). (Greek Calendar: Martyrs Tryphon, Trophimus, and Dorymedon and 150 Martyrs in Palestine. Martyr Petronia. Translation of the Relics of St. Neophytus the Enclosed. St. Auxentius the Wonderworker.) Repose of Blessed Anthony Alexseevich, fool-for-Christ of Zadonsk (1851).
Photo of the Day
Abbot Tryphon ushering in the Kursk-Root Icon, borne
aloft by Bishop Theodosy of Seattle.
Quote of the Day
"Know, beloved, that the valleys shall abound with wheat and spiritual fruit. This valley is a soul low and humble among the mountains, that is, it is filled with labours and virtues, and always remains unhaughty and steadfast."
St. John Climacus "The Ladder of Divine Ascent" (Step 25)
Scripture Readings for the Day
Philippians 1:1-7
Greeting
1 Paul and Timothy, bondservants of Jesus Christ,
To all the saints in Christ Jesus who are in Philippi, with the bishops and deacons:
2 Grace to you and peace from God our Father and the Lord Jesus Christ.
Thankfulness and Prayer
3 I thank my God upon every remembrance of you, 4 always in every prayer of mine making request for you all with joy, 5 for your fellowship in the gospel from the first day until now, 6 being confident of this very thing, that He who has begun a good work in you will complete it until the day of Jesus Christ; 7 just as it is right for me to think this of you all, because I have you in my heart, inasmuch as both in my chains and in the defense and confirmation of the gospel, you all are partakers with me of grace.
Luke 6:24-30
Jesus Pronounces Woes
24 " But woe to you who are rich,
For you have received your consolation.
25 Woe to you who are full,
For you shall hunger.
Woe to you who laugh now,
For you shall mourn and weep.
26 Woe to you when all men speak well of you,
For so did their fathers to the false prophets.
Love Your Enemies
27 "But I say to you who hear: Love your enemies, do good to those who hate you, 28 bless those who curse you, and pray for those who spitefully use you. 29 To him who strikes you on the one cheek, offer the other also. And from him who takes away your cloak, do not withhold your tunic either. 30 Give to everyone who asks of you. And from him who takes away your goods do not ask them back.