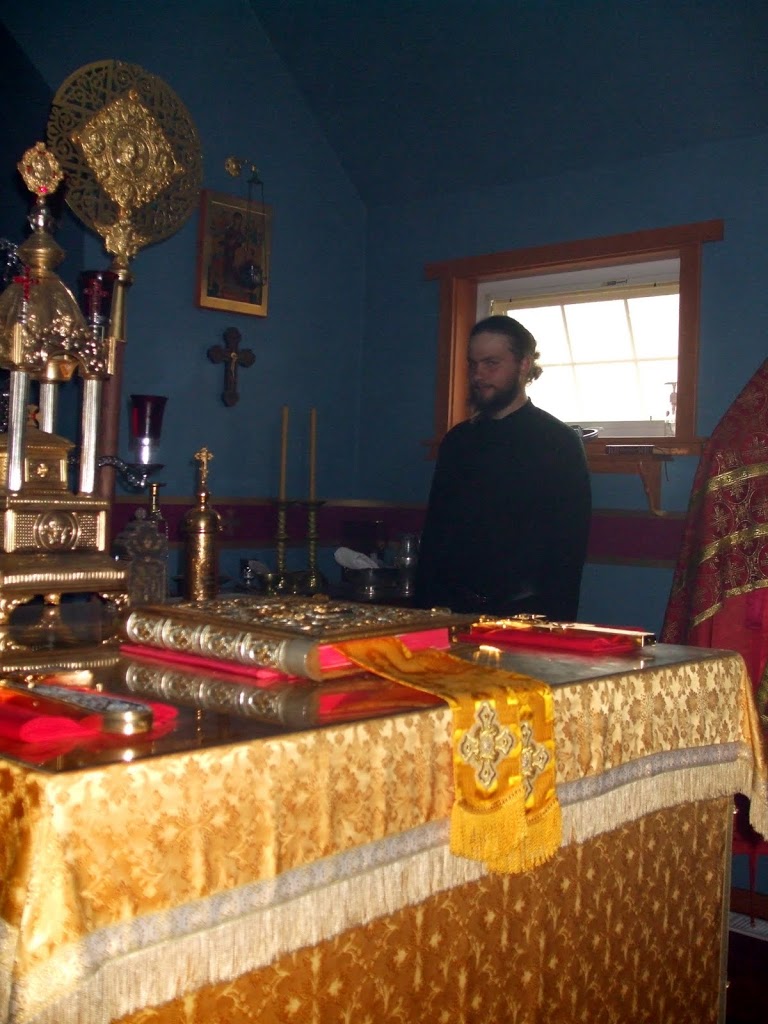 Glory to Jesus Christ! Glory to Him forever!
Saints of the Day
September 17 / 30. Martyr Sophia and her three daughters Faith (Vera), Hope (Nadezhda), and Love (Lyubov) at Rome. Afterfeast ofthe Exaltation of the Cross. Martyr Agathocleia. Martyr Theodota at Nicaea. 156 Martyrs of Palestine, including Bishops Peleusand Nilus, presbyter Zeno, and noblemen Patermuthius and Elias. Martyrs Lucy and her son Geminian of Rome. HieromartyrsHeraclides and Myron, Bishops of Cyprus. (Greek Calendar: 100 Martyrs of Egypt. Martyrs Charalampus, Panteleon and others.St. Anastasius of Cyprus, monk. St. Eusipius of Cyprus, monk.) Repose of Blessed Agapius, disciple of St. Tikhon of Zadonsk(1825), and Blessed lay-recluse Matthew of Petersburg (1904).
Photo of the Day
Novice Christos, serving in the altar.
Quote of the Day
"A self-indulgent heart become a prison and chain for the soul when it leaves this life; whereas an assiduous heart is an open door."
From: "On the Spiritual Law"
Philokalia Vol.1
Scripture Readings for the Day
Ephesians 3:8-21
Purpose of the Mystery
8 To me, who am less than the least of all the saints, this grace was given, that I should preach among the Gentiles the unsearchable riches of Christ, 9 and to make all see what is the fellowship of the mystery, which from the beginning of the ages has been hidden in God who created all things through Jesus Christ; 10 to the intent that now the manifold wisdom of God might be made known by the church to the principalities and powers in the heavenly places, 11 according to the eternal purpose which He accomplished in Christ Jesus our Lord, 12 in whom we have boldness and access with confidence through faith in Him. 13 Therefore I ask that you do not lose heart at my tribulations for you, which is your glory.
Appreciation of the Mystery
14 For this reason I bow my knees to the Father of our Lord Jesus Christ, 15 from whom the whole family in heaven and earth is named, 16 that He would grant you, according to the riches of His glory, to be strengthened with might through His Spirit in the inner man, 17 that Christ may dwell in your hearts through faith; that you, being rooted and grounded in love, 18 may be able to comprehend with all the saints what is the width and length and depth and height— 19 to know the love of Christ which passes knowledge; that you may be filled with all the fullness of God.
20 Now to Him who is able to do exceedingly abundantly above all that we ask or think, according to the power that works in us, 21 to Him be glory in the church by Christ Jesus to all generations, forever and ever. Amen.
Mark 11:23-26
23 For assuredly, I say to you, whoever says to this mountain, 'Be removed and be cast into the sea,' and does not doubt in his heart, but believes that those things he says will be done, he will have whatever he says. 24 Therefore I say to you, whatever things you ask when you pray, believe that you receive them, and you will have them.
Forgiveness and Prayer
25 "And whenever you stand praying, if you have anything against anyone, forgive him, that your Father in heaven may also forgive you your trespasses. 26 But if you do not forgive, neither will your Father in heaven forgive your trespasses."