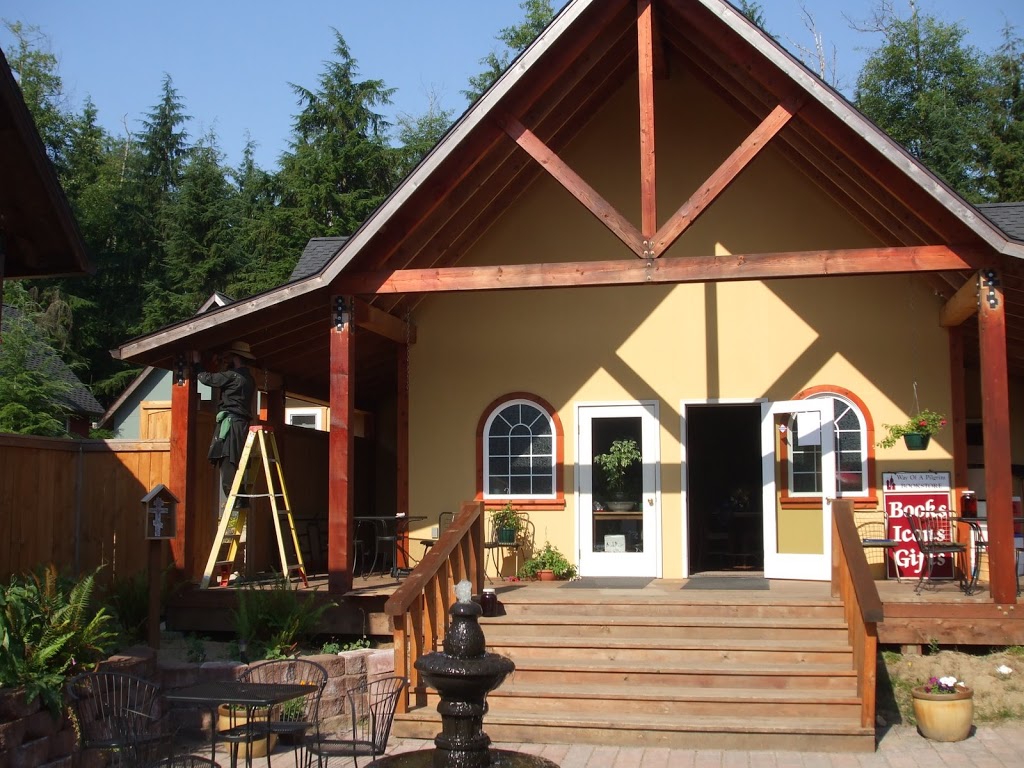 The Orthodox Church is evangelical, but not Protestant. It is orthodox, but not Jewish. It is catholic, but not Roman. It isn't non-denominational – it is pre-denominational. It has believed, taught, preserved, defended and died for the Faith of the Apostles since the Day of Pentecost 2000 years ago.
Glory to Jesus Christ! Glory to Him forever!
Saints of the Day
July 17 / 30. Great-Martyr Marina (Margaret) of Antioch in Pisidia. Translation of the Relics of St. Lazarus, monk of Mt. Galerius near Ephesus. St. Irenarchus, abbot of Solovki. St. Leonides Leonid), abbot of Ustnedumsk (Vologda). New-Martyrs Priests Ismael and Michael (Rozhdestvensky). (Greek Calendar: Martyrs Speratus and Veronica. St. Euphrasius of Iconopolis, Bishop).
Photo of the Day
Novice Christos spent the day staining the posts for the porch of our trapeza. 
Quote of the Day
"A man who is growing cold towards God begins first of all to flee attending church. At first he tries to come to services later, and then he ceases altogether to visit God's temple…Here in the skete we even make the rounds of the cells on feast days, so that no one evades church services."
Elder Barsanuphius of Optina
Scripture Readings for the Day
1 Corinthians 10:28-11:7
28 But if anyone says to you, "This was offered to idols," do not eat it for the sake of the one who told you, and for conscience' sake; for "the earth is the LORD's, and all its fullness." 29 "Conscience," I say, not your own, but that of the other. For why is my liberty judged by another man's conscience? 30 But if I partake with thanks, why am I evil spoken of for the food over which I give thanks?
31 Therefore, whether you eat or drink, or whatever you do, do all to the glory of God. 32 Give no offense, either to the Jews or to the Greeks or to the church of God, 33 just as I also please all men in all things, not seeking my own profit, but the profit of many, that they may be saved.
1 Corinthians 11
1 Imitate me, just as I also imitate Christ.
Head Coverings
2 Now I praise you, brethren, that you remember me in all things and keep the traditions just as I delivered them to you. 3 But I want you to know that the head of every man is Christ, the head of woman is man, and the head of Christ is God. 4 Every man praying or prophesying, having his head covered, dishonors his head. 5 But every woman who prays or prophesies with her head uncovered dishonors her head, for that is one and the same as if her head were shaved. 6 For if a woman is not covered, let her also be shorn. But if it is shameful for a woman to be shorn or shaved, let her be covered. 7 For a man indeed ought not to cover his head, since he is the image and glory of God; but woman is the glory of man.
Matthew 16:24-28
Take Up the Cross and Follow Him
24 Then Jesus said to His disciples, "If anyone desires to come after Me, let him deny himself, and take up his cross, and follow Me. 25 For whoever desires to save his life will lose it, but whoever loses his life for My sake will find it. 26 For what profit is it to a man if he gains the whole world, and loses his own soul? Or what will a man give in exchange for his soul? 27 For the Son of Man will come in the glory of His Father with His angels, and then He will reward each according to his works.
Jesus Transfigured on the Mount
28 Assuredly, I say to you, there are some standing here who shall not taste death till they see the Son of Man coming in His kingdom."