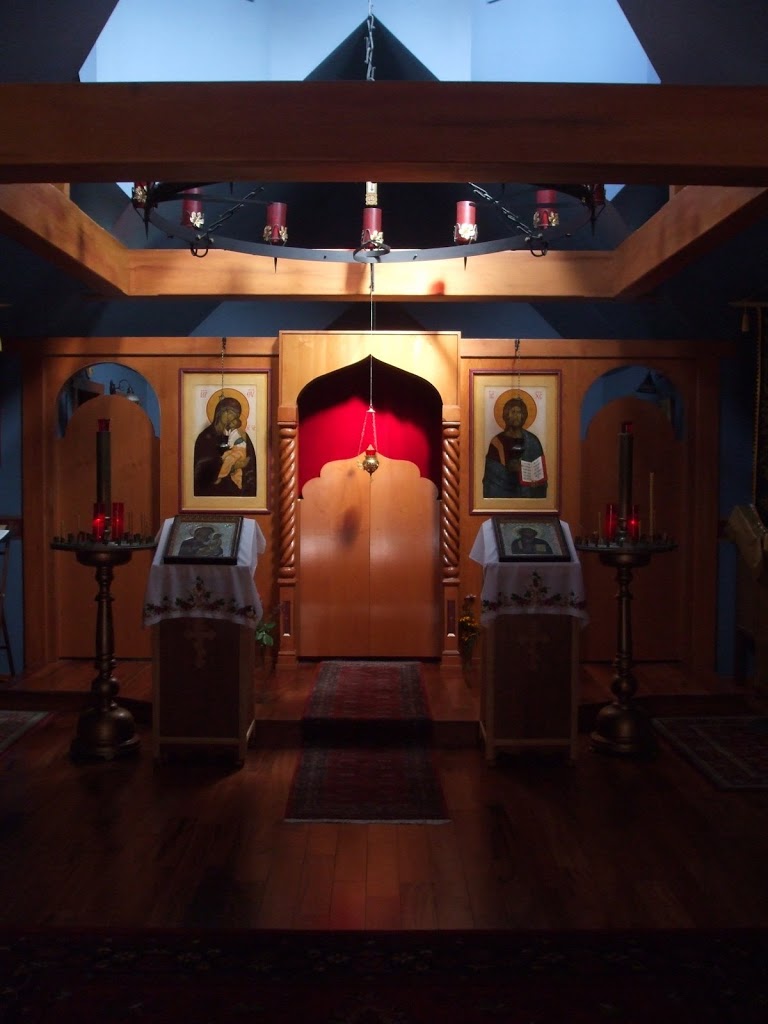 The Orthodox Church is evangelical, but not Protestant. It is orthodox, but not Jewish. It is catholic, but not Roman. It isn't non-denominational – it is pre-denominational. It has believed, taught, preserved, defended and died for the Faith of the Apostles since the Day of Pentecost 2000 years ago.
Glory to Jesus Christ! Glory to Him forever!
Saints of the Day
June 27 / July 10. St. Sampson the Hospitable of Constantinople. St. Severus, presbyter of Interocrea in Italy. St. Joanna the Myrrh-bearer. Martyr Anectus of Caesarea in Cappadocia. Blessed Martin of Turov. New-Martyr priest Gregory Nikolsky (1918). (Greek Calendar: St. Luke the hermit. Martyrs Mark and Marcia. Hieromartyr Pierius, presbyter of Antioch.)
Photo of the Day
Another view of the newly installed serpentine pillars, gracing the sides of the Royal Doors in our monastery's temple.
Video of the Day:
http://www.youtube.com/watch?v=RwFYUJb03d0&eurl=http%3A%2F%2Fwww.facebook.com%2Fpages%2FKabarnos-Nikodimos%2F101009269064&feature=player_embedded
Scripture Readings for the Day
Romans 16:1-16
Sister Phoebe Commended
1 I commend to you Phoebe our sister, who is a servant of the church in Cenchrea, 2 that you may receive her in the Lord in a manner worthy of the saints, and assist her in whatever business she has need of you; for indeed she has been a helper of many and of myself also.
Greeting Roman Saints
3 Greet Priscilla and Aquila, my fellow workers in Christ Jesus, 4 who risked their own necks for my life, to whom not only I give thanks, but also all the churches of the Gentiles. 5 Likewise greet the church that is in their house.
Greet my beloved Epaenetus, who is the firstfruits of Achaia to Christ. 6 Greet Mary, who labored much for us. 7 Greet Andronicus and Junia, my countrymen and my fellow prisoners, who are of note among the apostles, who also were in Christ before me.
8 Greet Amplias, my beloved in the Lord. 9 Greet Urbanus, our fellow worker in Christ, and Stachys, my beloved. 10 Greet Apelles, approved in Christ. Greet those who are of the household of Aristobulus. 11 Greet Herodion, my countryman. Greet those who are of the household of Narcissus who are in the Lord.
12 Greet Tryphena and Tryphosa, who have labored in the Lord. Greet the beloved Persis, who labored much in the Lord. 13 Greet Rufus, chosen in the Lord, and his mother and mine. 14 Greet Asyncritus, Phlegon, Hermas, Patrobas, Hermes, and the brethren who are with them. 15 Greet Philologus and Julia, Nereus and his sister, and Olympas, and all the saints who are with them.
16 Greet one another with a holy kiss. The churches of Christ greet you.
Matthew 13:4-9
4 And as he sowed, some seed fell by the wayside; and the birds came and devoured them. 5 Some fell on stony places, where they did not have much earth; and they immediately sprang up because they had no depth of earth. 6 But when the sun was up they were scorched, and because they had no root they withered away. 7 And some fell among thorns, and the thorns sprang up and choked them. 8 But others fell on good ground and yielded a crop: some a hundredfold, some sixty, some thirty. 9 He who has ears to hear, let him hear!"