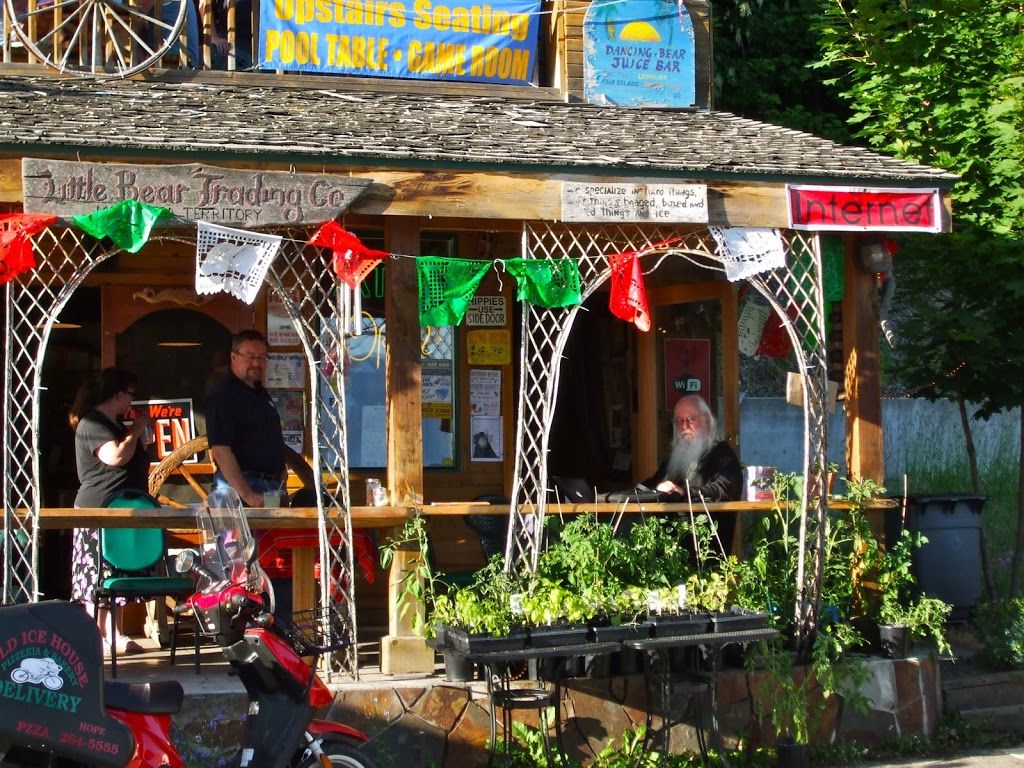 The Orthodox Church is evangelical, but not Protestant. It is orthodox, but not Jewish. It is catholic, but not Roman. It isn't non-denominational – it is pre-denominational. It has believed, taught, preserved, defended and died for the Faith of the Apostles since the Day of Pentecost 2000 years ago.
Glory to Jesus Christ! Glory to Him forever!
Saints of the Day
June 22 / July 5. Hieromartyr Eusebius, Bishop of Samosota. Martyrs Galacteon, Juliana, and Satruninus of Constantinople. Martyrs Zeno and his servant Zenas of Philadelphia. St. Alban, Protomartyr of Britain. St. Anastasius the Serbian. (Greek Calendar: Martyr Pompian.) Repose of Righteous Mary the Cave-digger of White Mountain Monastery near Voronezh (1822) and of Schemamonk Theoktist of Valaam (1863).
Photo of the Day
The only WiFi within some thirty miles is this little cafe, overlooking Lake Pend d' Oreille, in the little village of Hope, Idaho. Thus, I've come here every morning and evening to prepare The Morning Offering, as well as to check my email. The view from here just doesn't get any better! The lake is fifty-five miles long, 148 square miles, and 1,150 feet deep, making it one of the largest and deepest lakes in the country. It is so clean, many of the island folks pipe the water into their homes for drinking! I have been praying that Orthodoxy would come to Northern Idaho, for many years. My parents became Orthodox before they reposed, because of a mission parish founded in Couer d' Alene, Idaho. Now I am praying the Church will next take root in Sandpoint, my home town. Thus, I will be giving a talk on Orthodoxy in a public building, tomorrow afternoon. Please pray that the Holy Spirit guide my words, and open the hearts of the people, that they be given eyes to see, and ears to hear. Please, in your prayers, remember especially my beloved brother, Dwayne, and my wonderful sister-in-law, Claudia, who live in Sandpoint, and are not yet Orthodox.
Thought for the Day
"…detachment frees an acquisitive person from all sufferings in this present life and in the life to come. Because he does not want anything that he does not possess, he is above and beyond all comfort and wealth; while to desire what one lacks is the greatest torment a man can suffer prior to age long torment."
St. Peter of Damascus
Scripture Readings for the Day
Romans 6:18-23
18 And having been set free from sin, you became slaves of righteousness. 19 I speak in human terms because of the weakness of your flesh. For just as you presented your members as slaves of uncleanness, and of lawlessness leading to more lawlessness, so now present your members as slaves of righteousness for holiness.
20 For when you were slaves of sin, you were free in regard to righteousness. 21 What fruit did you have then in the things of which you are now ashamed? For the end of those things is death. 22 But now having been set free from sin, and having become slaves of God, you have your fruit to holiness, and the end, everlasting life. 23 For the wages of sin is death, but the gift of God is eternal life in Christ Jesus our Lord.
Matthew 8:5-13
Jesus Heals a Centurion's Servant
5 Now when Jesus had entered Capernaum, a centurion came to Him, pleading with Him, 6 saying, "Lord, my servant is lying at home paralyzed, dreadfully tormented."
7 And Jesus said to him, "I will come and heal him."
8 The centurion answered and said, "Lord, I am not worthy that You should come under my roof. But only speak a word, and my servant will be healed. 9 For I also am a man under authority, having soldiers under me. And I say to this one, 'Go,' and he goes; and to another, 'Come,' and he comes; and to my servant, 'Do this,' and he does it."
10 When Jesus heard it, He marveled, and said to those who followed, "Assuredly, I say to you, I have not found such great faith, not even in Israel! 11 And I say to you that many will come from east and west, and sit down with Abraham, Isaac, and Jacob in the kingdom of heaven. 12 But the sons of the kingdom will be cast out into outer darkness. There will be weeping and gnashing of teeth." 13 Then Jesus said to the centurion, "Go your way; and as you have believed, so let it be done for you." And his servant was healed that same hour.