Glory to Jesus Christ! Glory to Him forever!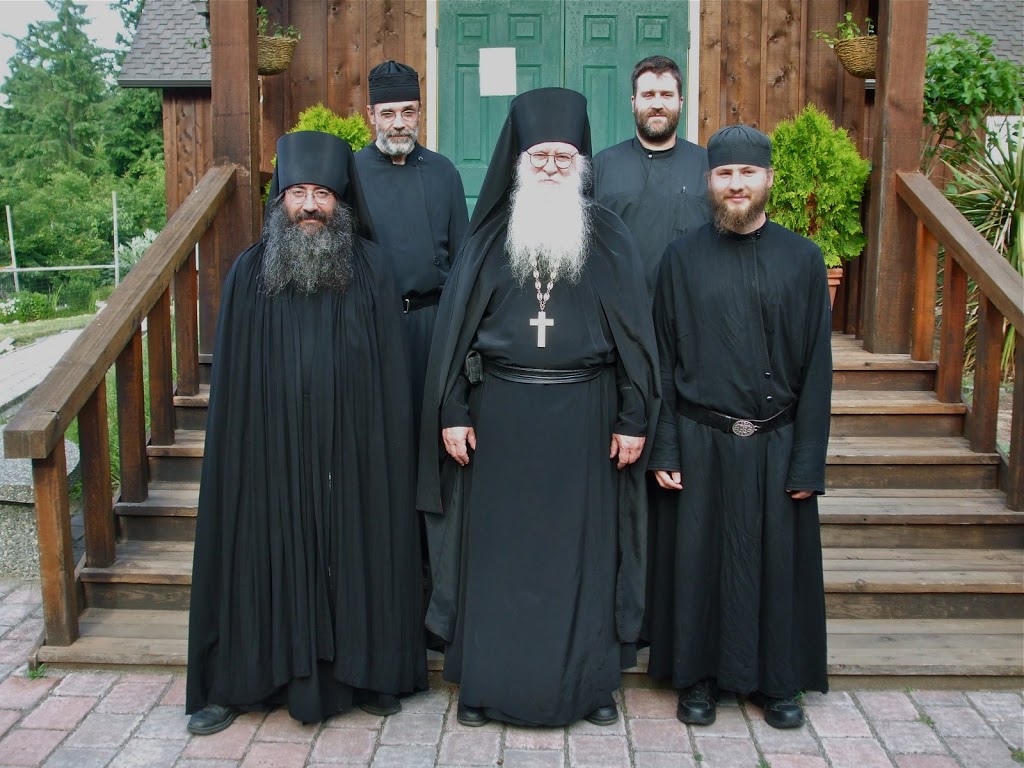 Saints of the Day
June 7 / 20. Hieromartyr Theodotus, Bishop of Ancyra. Martyrs Cyriaca, Caleria, and Mary, of Caesarea in Palestine. Hieromartyr Marcellus, Bishop of Rome, and those with him: Sisinius and Cyriacus, deacons; Smaragdus, Largus, Apronian, Saturninus, Pappias, Maurus, Crescentian, Priscilla, Lucina, and princess Artemia. St. Daniel of Scete in Egypt. Hieromartyr Marcellinus, pope of Rome. Virgin Martyr Potemaiena of Alexandria. Martyr Zenais (Zenaida) of Caesarea in Palestine. (Greek Calendar: Holy women Aesia and Susanna, disciples of St. Pancratius of Taormina and martyred with him. Martyr Lycarion of Hermopolis in Egypt. Martyrs Tarasius and John. St. Stephen the hieromonk. St. Anthimus the hieromonk. St. Sebastian the Wonderworker.) Repose of Anthony Ivanovich, fool-for-Christ of Valaam (1832).
Photo of the Day
The holy brotherhood (Click photo to enlarge)
Thought for the Day
"What is the point of amassing riches? Despite his unwillingness, the seeming possessor will have to surrender them, not just at the moment of his death, but often before this, with much shame, tribulation and pain. Wealth breeds innumerable trials – fear, anxiety, constant worry and troubles sought and unsought – and yet many have endured even death for its sake. But God's holy commandment saves every man from all this and gives him complete freedom from anxiety and fear; often, indeed, it confers inexpressible delight on those who deliberately choose to rid themselves of possessions. For what brings more delight than to achieve dispassion, and no longer to be under the sway of anger or the desire for worldly things? Regarding as nothing the things that most people value and rising above them, we live as in paradise, or rather as in heaven, set free from all constraints through our untroubled devotion to God."
St. Peter of Damaskos
Scripture Readings for the Day
Romans 3:19-26
19 Now we know that whatever the law says, it says to those who are under the law, that every mouth may be stopped, and all the world may become guilty before God. 20 Therefore by the deeds of the law no flesh will be justified in His sight, for by the law is the knowledge of sin.
God's Righteousness Through Faith
21 But now the righteousness of God apart from the law is revealed, being witnessed by the Law and the Prophets, 22 even the righteousness of God, through faith in Jesus Christ, to all and on all who believe. For there is no difference; 23 for all have sinned and fall short of the glory of God, 24 being justified freely by His grace through the redemption that is in Christ Jesus, 25 whom God set forth as a propitiation by His blood, through faith, to demonstrate His righteousness, because in His forbearance God had passed over the sins that were previously committed, 26 to demonstrate at the present time His righteousness, that He might be just and the justifier of the one who has faith in Jesus.
Matthew 7:1-8
Do Not Judge
1 "Judge not, that you be not judged. 2 For with what judgment you judge, you will be judged; and with the measure you use, it will be measured back to you. 3 And why do you look at the speck in your brother's eye, but do not consider the plank in your own eye? 4 Or how can you say to your brother, 'Let me remove the speck from your eye'; and look, a plank is in your own eye? 5 Hypocrite! First remove the plank from your own eye, and then you will see clearly to remove the speck from your brother's eye.
6 "Do not give what is holy to the dogs; nor cast your pearls before swine, lest they trample them under their feet, and turn and tear you in pieces.
Keep Asking, Seeking, Knocking
7 "Ask, and it will be given to you; seek, and you will find; knock, and it will be opened to you. 8 For everyone who asks receives, and he who seeks finds, and to him who knocks it will be opened.