Glory to Jesus Christ! Glory to Him forever!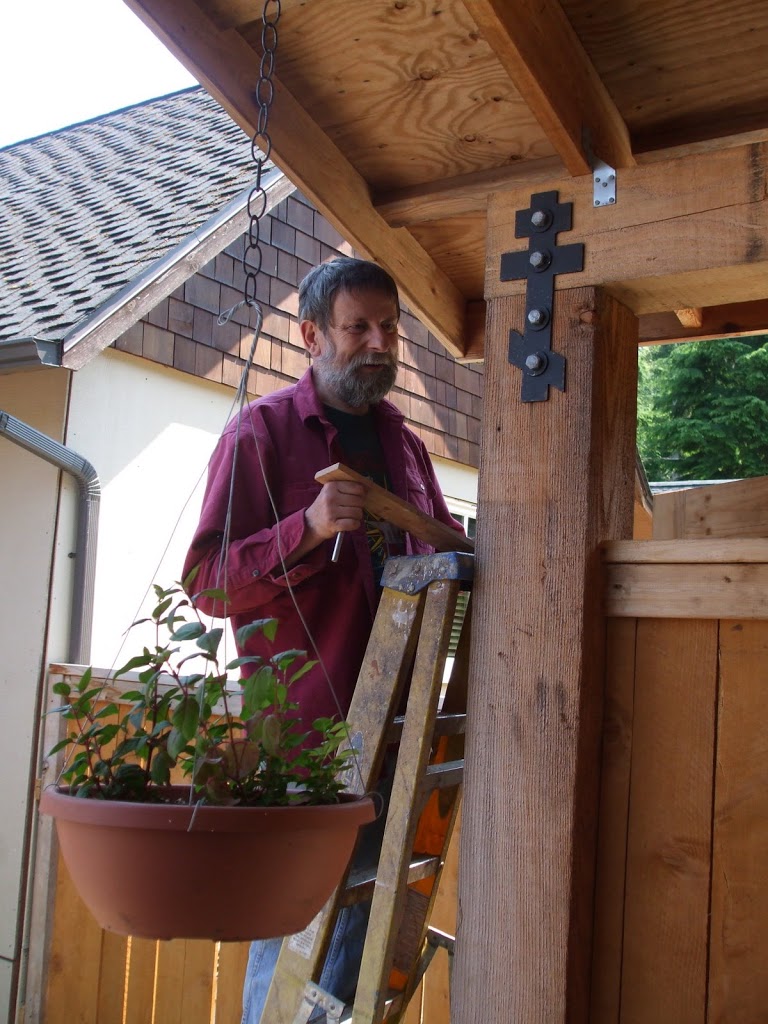 Saints of the Day
May 30 / June 12. St. Isaac, founder of the Dalmation Monastery at Constantinople. St. James, monk of Galich monastery. Martyr Natalius. Martyrs Romanus, Meletius, and Euplius. Martyr Barlaam of Caesarea in Cappadocia. Repose of Abbot Ephraim of Sarov (1778).
Photo of the Day
Alexander Karg, placing the last of the 36 crosses on the support posts of our porches.
Thought for the Day
"You cannot learn to see just because someone tells you to do so. For that, you require your own natural power of sight. In the same way, you cannot discover from the teaching of others the beauty of prayer. Prayer has its own special teacher in God, who 'teaches man knowledge' (Ps. 93:10). He grants the prayer of him who prays. And He blesses the years of the just."
St. John Climacus
Scripture Readings for the Day
Romans 2:14-29
14 for when Gentiles, who do not have the law, by nature do the things in the law, these, although not having the law, are a law to themselves, 15 who show the work of the law written in their hearts, their conscience also bearing witness, and between themselves their thoughts accusing or else excusing them) 16 in the day when God will judge the secrets of men by Jesus Christ, according to my gospel.
The Jews Guilty as the Gentiles
17 Indeed you are called a Jew, and rest on the law, and make your boast in God, 18 and know His will, and approve the things that are excellent, being instructed out of the law, 19 and are confident that you yourself are a guide to the blind, a light to those who are in darkness, 20 an instructor of the foolish, a teacher of babes, having the form of knowledge and truth in the law. 21 You, therefore, who teach another, do you not teach yourself? You who preach that a man should not steal, do you steal? 22 You who say, "Do not commit adultery," do you commit adultery? You who abhor idols, do you rob temples? 23 You who make your boast in the law, do you dishonor God through breaking the law? 24 For "the name of God is blasphemed among the Gentiles because of you," as it is written.
Circumcision of No Avail
25 For circumcision is indeed profitable if you keep the law; but if you are a breaker of the law, your circumcision has become uncircumcision. 26 Therefore, if an uncircumcised man keeps the righteous requirements of the law, will not his uncircumcision be counted as circumcision? 27 And will not the physically uncircumcised, if he fulfills the law, judge you who, even with your written code and circumcision, are a transgressor of the law? 28 For he is not a Jew who is one outwardly, nor is circumcision that which is outward in the flesh; 29 but he is a Jew who is one inwardly; and circumcision is that of the heart, in the Spirit, not in the letter; whose praise is not from men but from God.
Matthew 5:33-41
Jesus Forbids Oaths
33 "Again you have heard that it was said to those of old, 'You shall not swear falsely, but shall perform your oaths to the Lord.' 34 But I say to you, do not swear at all: neither by heaven, for it is God's throne; 35 nor by the earth, for it is His footstool; nor by Jerusalem, for it is the city of the great King. 36 Nor shall you swear by your head, because you cannot make one hair white or black. 37 But let your 'Yes' be 'Yes,' and your 'No,' 'No.' For whatever is more than these is from the evil one.
Go the Second Mile
38 "You have heard that it was said, 'An eye for an eye and a tooth for a tooth.' 39 But I tell you not to resist an evil person. But whoever slaps you on your right cheek, turn the other to him also. 40 If anyone wants to sue you and take away your tunic, let him have your cloak also. 41 And whoever compels you to go one mile, go with him two.