Glory to Jesus Christ! Glory to Him forever!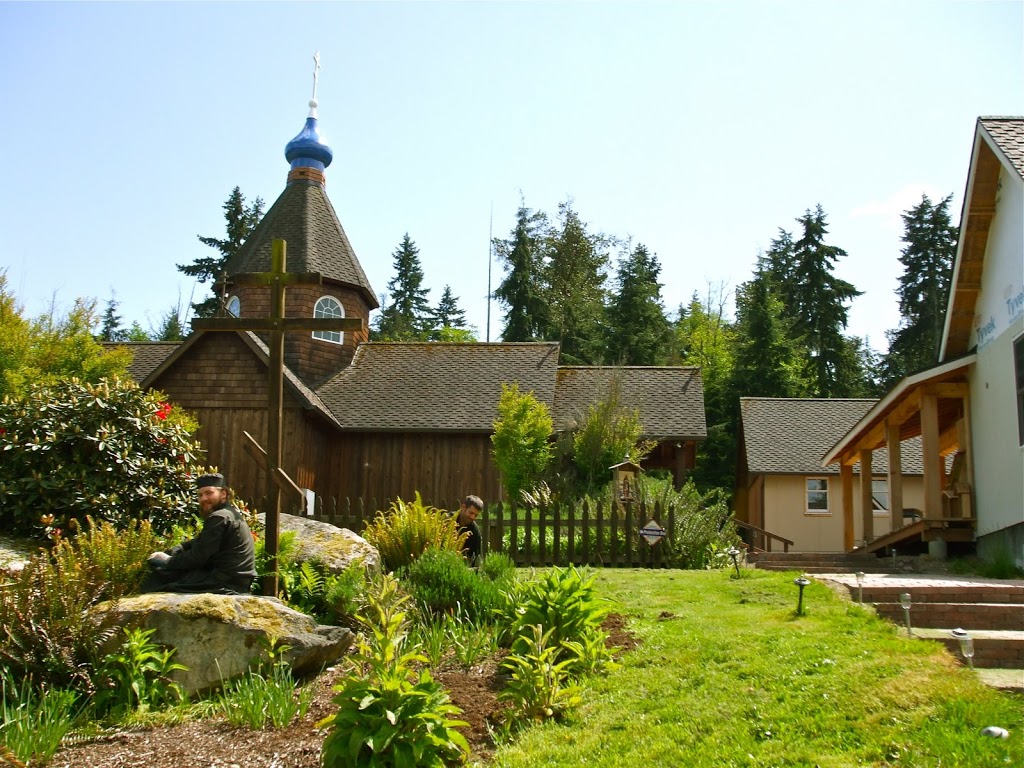 Christ is Risen! Truly He is Risen!
Saints of the Day
May 9 / 22. Translation of the Relics of St. Nicholas the Wonderworker from Myra to Bari. Prophet Isaiah. Martyr Christopher of Lycia, and with him Martyrs Callinica and Aquilina. Martyr Epimachus the New of Alexandria. Martyr Gordion at Rome. Translation of the Relics of Child-martyr Gabriel of Slutsk. Monk-martyr Nicholas who lived in Vuneni, of Larissa in Thessaly. St. Shio, monk, of Georgia. Repose of Schemahieromonk Joseph of Optina (1911).
Photo of the Day
Novice Christos and Kiril Strahilov, a pilgrim from Bulgaria, pulling weeds.
Quote of the Day
"There is a way of fortifying ourselves in our struggle described in all writings, and that is to keep up our courage when we are most fiercely assailed by evil thoughts, not to yield in the midst of our conflict. For it is one of the malicious devices of the devil to fill us with shame at the prospect of being defeated by evil preoccupations, so that we shall be hindered from lifting our eyes to God in contrition and praying to be freed of them. But let us, by our continual repentance and interrupted prayer, conquer these delusions; let us never turn our back to the enemy, even if he deals us a thousand wounds each day. And let us firmly resolve never to give up this life-giving exercise, even to our death."
St. Nilus of Sora
Scripture Readings for the Day
Acts 15:5-34
5 But some of the sect of the Pharisees who believed rose up, saying, "It is necessary to circumcise them, and to command them to keep the law of Moses."
The Jerusalem Council
6 Now the apostles and elders came together to consider this matter. 7 And when there had been much dispute, Peter rose up and said to them: "Men and brethren, you know that a good while ago God chose among us, that by my mouth the Gentiles should hear the word of the gospel and believe. 8 So God, who knows the heart, acknowledged them by giving them the Holy Spirit, just as He did to us, 9 and made no distinction between us and them, purifying their hearts by faith. 10 Now therefore, why do you test God by putting a yoke on the neck of the disciples which neither our fathers nor we were able to bear? 11 But we believe that through the grace of the Lord Jesus Christ we shall be saved in the same manner as they."
12 Then all the multitude kept silent and listened to Barnabas and Paul declaring how many miracles and wonders God had worked through them among the Gentiles. 13 And after they had become silent, James answered, saying, "Men and brethren, listen to me: 14 Simon has declared how God at the first visited the Gentiles to take out of them a people for His name. 15 And with this the words of the prophets agree, just as it is written:
16 'After this I will return
And will rebuild the tabernacle of David, which has fallen down;
I will rebuild its ruins,
And I will set it up;
17 So that the rest of mankind may seek the LORD,
Even all the Gentiles who are called by My name,
Says the LORD who does all these things.'
18 "Known to God from eternity are all His works. 19 Therefore I judge that we should not trouble those from among the Gentiles who are turning to God, 20 but that we write to them to abstain from things polluted by idols, from sexual immorality, from things strangled, and from blood. 21 For Moses has had throughout many generations those who preach him in every city, being read in the synagogues every Sabbath."
The Jerusalem Decree
22 Then it pleased the apostles and elders, with the whole church, to send chosen men of their own company to Antioch with Paul and Barnabas, namely, Judas who was also named Barsabas, and Silas, leading men among the brethren.
23 They wrote this, letter by them:
The apostles, the elders, and the brethren,
To the brethren who are of the Gentiles in Antioch, Syria, and Cilicia:
Greetings.
24 Since we have heard that some who went out from us have troubled you with words, unsettling your souls, saying, "You must be circumcised and keep the law"—to whom we gave no such commandment— 25 it seemed good to us, being assembled with one accord, to send chosen men to you with our beloved Barnabas and Paul, 26 men who have risked their lives for the name of our Lord Jesus Christ. 27 We have therefore sent Judas and Silas, who will also report the same things by word of mouth. 28 For it seemed good to the Holy Spirit, and to us, to lay upon you no greater burden than these necessary things: 29 that you abstain from things offered to idols, from blood, from things strangled, and from sexual immorality. If you keep yourselves from these, you will do well. Farewell.
Continuing Ministry in Syria
30 So when they were sent off, they came to Antioch; and when they had gathered the multitude together, they delivered the letter. 31 When they had read it, they rejoiced over its encouragement. 32 Now Judas and Silas, themselves being prophets also, exhorted and strengthened the brethren with many words. 33 And after they had stayed there for a time, they were sent back with greetings from the brethren to the apostles.
34 However, it seemed good to Silas to remain there.
John 10:17-28
17 "Therefore My Father loves Me, because I lay down My life that I may take it again. 18 No one takes it from Me, but I lay it down of Myself. I have power to lay it down, and I have power to take it again. This command I have received from My Father."
19 Therefore there was a division again among the Jews because of these sayings. 20 And many of them said, "He has a demon and is mad. Why do you listen to Him?"
21 Others said, "These are not the words of one who has a demon. Can a demon open the eyes of the blind?"
The Shepherd Knows His Sheep
22 Now it was the Feast of Dedication in Jerusalem, and it was winter. 23 And Jesus walked in the temple, in Solomon's porch. 24 Then the Jews surrounded Him and said to Him, "How long do You keep us in doubt? If You are the Christ, tell us plainly."
25 Jesus answered them, "I told you, and you do not believe. The works that I do in My Father's name, they bear witness of Me. 26 But you do not believe, because you are not of My sheep, as I said to you. 27 My sheep hear My voice, and I know them, and they follow Me. 28 And I give them eternal life, and they shall never perish; neither shall anyone snatch them out of My hand.