Glory to Jesus Christ! Glory to Him forever!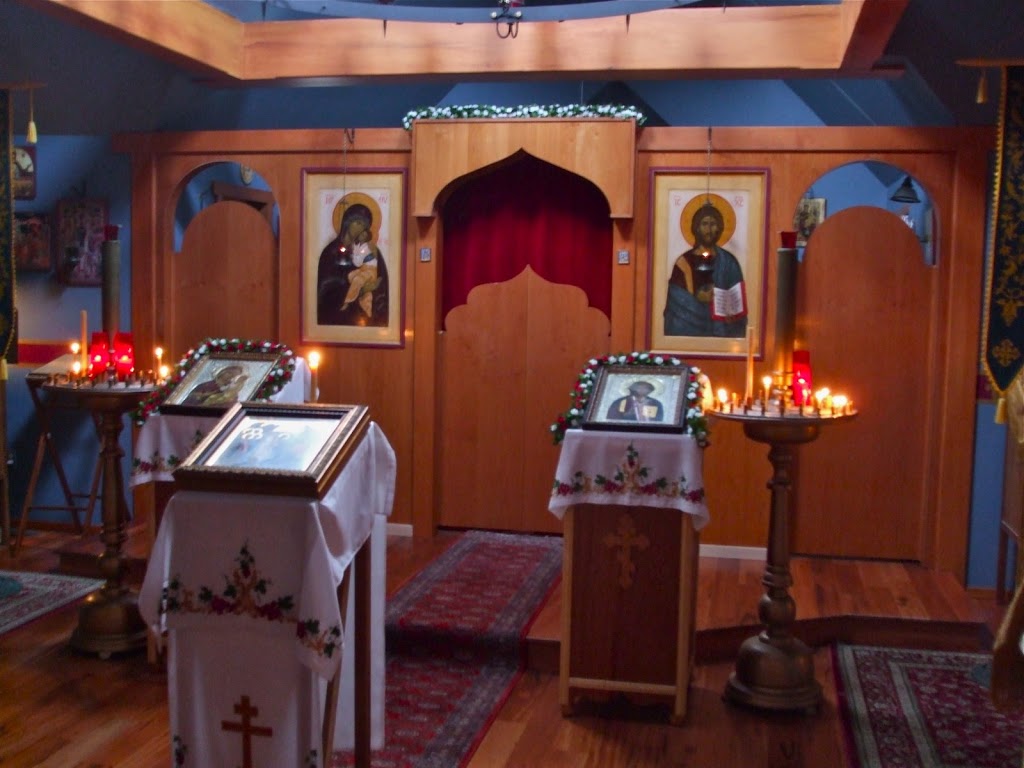 Christ is Risen! Truly He is Risen!
Saints of the Day
May 1 / 14. Prophet Jeremiah. St. Paphnutius, abbot of Borovsk. Martyr Batas of Nisibis. Hieromartyr Macarius, Metropolitan of Kiev. New-Martyrs Euthymius, Ignatius and Acacius of Mt. Athos. St. Gerasimus, abbot of Boldinsk. St. Tamara the Queen of Georgia. (Greek Calendar: St. Isidora. St. Panaretus of Cyprus, Archbishop Martyr Sabbas. St. Nicephorus of Chios, monk.) Icon of the Most Holy Theotokos Unexpected Joy. Repose of Schemamonk Luke of Clinsk Hermitage (1898).
Photo of the Day
Iconostasis of our Monastery's temple.
Quote of the Day
"All. then, He [Christ] assumed that He might sanctify all. He was tried and overcame in order that He might prepare victory for us and give to nature power to overcome its antagonist, in order that nature which was overcome of old might overcome its former conqueror by the very weapons wherewith it had itself been overcome."
St. John of Damascus
Scripture Readings for the Day
Acts 10:34-43
Preaching to Cornelius' Household
34 Then Peter opened his mouth and said: "In truth I perceive that God shows no partiality. 35 But in every nation whoever fears Him and works righteousness is accepted by Him. 36 The word which God sent to the children of Israel, preaching peace through Jesus Christ—He is Lord of all— 37 that word you know, which was proclaimed throughout all Judea, and began from Galilee after the baptism which John preached: 38 how God anointed Jesus of Nazareth with the Holy Spirit and with power, who went about doing good and healing all who were oppressed by the devil, for God was with Him. 39 And we are witnesses of all things which He did both in the land of the Jews and in Jerusalem, whom they killed by hanging on a tree. 40 Him God raised up on the third day, and showed Him openly, 41 not to all the people, but to witnesses chosen before by God, even to us who ate and drank with Him after He arose from the dead. 42 And He commanded us to preach to the people, and to testify that it is He who was ordained by God to be Judge of the living and the dead. 43 To Him all the prophets witness that, through His name, whoever believes in Him will receive remission of sins."
John 8:12-20
12 Then Jesus spoke to them again, saying, "I am the light of the world. He who follows Me shall not walk in darkness, but have the light of life."
Jesus Defends His Self-Witness
13 The Pharisees therefore said to Him, "You bear witness of Yourself; Your witness is not true."
14 Jesus answered and said to them, "Even if I bear witness of Myself, My witness is true, for I know where I came from and where I am going; but you do not know where I come from and where I am going. 15 You judge according to the flesh; I judge no one. 16 And yet if I do judge, My judgment is true; for I am not alone, but I am with the Father who sent Me. 17 It is also written in your law that the testimony of two men is true. 18 I am One who bears witness of Myself, and the Father who sent Me bears witness of Me."
19 Then they said to Him, "Where is Your Father?"
Jesus answered, "You know neither Me nor My Father. If you had known Me, you would have known My Father also."
20 These words Jesus spoke in the treasury, as He taught in the temple; and no one laid hands on Him, for His hour had not yet come.