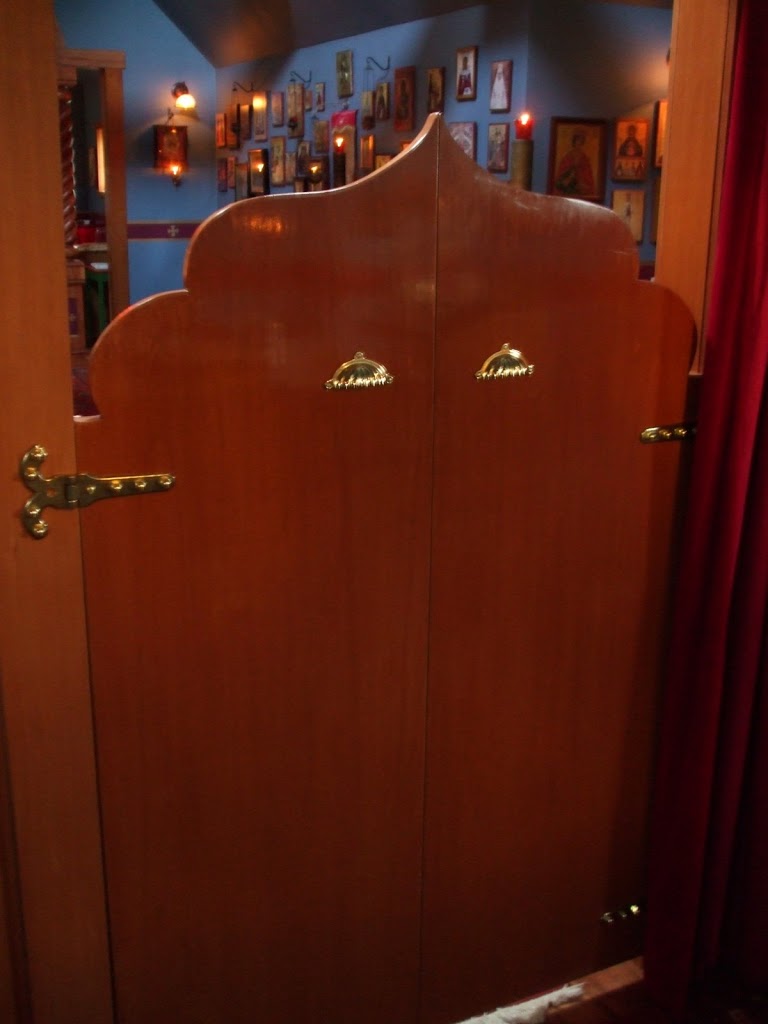 Wednesday, April 8 / March 26 (Church Calendar)
~Great and Holy Lent~
Synaxis of the Archangel Gabriel
Photo of the Day
The altar side of the new Royal Doors.
Saints of the Day:
March 26 / April 8. Synaxis of the Archangel Gabriel. Hieromartyr Irenaeus, Bishop of Sirmium in Hungary. Hieromartyr Eusebius, Bishop of Kival, and Martyr Pullius the reader. St. Malchus of Chalcis in Syria. St. Basil the Younger, anchorite near Constantinople. Martyrs Bathusius and Bercus presbyters, Arpilus monk, laymen Abibus, Agnus, Reasus, Igathrax, Isoecus (Iskous), Silas, Signicus, Sonerilas, Suimbalus, Thermus, Phillus (Philgas), and the women Anna, Alla, Larissa, Monco (Manca), Mamica, Uirko (Virko), Animais (Animaida), Gaatha, and Duklida, in Crimea. Martyr Codratus (Quadratus) and with him 40 Martyrs who suffered under Diocletian.
.
Quote of the Day
"The knowledge of God is a mountain steep indeed and difficult to climb – the majority of people scarcely reach its base. If one were a Moses, he would ascend higher and hear the sound of trumpets which, as the text of the history says, becomes louder as one advances. For the preaching of the divine nature is truly a trumpet blast, which strikes the hearing, being already loud at the beginning but becoming yet louder at the end."
Scripture Readings for the Day
Isaiah 58:1-11
Isaiah 58
Fasting that Pleases God
1 "Cry aloud, spare not;
Lift up your voice like a trumpet;
Tell My people their transgression,
And the house of Jacob their sins.
2 Yet they seek Me daily,
And delight to know My ways,
As a nation that did righteousness,
And did not forsake the ordinance of their God.
They ask of Me the ordinances of justice;
They take delight in approaching God.
3 ' Why have we fasted,' they say, 'and You have not seen?
Why have we afflicted our souls, and You take no notice?'
" In fact, in the day of your fast you find pleasure,
And exploit all your laborers.
4 Indeed you fast for strife and debate,
And to strike with the fist of wickedness.
You will not fast as you do this day,
To make your voice heard on high.
5 Is it a fast that I have chosen,
A day for a man to afflict his soul?
Is it to bow down his head like a bulrush,
And to spread out sackcloth and ashes?
Would you call this a fast,
And an acceptable day to the LORD?
6 " Is this not the fast that I have chosen:
To loose the bonds of wickedness,
To undo the heavy burdens,
To let the oppressed go free,
And that you break every yoke?
7 Is it not to share your bread with the hungry,
And that you bring to your house the poor who are cast out;
When you see the naked, that you cover him,
And not hide yourself from your own flesh?
8 Then your light shall break forth like the morning,
Your healing shall spring forth speedily,
And your righteousness shall go before you;
The glory of the LORD shall be your rear guard.
9 Then you shall call, and the LORD will answer;
You shall cry, and He will say, 'Here I am.'
" If you take away the yoke from your midst,
The pointing of the finger, and speaking wickedness,
10 If you extend your soul to the hungry
And satisfy the afflicted soul,
Then your light shall dawn in the darkness,
And your darkness shall be as the noonday.
11 The LORD will guide you continually,
And satisfy your soul in drought,
And strengthen your bones;
You shall be like a watered garden,
And like a spring of water, whose waters do not fail.

Genesis 43:26-31
26 And when Joseph came home, they brought him the present which was in their hand into the house, and bowed down before him to the earth. 27 Then he asked them about their well-being, and said, "Is your father well, the old man of whom you spoke? Is he still alive?"
28 And they answered, "Your servant our father is in good health; he is still alive." And they bowed their heads down and prostrated themselves.
29 Then he lifted his eyes and saw his brother Benjamin, his mother's son, and said, "Is this your younger brother of whom you spoke to me?" And he said, "God be gracious to you, my son." 30 Now his heart yearned for his brother; so Joseph made haste and sought somewhere to weep. And he went into his chamber and wept there. 31 Then he washed his face and came out; and he restrained himself, and said, "Serve the bread."
Genesis 45:1-16
Joseph Revealed to His Brothers
1 Then Joseph could not restrain himself before all those who stood by him, and he cried out, "Make everyone go out from me!" So no one stood with him while Joseph made himself known to his brothers. 2 And he wept aloud, and the Egyptians and the house of Pharaoh heard it.
3 Then Joseph said to his brothers, "I am Joseph; does my father still live?" But his brothers could not answer him, for they were dismayed in his presence. 4 And Joseph said to his brothers, "Please come near to me." So they came near. Then he said: "I am Joseph your brother, whom you sold into Egypt. 5 But now, do not therefore be grieved or angry with yourselves because you sold me here; for God sent me before you to preserve life. 6 For these two years the famine has been in the land, and there are still five years in which there will be neither plowing nor harvesting. 7 And God sent me before you to preserve a posterity for you in the earth, and to save your lives by a great deliverance. 8 So now it was not you who sent me here, but God; and He has made me a father to Pharaoh, and lord of all his house, and a ruler throughout all the land of Egypt.
9 "Hurry and go up to my father, and say to him, 'Thus says your son Joseph: "God has made me lord of all Egypt; come down to me, do not tarry. 10 You shall dwell in the land of Goshen, and you shall be near to me, you and your children, your children's children, your flocks and your herds, and all that you have. 11 There I will provide for you, lest you and your household, and all that you have, come to poverty; for there are still five years of famine."'
12 "And behold, your eyes and the eyes of my brother Benjamin see that it is my mouth that speaks to you. 13 So you shall tell my father of all my glory in Egypt, and of all that you have seen; and you shall hurry and bring my father down here."
14 Then he fell on his brother Benjamin's neck and wept, and Benjamin wept on his neck. 15 Moreover he kissed all his brothers and wept over them, and after that his brothers talked with him.
16 Now the report of it was heard in Pharaoh's house, saying, "Joseph's brothers have come." So it pleased Pharaoh and his servants well.
Proverbs 21:23-22:4 (New King James Version)
23 Whoever guards his mouth and tongue
Keeps his soul from troubles.
24 A proud and haughty man—"Scoffer" is his name;
He acts with arrogant pride.
25 The desire of the lazy man kills him,
For his hands refuse to labor.
26 He covets greedily all day long,
But the righteous gives and does not spare.
27 The sacrifice of the wicked is an abomination;
How much more when he brings it with wicked intent!
28 A false witness shall perish,
But the man who hears him will speak endlessly.
29 A wicked man hardens his face,
But as for the upright, he establishes his way.
30 There is no wisdom or understanding
Or counsel against the LORD.
31 The horse is prepared for the day of battle,
But deliverance is of the LORD.
Proverbs 22
 1 A good name is to be chosen rather than great riches,
Loving favor rather than silver and gold.
2 The rich and the poor have this in common,
The LORD is the maker of them all.
3 A prudent man foresees evil and hides himself,
But the simple pass on and are punished.
4 By humility and the fear of the LORD
Are riches and honor and life.