Glory to Jesus Christ! Glory to Him forever!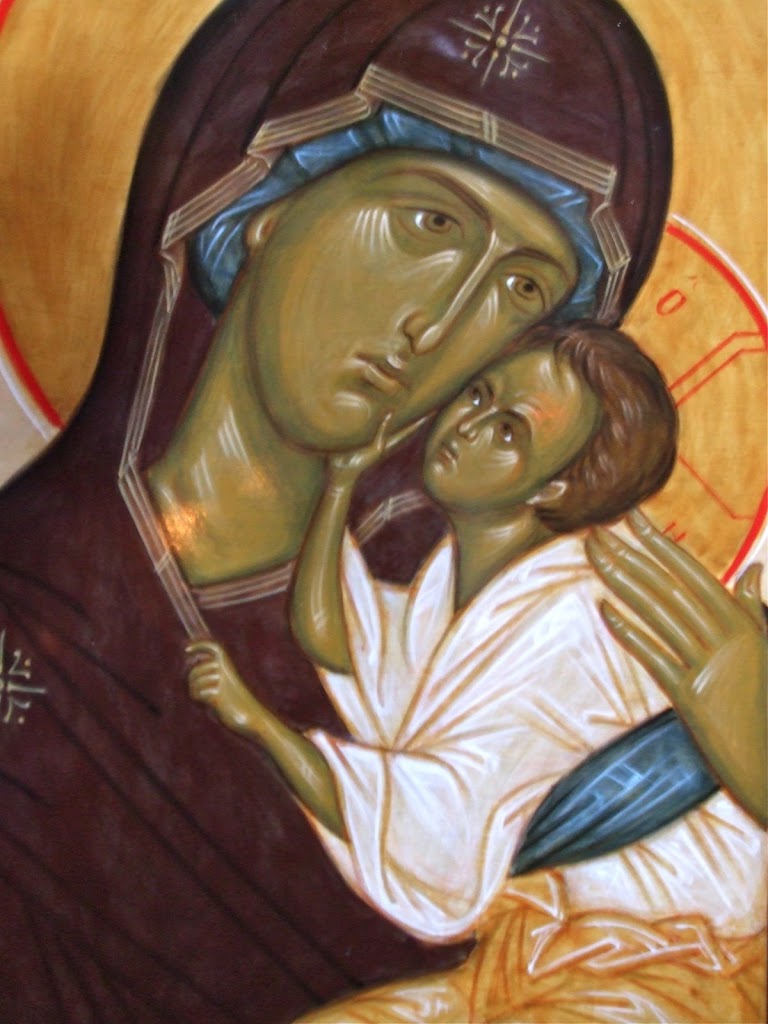 ~Great and Holy Lent~
The Feast of the Annunciation of the Most Holy Theotokos
Photo of the Day
Closeup of the newly acquired icon of the Most Holy Theotokos, that graces our new iconostasis.
Saints of the Day
March 25 / April 7. THE ANNUNCIATION OF OUR MOST HOLY LADY, THE THEOTOKOS AND EVER-VIRGIN MARY. New-Martyr Tikhon, Patriarch of Moscow (1925). Repose of Schemahieromonk Parthenius of Kiev (1855).
.Video of the Day:
http://video.yahoo.com/watch/4812572/12841013
Scripture Readings for the Day
Hebrews 2:11-18
11 For both He who sanctifies and those who are being sanctified are all of one, for which reason He is not ashamed to call them brethren, 12 saying:
"I will declare Your name to My brethren;
In the midst of the assembly I will sing praise to You."
13 And again:
"I will put My trust in Him."
And again:
"Here am I and the children whom God has given Me."
14 Inasmuch then as the children have partaken of flesh and blood, He Himself likewise shared in the same, that through death He might destroy him who had the power of death, that is, the devil, 15 and release those who through fear of death were all their lifetime subject to bondage. 16 For indeed He does not give aid to angels, but He does give aid to the seed of Abraham. 17 Therefore, in all things He had to be made like His brethren, that He might be a merciful and faithful High Priest in things pertaining to God, to make propitiation for the sins of the people. 18 For in that He Himself has suffered, being tempted, He is able to aid those who are tempted.
Luke 1:24-38
24 Now after those days his wife Elizabeth conceived; and she hid herself five months, saying, 25 "Thus the Lord has dealt with me, in the days when He looked on me, to take away my reproach among people."
Christ's Birth Announced to Mary
26 Now in the sixth month the angel Gabriel was sent by God to a city of Galilee named Nazareth, 27 to a virgin betrothed to a man whose name was Joseph, of the house of David. The virgin's name was Mary. 28 And having come in, the angel said to her, "Rejoice, highly favored one, the Lord is with you; blessed are you among women!"
29 But when she saw him, she was troubled at his saying, and considered what manner of greeting this was. 30 Then the angel said to her, "Do not be afraid, Mary, for you have found favor with God. 31 And behold, you will conceive in your womb and bring forth a Son, and shall call His name JESUS. 32 He will be great, and will be called the Son of the Highest; and the Lord God will give Him the throne of His father David. 33 And He will reign over the house of Jacob forever, and of His kingdom there will be no end."
34 Then Mary said to the angel, "How can this be, since I do not know a man?"
35 And the angel answered and said to her, "The Holy Spirit will come upon you, and the power of the Highest will overshadow you; therefore, also, that Holy One who is to be born will be called the Son of God. 36 Now indeed, Elizabeth your relative has also conceived a son in her old age; and this is now the sixth month for her who was called barren. 37 For with God nothing will be impossible."
38 Then Mary said, "Behold the maidservant of the Lord! Let it be to me according to your word." And the angel