Glory to Jesus Christ! Glory to Him forever!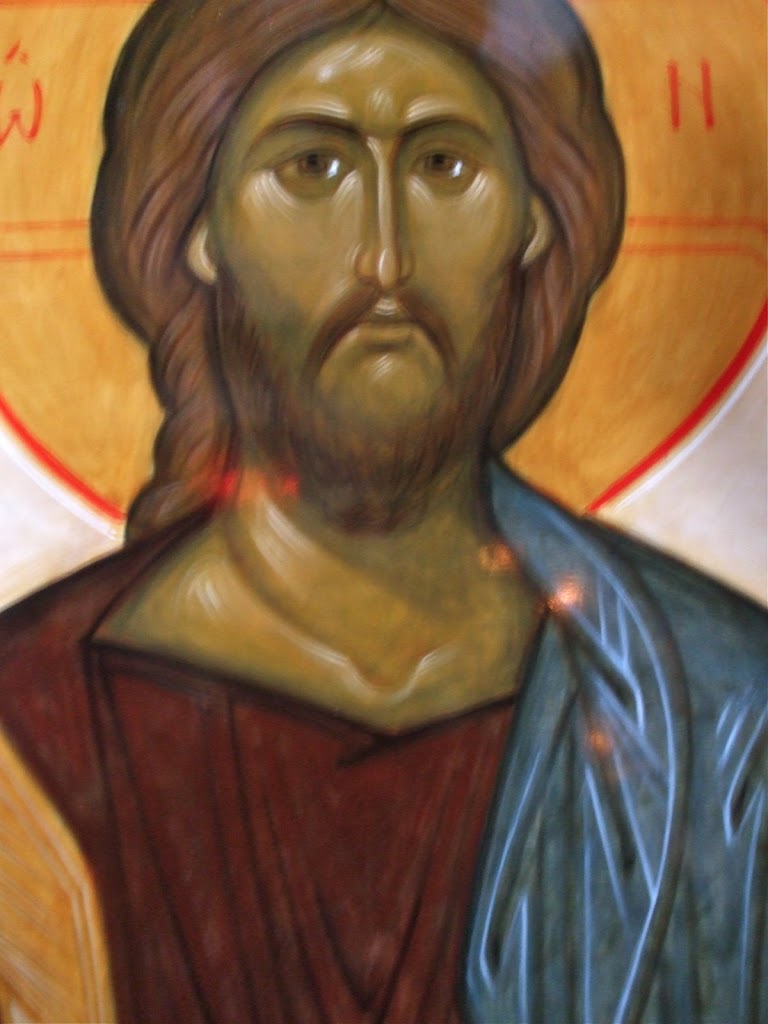 ~Great and Holy Lent~
Photo of the Day
Closeup of our newly installed icon of Christ, that graces our iconostasis.
Saints of the Day
March 24 / April 6. Forefeast of the Annunciation. St. Zacharias the Recluse. St. Artemon, Bishop of Seleucia. St. James the Confessor, Bishop of Catania. Hieromartyr Parthenius, Patriarch of Constantinople. Martyrs Stephen and Peter of Kazan. St. Artemius, Bishop of Thessalonica. St. Zachariah, faster of the Kiev Caves. (Greek Calendar: Eight Martyrs of Caesarea in Palestine. St. Martin of Thebes, monk.)
Quote of the Day
"Blessed is he who humbles himself in all things, for he will be exalted in all. For a man who for God's sake humble himself, and thinks meanly of himself, is glorified by God. The man who hungers and thirsts for God's sake, God will make drunk with His good things. And he who goes naked for God's sake is clad by Him in a robe of incorruption and glory. And he who becomes poor for His sake is consoled with His true riches."
St. Isaac the Syrian.
Scripture Readings for the Day
Isaiah 48:17-49:4
17 Thus says the LORD, your Redeemer,
The Holy One of Israel:
" I am the LORD your God,
Who teaches you to profit,
Who leads you by the way you should go.
18 Oh, that you had heeded My commandments!
Then your peace would have been like a river,
And your righteousness like the waves of the sea.
19 Your descendants also would have been like the sand,
And the offspring of your body like the grains of sand;
His name would not have been cut off
Nor destroyed from before Me."
20 Go forth from Babylon!
Flee from the Chaldeans!
With a voice of singing,
Declare, proclaim this,
Utter it to the end of the earth;
Say, "The LORD has redeemed
His servant Jacob!"
21 And they did not thirst
When He led them through the deserts;
He caused the waters to flow from the rock for them;
He also split the rock, and the waters gushed out.
22 " There is no peace," says the LORD, "for the wicked."
Isaiah 49
The Servant, the Light to the Gentiles
1 "Listen, O coastlands, to Me,
And take heed, you peoples from afar!
The LORD has called Me from the womb;
From the matrix of My mother He has made mention of My name.
2 And He has made My mouth like a sharp sword;
In the shadow of His hand He has hidden Me,
And made Me a polished shaft;
In His quiver He has hidden Me."
3 " And He said to me,
' You are My servant, O Israel,
In whom I will be glorified.'
4 Then I said, 'I have labored in vain,
I have spent my strength for nothing and in vain;
Yet surely my just reward is with the LORD,
And my work with my God.'"
Genesis 27:1-41
Isaac Blesses Jacob
1 Now it came to pass, when Isaac was old and his eyes were so dim that he could not see, that he called Esau his older son and said to him, "My son."
And he answered him, "Here I am."
2 Then he said, "Behold now, I am old. I do not know the day of my death. 3 Now therefore, please take your weapons, your quiver and your bow, and go out to the field and hunt game for me. 4 And make me savory food, such as I love, and bring it to me that I may eat, that my soul may bless you before I die."
5 Now Rebekah was listening when Isaac spoke to Esau his son. And Esau went to the field to hunt game and to bring it. 6 So Rebekah spoke to Jacob her son, saying, "Indeed I heard your father speak to Esau your brother, saying, 7 'Bring me game and make savory food for me, that I may eat it and bless you in the presence of the LORD before my death.' 8 Now therefore, my son, obey my voice according to what I command you. 9 Go now to the flock and bring me from there two choice kids of the goats, and I will make savory food from them for your father, such as he loves. 10 Then you shall take it to your father, that he may eat it, and that he may bless you before his death."
11 And Jacob said to Rebekah his mother, "Look, Esau my brother is a hairy man, and I am a smooth-skinned man. 12 Perhaps my father will feel me, and I shall seem to be a deceiver to him; and I shall bring a curse on myself and not a blessing."
13 But his mother said to him, "Let your curse be on me, my son; only obey my voice, and go, get them for me." 14 And he went and got them and brought them to his mother, and his mother made savory food, such as his father loved. 15 Then Rebekah took the choice clothes of her elder son Esau, which were with her in the house, and put them on Jacob her younger son. 16 And she put the skins of the kids of the goats on his hands and on the smooth part of his neck. 17 Then she gave the savory food and the bread, which she had prepared, into the hand of her son Jacob.
18 So he went to his father and said, "My father."
And he said, "Here I am. Who are you, my son?"
19 Jacob said to his father, "I am Esau your firstborn; I have done just as you told me; please arise, sit and eat of my game, that your soul may bless me."
20 But Isaac said to his son, "How is it that you have found it so quickly, my son?"
And he said, "Because the LORD your God brought it to me."
21 Isaac said to Jacob, "Please come near, that I may feel you, my son, whether you are really my son Esau or not." 22 So Jacob went near to Isaac his father, and he felt him and said, "The voice is Jacob's voice, but the hands are the hands of Esau." 23 And he did not recognize him, because his hands were hairy like his brother Esau's hands; so he blessed him.
24 Then he said, "Are you really my son Esau?"
He said, "I am."
25 He said, "Bring it near to me, and I will eat of my son's game, so that my soul may bless you." So he brought it near to him, and he ate; and he brought him wine, and he drank. 26 Then his father Isaac said to him, "Come near now and kiss me, my son." 27 And he came near and kissed him; and he smelled the smell of his clothing, and blessed him and said:
" Surely, the smell of my son
Is like the smell of a field
Which the LORD has blessed.
28 Therefore may God give you
Of the dew of heaven,
Of the fatness of the earth,
And plenty of grain and wine.
29 Let peoples serve you,
And nations bow down to you.
Be master over your brethren,
And let your mother's sons bow down to you.
Cursed be everyone who curses you,
And blessed be those who bless you!"
Esau's Lost Hope
30 Now it happened, as soon as Isaac had finished blessing Jacob, and Jacob had scarcely gone out from the presence of Isaac his father, that Esau his brother came in from his hunting. 31 He also had made savory food, and brought it to his father, and said to his father, "Let my father arise and eat of his son's game, that your soul may bless me."
32 And his father Isaac said to him, "Who are you?"
So he said, "I am your son, your firstborn, Esau."
33 Then Isaac trembled exceedingly, and said, "Who? Where is the one who hunted game and brought it to me? I ate all of it before you came, and I have blessed him—and indeed he shall be blessed."
34 When Esau heard the words of his father, he cried with an exceedingly great and bitter cry, and said to his father, "Bless me—me also, O my father!"
35 But he said, "Your brother came with deceit and has taken away your blessing."
36 And Esau said, "Is he not rightly named Jacob? For he has supplanted me these two times. He took away my birthright, and now look, he has taken away my blessing!" And he said, "Have you not reserved a blessing for me?"
37 Then Isaac answered and said to Esau, "Indeed I have made him your master, and all his brethren I have given to him as servants; with grain and wine I have sustained him. What shall I do now for you, my son?"
38 And Esau said to his father, "Have you only one blessing, my father? Bless me—me also, O my father!" And Esau lifted up his voice and wept.
39 Then Isaac his father answered and said to him:
" Behold, your dwelling shall be of the fatness of the earth,
And of the dew of heaven from above.
40 By your sword you shall live,
And you shall serve your brother;
And it shall come to pass, when you become restless,
That you shall break his yoke from your neck."
Jacob Escapes from Esau
41 So Esau hated Jacob because of the blessing with which his father blessed him, and Esau said in his heart, "The days of mourning for my father are at hand; then I will kill my brother Jacob."
Proverbs 19:16-25
16 He who keeps the commandment keeps his soul,
But he who is careless of his ways will die.
17 He who has pity on the poor lends to the LORD,
And He will pay back what he has given.
18 Chasten your son while there is hope,
And do not set your heart on his destruction.
19 A man of great wrath will suffer punishment;
For if you rescue him, you will have to do it again.
20 Listen to counsel and receive instruction,
That you may be wise in your latter days.
21 There are many plans in a man's heart,
Nevertheless the LORD's counsel—that will stand.
22 What is desired in a man is kindness,
And a poor man is better than a liar.
23 The fear of the LORD leads to life,
And he who has it will abide in satisfaction;
He will not be visited with evil.
24 A lazy man buries his hand in the bowl,
And will not so much as bring it to his mouth again.
25 Strike a scoffer, and the simple will become wary;
Rebuke one who has understanding, and he will discern knowledge.