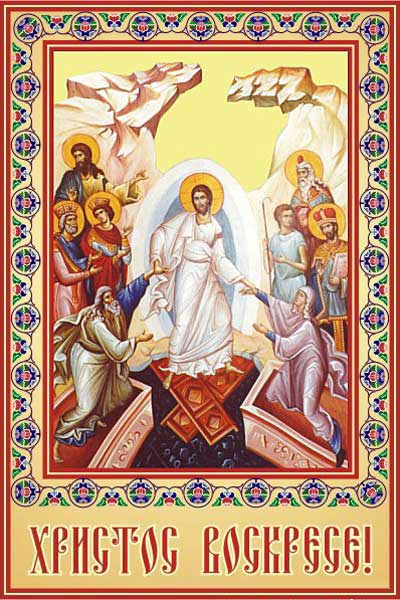 Monday, April 20 / April 7 (Church Calendar)
Bright Monday
Christ is Risen! Truly He is Risen!
Saints of the Day:
April 7 / 20. St. George, Bishop of Mitylene. Martyr Calliopus at Pompeiopolis in Cilicia. Martyrs Rufinus deacon, Aquilina, and 200 soldiers at Sinope. St. Serapion of Egypt, monk. St. Daniel, abbot of Peryaslavl-Zalesski. St. Nilus, abbot of Sora. St. Leucius, abbot of Volokolamsk. Opening of the Relics of St. Serapion, Archbishop of Novgorod. Repose of Schemamonk Agapitus the Blind of Valaam (1905).
Hymn of the Day:Technically known as the Paschal Troparion (a kind of Byzantine hymn), written by St. John of Damascus (aka Damascene), the shortest of Orthodox hymns, sung over and over between Pascha and Ascension Thursday:Christ is risen from the dead, trampling down death by death, and upon those in the tombs bestowing life!
Quote of the Day
The following prayer is attributed to St Ephrem the Syrian.
I fall in adoration at your feet, Lord!
I thank you, God of goodness;
God of holiness, I invoke you,
on my knees, in your sight.
For me, an unworthy sinner,
you have willed to undergo the death of the cross,
setting me free from the bonds of evil.
What shall I offer in return for your generosity?
Glory to you, friend of men!
Glory to you, most merciful!
Glory to you, most patient!
Glory to you who forgive sin!
Glory to you who have come to save us!
Glory to you who have been made man in the womb of a Virgin!
Glory to you who have been bound!
Glory to you who have been scourged!
Glory to you who have been derided!
Glory to you who have been nailed to the cross!
Glory to you, laid in a sepulchre, but risen again!
Glory to you who have preached the Gospel to men and have been believed!
Glory to you who have ascended to heaven!
Glory to you, seated at the right hand of the Father and who will return with him, in majesty, among the angels, to judge those who have disregarded your passion!
The powers of heaven will be shaken;
all the angels and archangels, the cherubim and seraphim
will appear in fear and trembling before Your glory;
the foundations of the earth will quake
and all that has life will cry out before Your majesty.
In that hour let your hand draw me beneath Your wings,
and save me from the terrible fire, from the gnashing of teeth,
from the outer darkness and from despair without end.
That I may sing to Your glory:
Glory to Him who through His merciful goodness has designed to redeem this sinner.
Scripture Readings for the Day
Acts 1:12-17, 21-26
The Upper Room Prayer Meeting
12 Then they returned to Jerusalem from the mount called Olivet, which is near Jerusalem, a Sabbath day's journey. 13 And when they had entered, they went up into the upper room where they were staying: Peter, James, John, and Andrew; Philip and Thomas; Bartholomew and Matthew; James the son of Alphaeus and Simon the Zealot; and Judas the son of James. 14 These all continued with one accord in prayer and supplication, with the women and Mary the mother of Jesus, and with His brothers.
Matthias Chosen
15 And in those days Peter stood up in the midst of the disciples (altogether the number of names was about a hundred and twenty), and said, 16 "Men and brethren, this Scripture had to be fulfilled, which the Holy Spirit spoke before by the mouth of David concerning Judas, who became a guide to those who arrested Jesus; 17 for he was numbered with us and obtained a part in this ministry."

21 "Therefore, of these men who have accompanied us all the time that the Lord Jesus went in and out among us, 22 beginning from the baptism of John to that day when He was taken up from us, one of these must become a witness with us of His resurrection."
23 And they proposed two: Joseph called Barsabas, who was surnamed Justus, and Matthias. 24 And they prayed and said, "You, O Lord, who know the hearts of all, show which of these two You have chosen 25 to take part in this ministry and apostleship from which Judas by transgression fell, that he might go to his own place." 26 And they cast their lots, and the lot fell on Matthias. And he was numbered with the eleven apostles.
John 1:18-28
18 No one has seen God at any time. The only begotten Son, who is in the bosom of the Father, He has declared Him.
A Voice in the Wilderness
19 Now this is the testimony of John, when the Jews sent priests and Levites from Jerusalem to ask him, "Who are you?"
20 He confessed, and did not deny, but confessed, "I am not the Christ."
21 And they asked him, "What then? Are you Elijah?"
He said, "I am not."
"Are you the Prophet?"
And he answered, "No."
22 Then they said to him, "Who are you, that we may give an answer to those who sent us? What do you say about yourself?"
23 He said: "I am
'The voice of one crying in the wilderness:
"Make straight the way of the LORD,"'
as the prophet Isaiah said."
24 Now those who were sent were from the Pharisees. 25 And they asked him, saying, "Why then do you baptize if you are not the Christ, nor Elijah, nor the Prophet?"
26 John answered them, saying, "I baptize with water, but there stands One among you whom you do not know. 27 It is He who, coming after me, is preferred before me, whose sandal strap I am not worthy to loose."
28 These things were done in Bethabara beyond the Jordan, where John was baptizing.