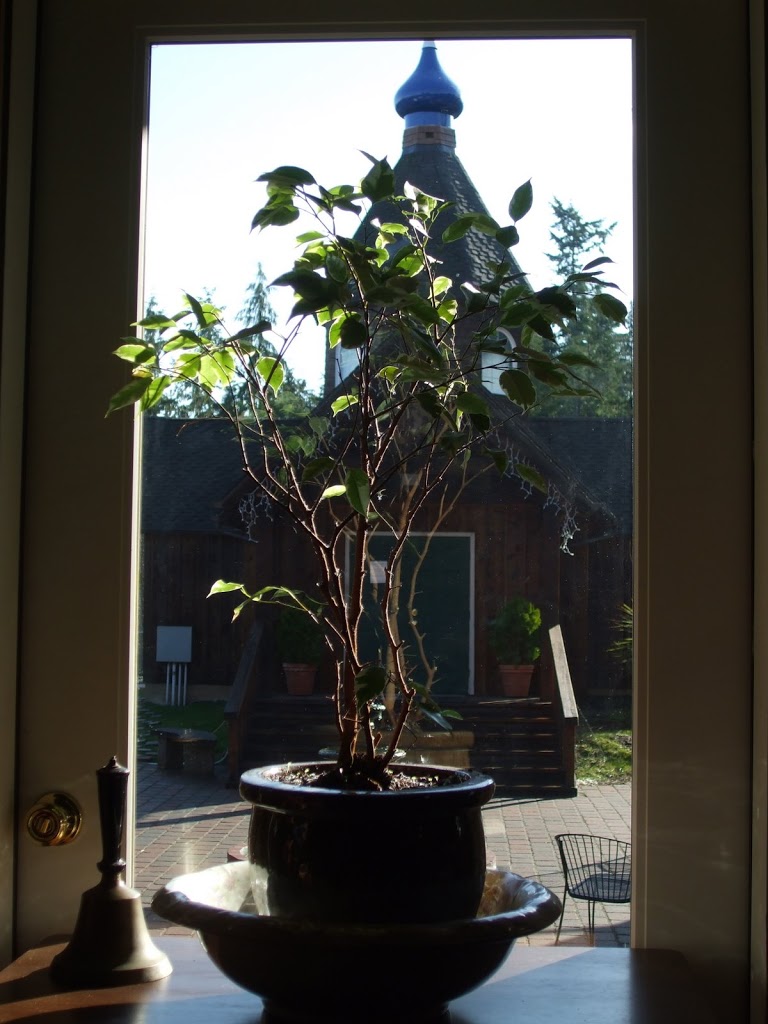 Sunday, March 8 / February 23 (Church Calendar)
~Great and Holy Lent~
Saints of the Day
February 23 / March 8. Hieromartyr Polycarp, Bishop of Smyrna. Saints John, Antioch, Antoninus, Moses, Zebinas, Polychronius, Moses and Damian, ascetics of the Syrian deserts. St. Alexander, founder of the Order of the Unsleeping Ones. St. Gorgonia, sister of St. Gregory the Theologian. St. Damian of Esphigmenou Skete on Mt. Athos. St. Moses, monk of Byelozersk. St. Polycarp, monk of Briansk. New-Martyr Damian, monk of Mt. Athos, who suffered at Larissa. (Greek Calendar: Martyr Clement. Martyr Thea.) Repose of Abbot Nazarius of Valaam (1809).
Thought for the Day
For as long as I can remember I've been a visually oriented person. I've always liked being surrounded by family photos, paintings and photographs on the walls, bookshelves lined with books, and the density, variety and color of an English Cottage Garden. From childhood I've loved the beauty of a forest, the deep blue of a lake in mid summer, the colors of the sky at sunset, and the grandeur of a Gothic cathedral.  While growing up in Spokane, I was always delighted when we went to the home of my great grandmother, for her home was the very best place for a visually oriented young boy, such as I. Her home, located on South Hill near Manitou Park and Gardens, was filled with potted plants, gilded framed paintings and family portraits, and Victorian divans and lamps.
In the same neighborhood was the home of my great aunt, who had a music room with a four manual pipe organ, with many of the pipes in the floor below. She'd purchased an old theatre organ, and had the whole works installed in her home!
My mother's mom, who's home was on the north side of Spokane, was a small house, but filled in much the same way. My Grandma Haraldson had a mantel filled with family photos, and an old clock that always drew me in, with it's chiming on the hour and half hour. It had belonged to her eldest sister, and had been given as a wedding gift back in 1882. I so loved this clock, my grandmother eventually gifted it to me, and it now graces the mantel of our monastery's library.
All three of these women instilled in me a love of what some would call clutter, but what I found as comforting surrounds. I am, at the heart of it all, more of a Victorian man. Modern I'm not. Anyone who has seen our monastery's library knows it, for it was designed and decorated by me, down to the massive fire place, chosen by me, and gifted by a San Francisco couple. Orthodoxy, my adopted Faith, with it's use of icons, beautiful candle stands, fresco's, carved shrines, and colorful vestments, was a perfect fit for that once young boy from Spokane.
When I went off to college in Oregon, I was taken by the beauty of the dense foliage found in Portland, the old Park Blocks with their statuary, and the many fountains throughout the downtown core. Lots to take in, again, for a young man so visually oriented. It was during my college days in Oregon that I made my first journey through the Redwood Forest in coastal Northern California. These giants where, and are, a wonder to me. Coastal redwoods are the tallest living species on Earth. The tallest is 367.8 feet, and is 44 feet around at it's base!  To this day, whenever I travel to Holy Virgin Cathedral in San Francisco, I always return via the Redwoods, on Highway 101. These massive and ancient trees draw me in, and I always stop to walk trails, in solitude, with these trees, some of which were alive during the time of Christ.
Given all I've shared about myself, is it a wonder that Orthodoxy was like coming home? I beheld the interior of Holy Virgin Cathedral on the very same trip I encountered the Redwoods. I felt, in both cases, that I was standing in the presence of God. Both left me with a sense of the awesomeness of God, and transported me to another age, and connected me to that which is eternal. They both took me to a place where there is neither time nor space, but only the eternal.
I'm a visually oriented man, and the Church's restoration of the veneration of the holy icons, which we are celebrating today, is of great and everlasting importance to me. As beautiful as a Gothic cathedral can be, it still falls short of the sense of the eternal that is imparted to me when I walk into our monastery's temple, and am surrounded by the icons, "the cloud of witnesses". Glory to God, Who has shown forth in His saints. Glory to God, Who has revealed Himself to us!
With love in Christ,
Abbot Tryphon
Scripture Readings for the Day
Hebrews 11:24-26, 32-12:2
24 By faith Moses, when he became of age, refused to be called the son of Pharaoh's daughter, 25 choosing rather to suffer affliction with the people of God than to enjoy the passing pleasures of sin, 26 esteeming the reproach of Christ greater riches than the treasures in Egypt; for he looked to the reward.
32 And what more shall I say? For the time would fail me to tell of Gideon and Barak and Samson and Jephthah, also of David and Samuel and the prophets: 33 who through faith subdued kingdoms, worked righteousness, obtained promises, stopped the mouths of lions, 34 quenched the violence of fire, escaped the edge of the sword, out of weakness were made strong, became valiant in battle, turned to flight the armies of the aliens. 35 Women received their dead raised to life again.
Others were tortured, not accepting deliverance, that they might obtain a better resurrection. 36 Still others had trial of mockings and scourgings, yes, and of chains and imprisonment. 37 They were stoned, they were sawn in two, were tempted, were slain with the sword. They wandered about in sheepskins and goatskins, being destitute, afflicted, tormented— 38 of whom the world was not worthy. They wandered in deserts and mountains, in dens and caves of the earth.
39 And all these, having obtained a good testimony through faith, did not receive the promise, 40 God having provided something better for us, that they should not be made perfect apart from us.
Hebrews 12
The Race of Faith
1 Therefore we also, since we are surrounded by so great a cloud of witnesses, let us lay aside every weight, and the sin which so easily ensnares us, and let us run with endurance the race that is set before us, 2 looking unto Jesus, the author and finisher of our faith, who for the joy that was set before Him endured the cross, despising the shame, and has sat down at the right hand of the throne of God.
John 1:43-51
Philip and Nathanael
43 The following day Jesus wanted to go to Galilee, and He found Philip and said to him, "Follow Me." 44 Now Philip was from Bethsaida, the city of Andrew and Peter. 45 Philip found Nathanael and said to him, "We have found Him of whom Moses in the law, and also the prophets, wrote—Jesus of Nazareth, the son of Joseph."
46 And Nathanael said to him, "Can anything good come out of Nazareth?"
Philip said to him, "Come and see."
47 Jesus saw Nathanael coming toward Him, and said of him, "Behold, an Israelite indeed, in whom is no deceit!"
48 Nathanael said to Him, "How do You know me?"
Jesus answered and said to him, "Before Philip called you, when you were under the fig tree, I saw you."
49 Nathanael answered and said to Him, "Rabbi, You are the Son of God! You are the King of Israel!"
50 Jesus answered and said to him, "Because I said to you, 'I saw you under the fig tree,' do you believe? You will see greater things than these." 51 And He said to him, "Most assuredly, I say to you, hereafter you shall see heaven open, and the angels of God ascending and descending upon the Son of Man."