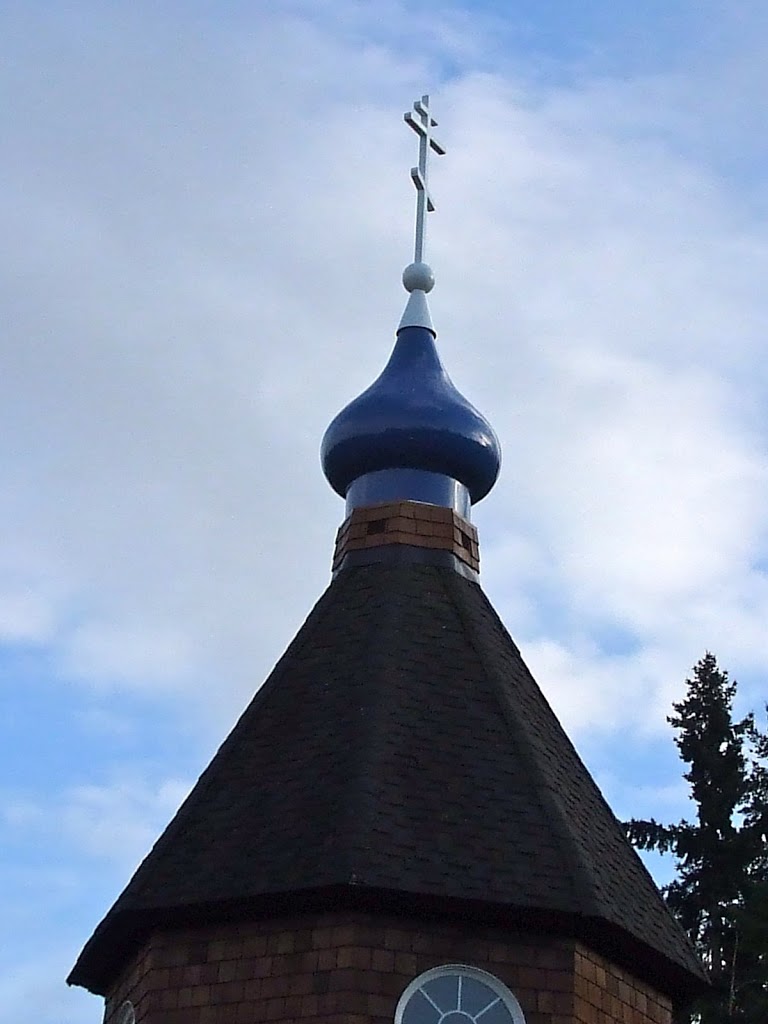 Many of you read this plea on a previous posting, but for those of you who may have missed it, I need to repeat my request. Given the economic downswing that has hit our nation, the monastery is struggling to stay afloat. Our donations are way down, as are our coffee sales. We still own $278,000.00 on the mortgage balance, and our monthly mortgage payment is $2,211.72. I most certainly realize that this is a difficult time, economically, for most of our friends and supporters. However, I do believe God will keep this monastic community afloat regardless of the economy. I am therefore asking that all of you join the monks in asking God to send us a benefactor who would pay off our mortgage balance, or perhaps a good portion of it, and thus relieve the monastic community of this great burden. Please, won't you join the monks in asking the Lord to help us out?
And for those of you who can, would you consider a one time contribution to the monastery? Or perhaps donating a small amount on a monthly basis? You can do so by sending a check made out to All-Merciful Saviour Monastery, and mailing it to PO Box 2420, Vashon Island, WA 98070-2420. We would be so grateful for any help you my be able to offer us. For any major benefactor, we are a 501-3C non profit.
With prayers and blessings,
Abbot Tryphon
Glory to Jesus Christ! Glory to Him forever!
Wednesday, February 18 / February 5 (Church Calendar)
Saints of the Day
February 5 / 18. Martyr Agatha of Palermo in Sicily. Martyr Theodula of Anazarbus in Cilicia, and with her Martyrs Helladius, Macarius, and Evagrius. St. Polyeuctus, Patriarch of Constantinople. St. Theodosius, Archbishop of Chernigov. New-Martyr Anthony of Athens. New-Martyrs Matushka Agatha of Belo-Russia (1938), Schemamonk Eugene (1939), and Righteous. Paramon (1941). Icon of the Most Holy Theotokos Seeking Out of the Lost. Repose of Righteous. Michael, Metropolitan of Serbia (1897).
Quote of the Day
"What toil we must endure, what fatigue, while we are attempting to climb hills and the summits of mountains! What, that we may ascend to heaven! If you consider the promised reward, what you endure is less. Immortality is given to the one who perseveres; everlasting life is offered; the Lord promises His Kingdom."
St. Cyprian
Scripture Readings for the Day
1 John 3:21-4:6
21 Beloved, if our heart does not condemn us, we have confidence toward God. 22 And whatever we ask we receive from Him, because we keep His commandments and do those things that are pleasing in His sight. 23 And this is His commandment: that we should believe on the name of His Son Jesus Christ and love one another, as He gave us commandment.
The Spirit of Truth and the Spirit of Error
24 Now he who keeps His commandments abides in Him, and He in him. And by this we know that He abides in us, by the Spirit whom He has given us.
1 John 4
1 Beloved, do not believe every spirit, but test the spirits, whether they are of God; because many false prophets have gone out into the world. 2 By this you know the Spirit of God: Every spirit that confesses that Jesus Christ has come in the flesh is of God, 3 and every spirit that does not confess that Jesus Christ has come in the flesh is not of God. And this is the spirit of the Antichrist, which you have heard was coming, and is now already in the world.
4 You are of God, little children, and have overcome them, because He who is in you is greater than he who is in the world. 5 They are of the world. Therefore they speak as of the world, and the world hears them. 6 We are of God. He who knows God hears us; he who is not of God does not hear us. By this we know the spirit of truth and the spirit of error.
Mark 14:43-15:1
Betrayal and Arrest in Gethsemane
43 And immediately, while He was still speaking, Judas, one of the twelve, with a great multitude with swords and clubs, came from the chief priests and the scribes and the elders. 44 Now His betrayer had given them a signal, saying, "Whomever I kiss, He is the One; seize Him and lead Him away safely."
45 As soon as he had come, immediately he went up to Him and said to Him, "Rabbi, Rabbi!" and kissed Him.
46 Then they laid their hands on Him and took Him. 47 And one of those who stood by drew his sword and struck the servant of the high priest, and cut off his ear.
48 Then Jesus answered and said to them, "Have you come out, as against a robber, with swords and clubs to take Me? 49 I was daily with you in the temple teaching, and you did not seize Me. But the Scriptures must be fulfilled."
50 Then they all forsook Him and fled.
A Young Man Flees Naked
51 Now a certain young man followed Him, having a linen cloth thrown around his naked body. And the young men laid hold of him, 52 and he left the linen cloth and fled from them naked.
Jesus Faces the Sanhedrin
53 And they led Jesus away to the high priest; and with him were assembled all the chief priests, the elders, and the scribes. 54 But Peter followed Him at a distance, right into the courtyard of the high priest. And he sat with the servants and warmed himself at the fire.
55 Now the chief priests and all the council sought testimony against Jesus to put Him to death, but found none. 56 For many bore false witness against Him, but their testimonies did not agree.
57 Then some rose up and bore false witness against Him, saying, 58 "We heard Him say, 'I will destroy this temple made with hands, and within three days I will build another made without hands.'" 59 But not even then did their testimony agree.
60 And the high priest stood up in the midst and asked Jesus, saying, "Do You answer nothing? What is it these men testify against You?" 61 But He kept silent and answered nothing.
Again the high priest asked Him, saying to Him, "Are You the Christ, the Son of the Blessed?"
62 Jesus said, "I am. And you will see the Son of Man sitting at the right hand of the Power, and coming with the clouds of heaven."
63 Then the high priest tore his clothes and said, "What further need do we have of witnesses? 64 You have heard the blasphemy! What do you think?"
And they all condemned Him to be deserving of death.
65 Then some began to spit on Him, and to blindfold Him, and to beat Him, and to say to Him, "Prophesy!" And the officers struck Him with the palms of their hands.
Peter Denies Jesus, and Weeps
66 Now as Peter was below in the courtyard, one of the servant girls of the high priest came. 67 And when she saw Peter warming himself, she looked at him and said, "You also were with Jesus of Nazareth."
68 But he denied it, saying, "I neither know nor understand what you are saying." And he went out on the porch, and a rooster crowed.
69 And the servant girl saw him again, and began to say to those who stood by, "This is one of them." 70 But he denied it again.
And a little later those who stood by said to Peter again, "Surely you are one of them; for you are a Galilean, and your speech shows it."
71 Then he began to curse and swear, "I do not know this Man of whom you speak!"
72 A second time the rooster crowed. Then Peter called to mind the word that Jesus had said to him, "Before the rooster crows twice, you will deny Me three times." And when he thought about it, he wept.
Mark 15
Jesus Faces Pilate
1 Immediately, in the morning, the chief priests held a consultation with the elders and scribes and the whole council; and they bound Jesus, led Him away, and delivered Him to Pilate.
Photo of the Day
Partly sunny skies over the monastery's temple.