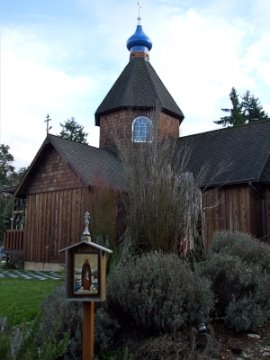 Thursday, February 19 / February 6 (Church Calendar)
Saints of the Day
February 6 / 19. St. Bucolus, Bishop of Smyrna. Martyr Julian of Emesa. Virgin Martyr Fausta, and with her Evilasius and Maximus, at Cyzicus. Virgin Martyr Dorothy, two sisters Christina and Callista, and Theophilus, at Caesaria in Cappadocia. Virgin Martyrs Martha and Mary, and their brother Lycarion, in Egypt. St. Photius, Patriarch of Constantinople. Saints Barsanuphius theGreat and John the Prophet, monks of Palestine. St. Dorothy, schema-nun of Kashin. (Greek Calendar: Martyrs Faustus, Basil,Silvanus, and the holy Martyrs of Darion in Constantinople. St. John of Thebes, monk. St. James the Ascetic.) Repose ofArchbishop Theophanes of Poltava (1940).
Quote of the Day
"The abolition of the religious sentiment creates anxiety. If you don't have love for Christ and if you don't occupy yourself with holy matters, you will certainly be filled with melancholy and evil."
Elder Porphyrios
Scripture Readings for the Day
1 John 4:20-5:21
Obedience by Faith
20 If someone says, "I love God," and hates his brother, he is a liar; for he who does not love his brother whom he has seen, how can he love God whom he has not seen? 21 And this commandment we have from Him: that he who loves God must love his brother also.
1 John 5
1 Whoever believes that Jesus is the Christ is born of God, and everyone who loves Him who begot also loves him who is begotten of Him. 2 By this we know that we love the children of God, when we love God and keep His commandments. 3 For this is the love of God, that we keep His commandments. And His commandments are not burdensome. 4 For whatever is born of God overcomes the world. And this is the victory that has overcome the world—our faith. 5 Who is he who overcomes the world, but he who believes that Jesus is the Son of God?
The Certainty of God's Witness
6 This is He who came by water and blood—Jesus Christ; not only by water, but by water and blood. And it is the Spirit who bears witness, because the Spirit is truth. 7 For there are three that bear witness in heaven: the Father, the Word, and the Holy Spirit; and these three are one. 8 And there are three that bear witness on earth: the Spirit, the water, and the blood; and these three agree as one.
9 If we receive the witness of men, the witness of God is greater; for this is the witness of God which He has testified of His Son. 10 He who believes in the Son of God has the witness in himself; he who does not believe God has made Him a liar, because he has not believed the testimony that God has given of His Son. 11 And this is the testimony: that God has given us eternal life, and this life is in His Son. 12 He who has the Son has life; he who does not have the Son of God does not have life. 13 These things I have written to you who believe in the name of the Son of God, that you may know that you have eternal life, and that you may continue to believe in the name of the Son of God.
Confidence and Compassion in Prayer
14 Now this is the confidence that we have in Him, that if we ask anything according to His will, He hears us. 15 And if we know that He hears us, whatever we ask, we know that we have the petitions that we have asked of Him.
16 If anyone sees his brother sinning a sin which does not lead to death, he will ask, and He will give him life for those who commit sin not leading to death. There is sin leading to death. I do not say that he should pray about that. 17 All unrighteousness is sin, and there is sin not leading to death.
Knowing the True—Rejecting the False
18 We know that whoever is born of God does not sin; but he who has been born of God keeps himself, and the wicked one does not touch him.
19 We know that we are of God, and the whole world lies under the sway of the wicked one.
20 And we know that the Son of God has come and has given us an understanding, that we may know Him who is true; and we are in Him who is true, in His Son Jesus Christ. This is the true God and eternal life.
21 Little children, keep yourselves from idols. Amen.
Mark 15:1-15
Jesus Faces Pilate
1 Immediately, in the morning, the chief priests held a consultation with the elders and scribes and the whole council; and they bound Jesus, led Him away, and delivered Him to Pilate. 2 Then Pilate asked Him, "Are You the King of the Jews?"
He answered and said to him, "It is as you say."
3 And the chief priests accused Him of many things, but He answered nothing. 4 Then Pilate asked Him again, saying, "Do You answer nothing? See how many things they testify against You!" 5 But Jesus still answered nothing, so that Pilate marveled.
Taking the Place of Barabbas
6 Now at the feast he was accustomed to releasing one prisoner to them, whomever they requested. 7 And there was one named Barabbas, who was chained with his fellow rebels; they had committed murder in the rebellion. 8 Then the multitude, crying aloud, began to ask him to do just as he had always done for them. 9 But Pilate answered them, saying, "Do you want me to release to you the King of the Jews?" 10 For he knew that the chief priests had handed Him over because of envy.
11 But the chief priests stirred up the crowd, so that he should rather release Barabbas to them. 12 Pilate answered and said to them again, "What then do you want me to do with Him whom you call the King of the Jews?"
13 So they cried out again, "Crucify Him!"
14 Then Pilate said to them, "Why, what evil has He done?"
But they cried out all the more, "Crucify Him!"
15 So Pilate, wanting to gratify the crowd, released Barabbas to them; and he delivered Jesus, after he had scourged Him, to be crucified.
Video of the Day:
http://www.youtube.com/watch?v=ZqEDhKKPl-o
Photo of the Day
All-Merciful Saviour Monastery's, Church of the Protection of the Holy Virgin.