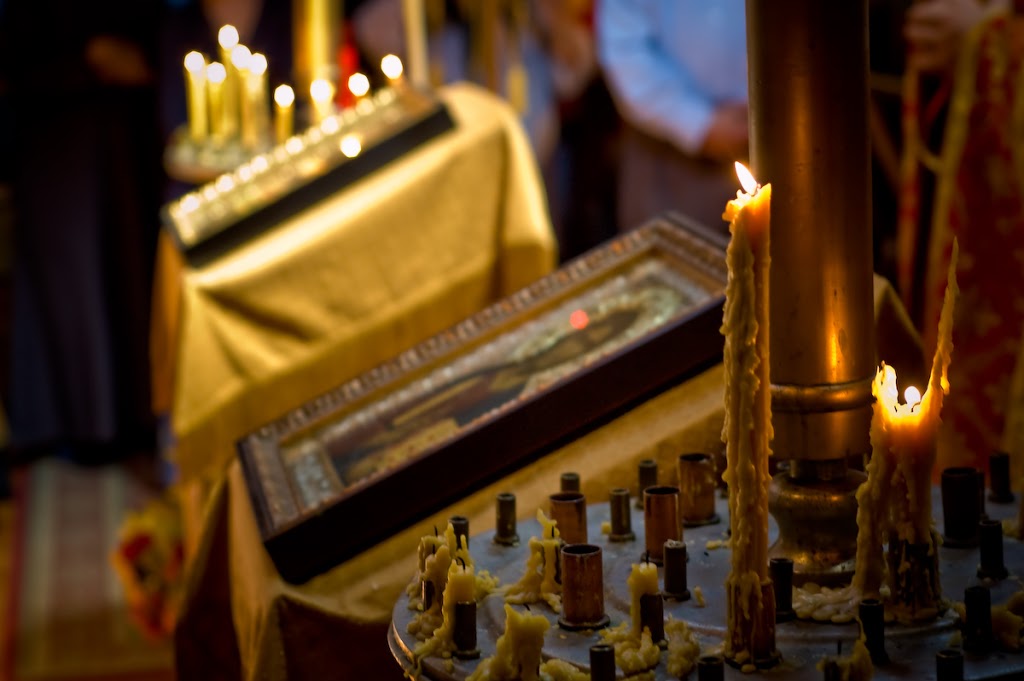 Saturday, February 14 / February 1 (Church Calendar)
Saints of the Day
February 1 / 14. Martyr Tryphon of Campsada (Lampsakon) near Apamea in Syria. Martyrs Perpetua, a woman of Carthage, and the catechumens Saturus, Revocatus, Saturninus, Secundulus, and Felicitas. St. Peter the Galatian, hermit near Antioch in Syria.St. Vendemianus (Bendemianus), hermit of Bithynia. St. Basil, Archbishop of Thessalonica. New-Martyr Anastasius at Anaplus.St. Tryphon of Pechenga and Kola. St. Bridget (Brigit) of Ireland. New-Martyr priest Peter Skipetrov (1918). (Greek Calendar: St. Timothy the Confessor. Martyrs Theonas, two children, and Karion.)
An Appeal for Prayer:
On behalf of the holy brotherhood of All-Merciful Saviour Monastery, I am asking for your prayers. Like most of you, we are struggling like never before, with the present downswing in the economy. Our donations are way down, as are our coffee sales. We still own $278,000.00 on the mortgage balance. Our monthly mortgage payment is $2,211.72. This amount, together with the rising food prices, and heating and power costs, has placed a great burden on the monastic community. At the very time we are receiving increased interest from prospective brothers, we are struggling just to keep to the status quo. Thus, we would like to appeal to all our friends, including the readers of this blog, to join us in praying that the Lord will provide, if it please Him, a benefactor who could pay off our mortgage. Thank you, in advance, for your prayerful support.
With love in Christ,
Abbot Tryphon
Scripture Readings for the Day
2 Timothy 3:1-9
1This know also, that in the last days perilous times shall come.
2For men shall be lovers of their own selves, covetous, boasters, proud, blasphemers, disobedient to parents, unthankful, unholy,
3Without natural affection, trucebreakers, false accusers, incontinent, fierce, despisers of those that are good,
4Traitors, heady, highminded, lovers of pleasures more than lovers of God;
5Having a form of godliness, but denying the power thereof: from such turn away.
6For of this sort are they which creep into houses, and lead captive silly women laden with sins, led away with divers lusts,
7Ever learning, and never able to come to the knowledge of the truth.
8Now as Jannes and Jambres withstood Moses, so do these also resist the truth: men of corrupt minds, reprobate concerning the faith.
9But they shall proceed no further: for their folly shall be manifest unto all men, as their's also was.
Luke 20:45-21:4
45Then in the audience of all the people he said unto his disciples,
46Beware of the scribes, which desire to walk in long robes, and love greetings in the markets, and the highest seats in the synagogues, and the chief rooms at feasts;
47Which devour widows' houses, and for a shew make long prayers: the same shall receive greater damnation.
1And he looked up, and saw the rich men casting their gifts into the treasury.
2And he saw also a certain poor widow casting in thither two mites.
3And he said, Of a truth I say unto you, that this poor widow hath cast in more than they all:
4For all these have of their abundance cast in unto the offerings of God: but she of her penury hath cast in all the living that she had.
Photo of the Day
Come let us worship and fall down before the Lord.
Introducing a New Blog:
There is a newly launched ROCOR/MP blog with a focus on supporting the union of ROCOR/MP. The blog is completely independent and the folks who've set it up will be updating it on a regular basis with news and information.
It is at http://rocorunity.blogspot.com/