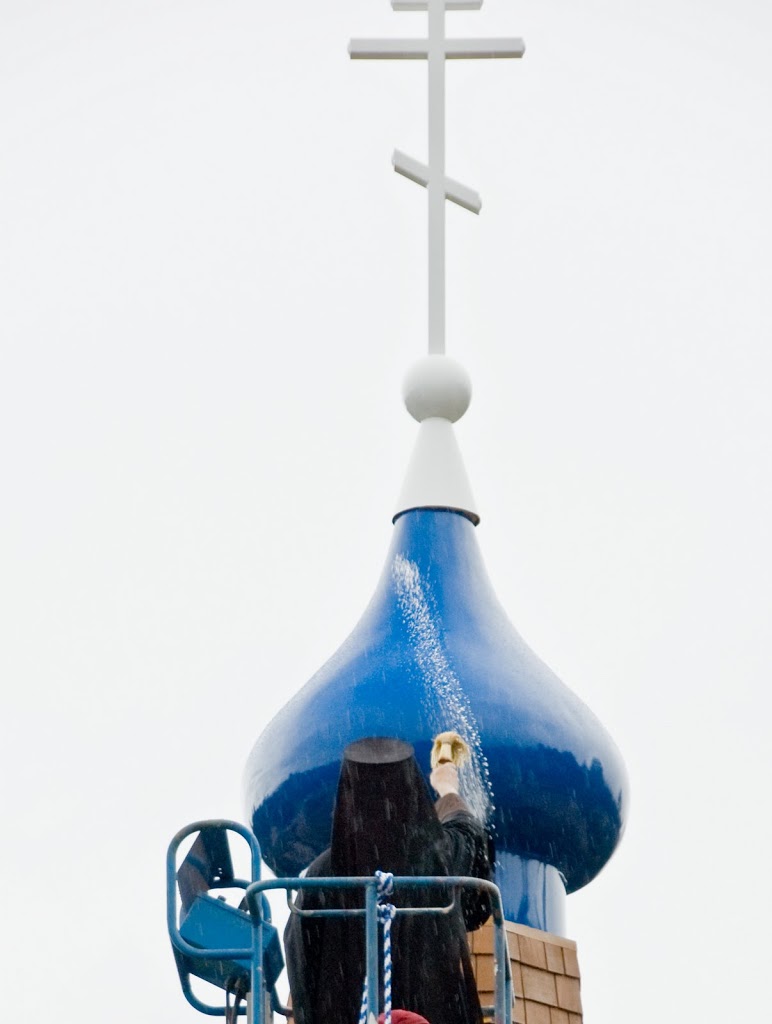 Tuesday, February 24 / February 11 (Church Calendar)
Saints of the Day
February 11 / 24. Hieromartyr Blaise, Bishop of Sebaste. St. Demetrius, monk, wonderworker of Priluki (Vologda). St. Vsevelod (inholy baptism Gabriel), wonderworker of Pskov. St. Theodora, wife of Emperor Theophilus the Iconoclast. New-Martyr George of Serbia. (Greek Calendar: St. George, abbot in Serbia.) Repose of Archbishop Simon of Shanghai and Peking (1933).
Quote of the Day
"With all my strength I pray to God for you, that He may send into your hearts that fire, which our Lord Jesus Christ has come to send on the earth (Luke 12:49), that you may have power to govern rightly your intentions and senses and to distinguish good from evil."
St Anthony the Great
Scripture Readings for the Day
Jude 1:1-10
Greeting to the Called
 1 Jude, a bondservant of Jesus Christ, and brother of James,
To those who are called, sanctified by God the Father, and preserved in Jesus Christ:
2 Mercy, peace, and love be multiplied to you.
Contend for the Faith
3 Beloved, while I was very diligent to write to you concerning our common salvation, I found it necessary to write to you exhorting you to contend earnestly for the faith which was once for all delivered to the saints. 4 For certain men have crept in unnoticed, who long ago were marked out for this condemnation, ungodly men, who turn the grace of our God into lewdness and deny the only Lord God and our Lord Jesus Christ.
Old and New Apostates
5 But I want to remind you, though you once knew this, that the Lord, having saved the people out of the land of Egypt, afterward destroyed those who did not believe. 6 And the angels who did not keep their proper domain, but left their own abode, He has reserved in everlasting chains under darkness for the judgment of the great day; 7 as Sodom and Gomorrah, and the cities around them in a similar manner to these, having given themselves over to sexual immorality and gone after strange flesh, are set forth as an example, suffering the vengeance of eternal fire.
8 Likewise also these dreamers defile the flesh, reject authority, and speak evil of dignitaries. 9 Yet Michael the archangel, in contending with the devil, when he disputed about the body of Moses, dared not bring against him a reviling accusation, but said, "The Lord rebuke you!" 10 But these speak evil of whatever they do not know; and whatever they know naturally, like brute beasts, in these things they corrupt themselves.
Luke 22:39-42
The Prayer in the Garden
39 Coming out, He went to the Mount of Olives, as He was accustomed, and His disciples also followed Him. 40 When He came to the place, He said to them, "Pray that you may not enter into temptation."
41 And He was withdrawn from them about a stone's throw, and He knelt down and prayed, 42 saying, "Father, if it is Your will, take this cup away from Me; nevertheless not My will, but Yours, be done."
Luke 22:45-23:1
45 When He rose up from prayer, and had come to His disciples, He found them sleeping from sorrow. 46 Then He said to them, "Why do you sleep? Rise and pray, lest you enter into temptation."
Betrayal and Arrest in Gethsemane
47 And while He was still speaking, behold, a multitude; and he who was called Judas, one of the twelve, went before them and drew near to Jesus to kiss Him. 48 But Jesus said to him, "Judas, are you betraying the Son of Man with a kiss?"
49 When those around Him saw what was going to happen, they said to Him, "Lord, shall we strike with the sword?" 50 And one of them struck the servant of the high priest and cut off his right ear.
51 But Jesus answered and said, "Permit even this." And He touched his ear and healed him.
52 Then Jesus said to the chief priests, captains of the temple, and the elders who had come to Him, "Have you come out, as against a robber, with swords and clubs? 53 When I was with you daily in the temple, you did not try to seize Me. But this is your hour, and the power of darkness."
Peter Denies Jesus, and Weeps Bitterly
54 Having arrested Him, they led Him and brought Him into the high priest's house. But Peter followed at a distance. 55 Now when they had kindled a fire in the midst of the courtyard and sat down together, Peter sat among them. 56 And a certain servant girl, seeing him as he sat by the fire, looked intently at him and said, "This man was also with Him."
57 But he denied Him, saying, "Woman, I do not know Him."
58 And after a little while another saw him and said, "You also are of them."
But Peter said, "Man, I am not!"
59 Then after about an hour had passed, another confidently affirmed, saying, "Surely this fellow also was with Him, for he is a Galilean."
60 But Peter said, "Man, I do not know what you are saying!"
Immediately, while he was still speaking, the rooster crowed. 61 And the Lord turned and looked at Peter. Then Peter remembered the word of the Lord, how He had said to him, "Before the rooster crows, you will deny Me three times." 62 So Peter went out and wept bitterly.
Jesus Mocked and Beaten
63 Now the men who held Jesus mocked Him and beat Him. 64 And having blindfolded Him, they struck Him on the face and asked Him, saying, "Prophesy! Who is the one who struck You?" 65 And many other things they blasphemously spoke against Him.
Jesus Faces the Sanhedrin
66 As soon as it was day, the elders of the people, both chief priests and scribes, came together and led Him into their council, saying, 67 "If You are the Christ, tell us."
But He said to them, "If I tell you, you will by no means believe. 68 And if I also ask you, you will by no means answer Me or let Me go. 69 Hereafter the Son of Man will sit on the right hand of the power of God."
70 Then they all said, "Are You then the Son of God?"
So He said to them, "You rightly say that I am."
71 And they said, "What further testimony do we need? For we have heard it ourselves from His own mouth."
Luke 23
Jesus Handed Over to Pontius Pilate
1 Then the whole multitude of them arose and led Him to Pilate.
Photo of the Day
From the archives: The day I blessed the onion dome.