So the last shall be first, and the first last: for many be called, but few chosen.- Matthew 20:16
During evening prayers a few months ago my 6 year old daughter shared feeling repentant for the fact that she had rushed on to something else after her friend had dropped a cup of markers without going to help her clean them up. Firstly – wow. I was impressed at the level of insight. For the most part my kids (and young children generally) express remorse about things they did and not things they didn't do. But what we don't do is just as important (feed the hungry, clothe the naked, etc.)  I also appreciated her recognition of the fact that she had prioritized being first over being a good friend. This insight is one that many of us still, as adults, don't make.
The Natural Tendency Towards "Me First"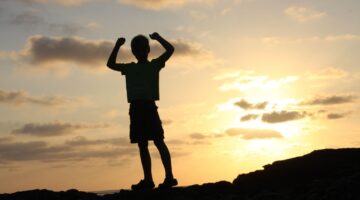 The fact is that we see our children always rushing forward to be first in line, getting the first piece of cake, getting to use the toy first. Being "first" is a classic child request. But it's not just our children who desire to be first. It is, sadly, a desire most of us never grow out of. First. Best. Biggest. Fastest. Smartest. Mostest. It's a passion derived from pride and our fallen perspective that we are the center of the story. In Matthew 20 and Mark 10 we hear how the beloved disciples James and John asked Jesus to grant them to sit one on His right hand and one on His left in His kingdom. Jesus in turn teaches them:
"You know that the rulers of the Gentiles lord it over them, and those who are great exercise authority over them. Yet it shall not be so among you; but whoever desires to become great among you, let him be your servant. And whoever desires to be first among you, let him be your slave—just as the Son of Man did not come to be served, but to serve, and to give His life a ransom for many."
This message is so counter cultural! There is almost nothing I can think of in our secular society that would promote this. "We are all equal." – ok that's out there. "Treat others as you want to be treated" – that too. But "If you want to be great, act like a servant or a slave"? Nope. Just not out there.
Use a catchy phrase or song
So how do we help our children with this concept? In our home we love coming up with little reminder phrases like: "first last, last first" or "ignore the splinter" (see this post for more on that one). I have found that even after a few times of saying this reminder I notice that my kids get the message more quickly and seem more content with waiting. I have even caught them reminding each other of it gracefully.
I am very enamored with the life and work of Mr. Rogers and my kids have enjoyed both his show and Daniel Tiger over the years. They both do a wonderful job with catchy reminder phrases – we enjoy "When you get so mad that you want to roar – take a deep breath and count to four" among others. The clip below (from a recent episode) does a nice job of, at least, making sure we are always considering others needs alongside our own.
Teach about the benefits of delayed gratification
We can also help our children understand the concept of delayed gratification – a concept so key to our faith life in general. As a part of our faith we are called to delay our own gratification (mortify our own will) – to suffer now for what we want later (eternal communion with God our Father). Even secular society has recognized the ability to delay gratification as a key to success in life. Multiple studies have confirmed this truth, perhaps most famously the "Marshmallow Experiment". In this study preschool aged children were offered a treat (like a marshmallow) and told they could have one now or two later when the teacher came back. Numerous other folks have repeated the experiment and the videos are a delight to watch with your children (see one offering below). Kids can really relate and it brings home the concept of delaying gratification in a very concrete way.
Don't Leave this Message Out
Whatever you do make sure you teach them this message – a message so vital we repeat it every year during holy week. It is a message they won't get from anywhere else and a message vital to being true disciples and followers of our Lord and God and Savior Jesus Christ.
In His love,
Sasha