When my oldest was 3 years old I had a conversation with a dear Orthodox friend about how to manage children at the midnight Paschal celebration. At that time our church didn't have any other little children and I wasn't sure how I would manage or how my son would react. When I was little we had lots of children and I remember clearly our parents setting up sleeping bags in the back corner where we could lie down. There was a divine magic to snoozing and waking multiple times in the candlelight church – as if the service were endless.
In our church (the same I grew up in) we celebrate the liturgy right after the Pascha service and then have a massive feast together at 3am so it really can feel like an all night event. When I asked my friend she said matter-of-factly "Bring them to church!" She said how her children had always just gone to the midnight service. They even looked forward to the excitement of waking in the middle of the night and going to church. I was skeptical but determined. And I was awed! My 3 year old not only loved the service but was awake the whole time and bright-eyed and bushy tailed for the feast and the blessing of the Easter baskets at the end. It is true, my kids get so excited for the midnight services of the church and even my now 4 year old who is in an unpleasant phase of telling me "Church is the worst!" says how much he enjoys going to service when it's dark out. (We are about to test that stamina!)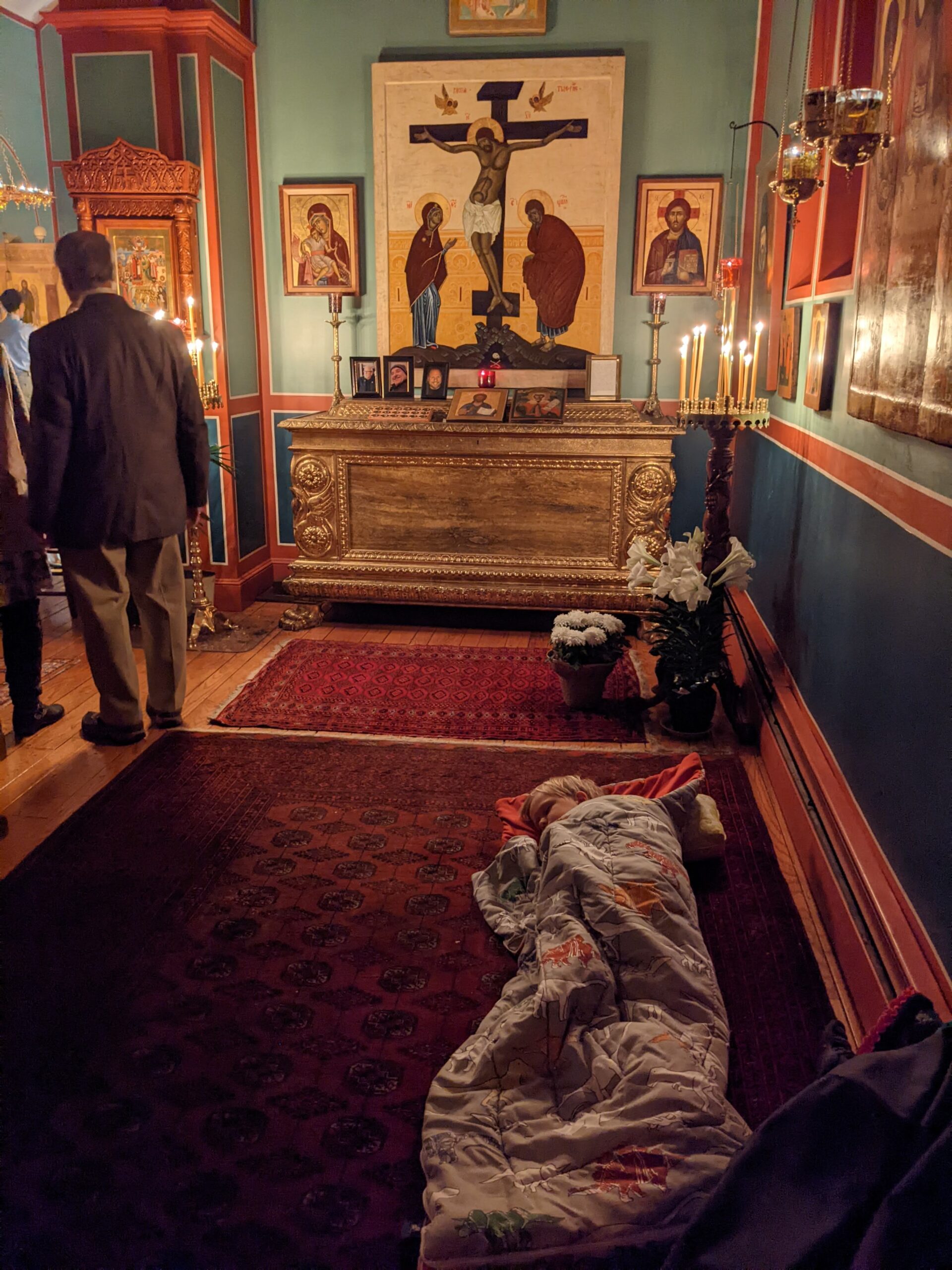 Everyone will have their own rhythm and ability for how many and how old the children are that come but try, try, try to bring as many as you can. I generally start bringing mine at age 3, but people bring younger ones. Partly I want to be present and in church and I feel that with younger than 3 their focus and ability to remain still and awake is lacking. I have been blessed to be able to find childcare to leave my youngest sleeping at home while we attend services. Some can make it through awake and some need a rest (last year my then 3 year old needed a nap see picture.) For other Holy Week services my husband and I trade off staying home. I normally aim for my children to attend Unction on Wednesday, Lamentations on Friday and the Pascha service at midnight on Saturday. In recent years we have started doing a Good Friday children's crafting day at our church with pyzanki egg dying, decorating candles etc right after the burial service in the morning and so we attend two services as a family on Fridays. It is a lot for littles. It is a lot for us to manage them and ourselves and remain attentive to the service and engaged. And it is so worth it. This is the most important week of services of the year and your kids should be there! God will give you and your children the strength you need. And even if it all seems to go badly your efforts will be rewarded and your children's hearts will be enlightened. Have faith!
By God's grace, our church is in a season of growth including an abundance of little children and I find myself encouraging mothers and fathers who are newer to the church and/or with younger children to bring them to church. This blog post is for them! And for you all.
As for practical advice: Try and have them rest well during the week. Let them sleep in if you can. Take a day or a few off work/school/preschool if needed. Pack snacks. Have them choose a special outfit if they like. Bring a cozy blanket for the car. Bring a sleeping bag (especially if you do the extended service that we do). If you don't feast together at the end make sure you have something a little special after service (a hot chocolate, a small Easter gift, etc.) Make an exciting Easter basket for them. And don't expect perfection, but know that God is at work on them.
Our priest sent out his Holy Week Epistle a few days ago and he exhorted us thus:
You are all welcome to bring your children to the nighttime services. When our children were very young, Matushka Xenia and I brought our children, each with a blanket and pillow and they would rest on the floor on the south side of the church before the large cross and bier under the large Trinity Icon. In most cases the children would sleep and yet we are certain that their hearts and souls experienced the divine mystery of the presence of God in the Church.

Being in the services, hearing the chanting and listening to the Word of God will touch their souls and leave deep impressions in their hearts. These moments will live in them and keep them in the faith throughout their lives. "Let the little children come to Me, and do not forbid them; for of such is the kingdom of God. Assuredly, I say to you, whoever does not receive the kingdom of God as a little child will by no means enter it." (Matthew 19:14-15)
I was one of those children and the memories of the service are forever etched on my heart. So please, bring your children to church! There is nothing more important.
A blessed holy week and Pascha to all!
In Christ,
Sasha