Fear not, little flock; for it is your Father's good pleasure to give you the kingdom. – Luke 12:32
I must confess that I have struggled with worries and fears my whole life. You know who you are if you can relate. I absolutely recognize this as a deficit in faith and also know that I am imperfect and that as long as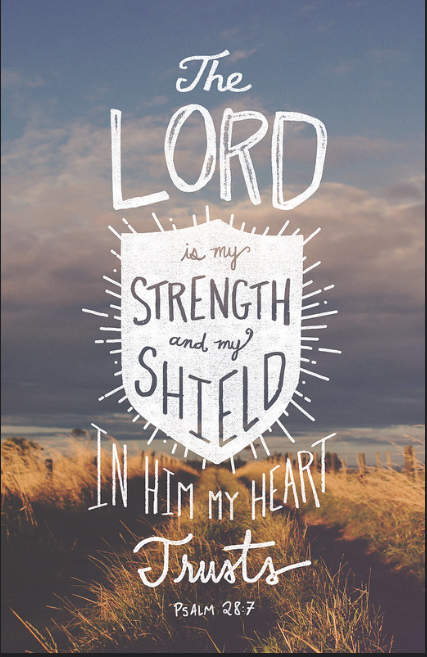 I struggle against my fallen nature and cry out "I believe O Lord, help my unbelief" that God will be with me and loves me.
This tendency towards worry I now see in my daughter. She is six. Thankfully her fears are still of the dark and monsters and not of the many and varied other real threats to our person and safety present in the world today. But the fear they produce is no less real.
As parents we must take these first seeds of anxiety seriously and help our children build habits and fortify them with prayer to help attack these thoughts. While the classic – "You're ok" or "There's nothing to worry about" seem to all too easily slip from our lips – these may quiet the external signs of fear, but will rarely touch the internal life of the child. To go deeper we must make time to connect with our child, open to their's experience, help them to make some sense of how they are feeling and fill their quiver with arrows to help drive the fearful thoughts away. Here is one approach:
Listen First
As with all things we must first aim to understand. We must truly listen. That kind of listening that doesn't involve immediately stepping in and trying to fix things or relate with stories from our own life. The kind of listening that really only seeks to help create connection and allow the child to verbalize, as they are able, what is scaring them. This listening is so hard and takes time, but is so helpful in aiding our children's own understanding of their fear and of ridding them of some of the shame associated with being scared.
Seek (Together) to Understand
There are so many wonderful resources nowadays for helping kids of all ages understand what anxiety is, what it does to their bodies and how to begin the process of taking a step back from their fears and rebuking them. Even better there are lots of them that center on Christ. Two of my favorite Christian children's therapists and authors are Sissy Goff and David Thomas of the Raising Girls and Boys Podcast. They are so phenomenal, I cannot recommend their podcast highly enough. Each of them also has several books and two I have used and enjoyed are the workbook Stronger, Braver, Smarter: A Girl's Guide to Overcoming Worry and Anxiety and the book Raising Emotionally Strong Boys: Tools Your Son Can Build On for Life. It's important for children (and all of us) to understand the basics of our nervous system – why we get butterflies in our tummy and our heart starts to race. It's important for us to be able to notice these early warning signs of fearful thoughts to try and divert them before they take root in our hearts. And it's important to help children find ways to create distance between themselves and their worried thoughts (their "worry monster") so they can understand that these thoughts are not the Truth.
Arm them with Prayer
Finally we can arm them with prayer as the number one way to fight back against the lies of the enemy and to let them hold tight to the truth of God's love, mercy and faithfulness. I find personally repeating "arrow prayers" (or very short prayers) to be the most effective in moments of true worry. For my daughter this might be running upstairs to get something from her room at night. For me it might be undergoing an worrisome medical procedure. Whatever it is these arrows in our quiver will give us strength. Below are some powerful verses/prayers to arm them with. This website has many of these below scriptural quotes with corresponding graphic that can be printed out and taped to the mirror/door or practiced for a week or a month until it is known by heart.
The Lord is my strength and my shield.
I can do all things through him who strengthens me. 
Be strong and courageous. Do not be afraid or terrified because of them, for the Lord your God goes with you; he will never leave you nor forsake you.
The Lord is my light and my salvation; whom shall I fear? The Lord is the stronghold of my life; of whom shall I be afraid?
Though an army encamp against me, my heart shall not fear; though war arise against me, yet I will be confident.
Lord Jesus Christ, son of God, have mercy on me OR simply Lord have mercy!
Enlighten my darkness o Lord!
Fear not, for I am with you; be not dismayed, for I am your God; I will strengthen you, I will help you, I will uphold you with my righteous right hand.
The Lord is my helper; I will not fear; what can man do to me?
Fear not, little flock, for it is your Father's good pleasure to give you the kingdom.
Make Time Regularly to Check In
We may be tempted to only address fear when it obviously hijacking one of our children. But there is so much that goes on below the surface and once a child has showed us they struggle with fears, we must take seriously the task of building them up. This doesn't need to take long but regularly taking time to ask about things they are worrying about (and then really listen) is vital. Practicing the verses above together can also be a way to acknowledge our need for prayer to combat fear. Making sure your child knows that you don't expect them to never be worried again after you've connected with them on this – and letting them know that while we may feel weak in moments of fear God's power is made perfect in our weakness and when we feel weak He is there with us holding our hand and guiding us along the way we must travel.
Don't Expect Them Not to Worry
We want to help our kids grow in courage. That doesn't mean not being afraid anymore. It means doing hard things even when they are afraid. No one but God is immune to fear. Not even the devil.
The devil is afraid of us when we pray and make sacrifices. He is also afraid when we are humble and good. He is especially afraid when we love Jesus very much. He runs away when we make the Sign of the Cross. + St. Anthony the Great
But we can know that we can overcome our fear through God. Psalm 23 is the classic psalm to sooth fears and sometimes just reading it aloud a few times as my kids are falling asleep can bring a blessed peace over their souls and their beds as they rest.
The Lord is my shepherd;
I shall not want.
He makes me to lie down in green pastures;
He leads me beside the still waters.
He restores my soul;
He leads me in the paths of righteousness
For His name's sake.
Yea, though I walk through the valley of the shadow of death,
I will fear no evil;
For You are with me;
Your rod and Your staff, they comfort me.
You prepare a table before me in the presence of my enemies;
You anoint my head with oil;
My cup runs over.
Surely goodness and mercy shall follow me
All the days of my life;
And I will dwell in the house of the Lord
Forever.
Now may the Lord of peace Himself give you peace always in every way. The Lord be with you all. (2 Thessalonians 3:16)
In Christ,
Sasha