The concept of a "devotional" is not one that I grew up with, but certainly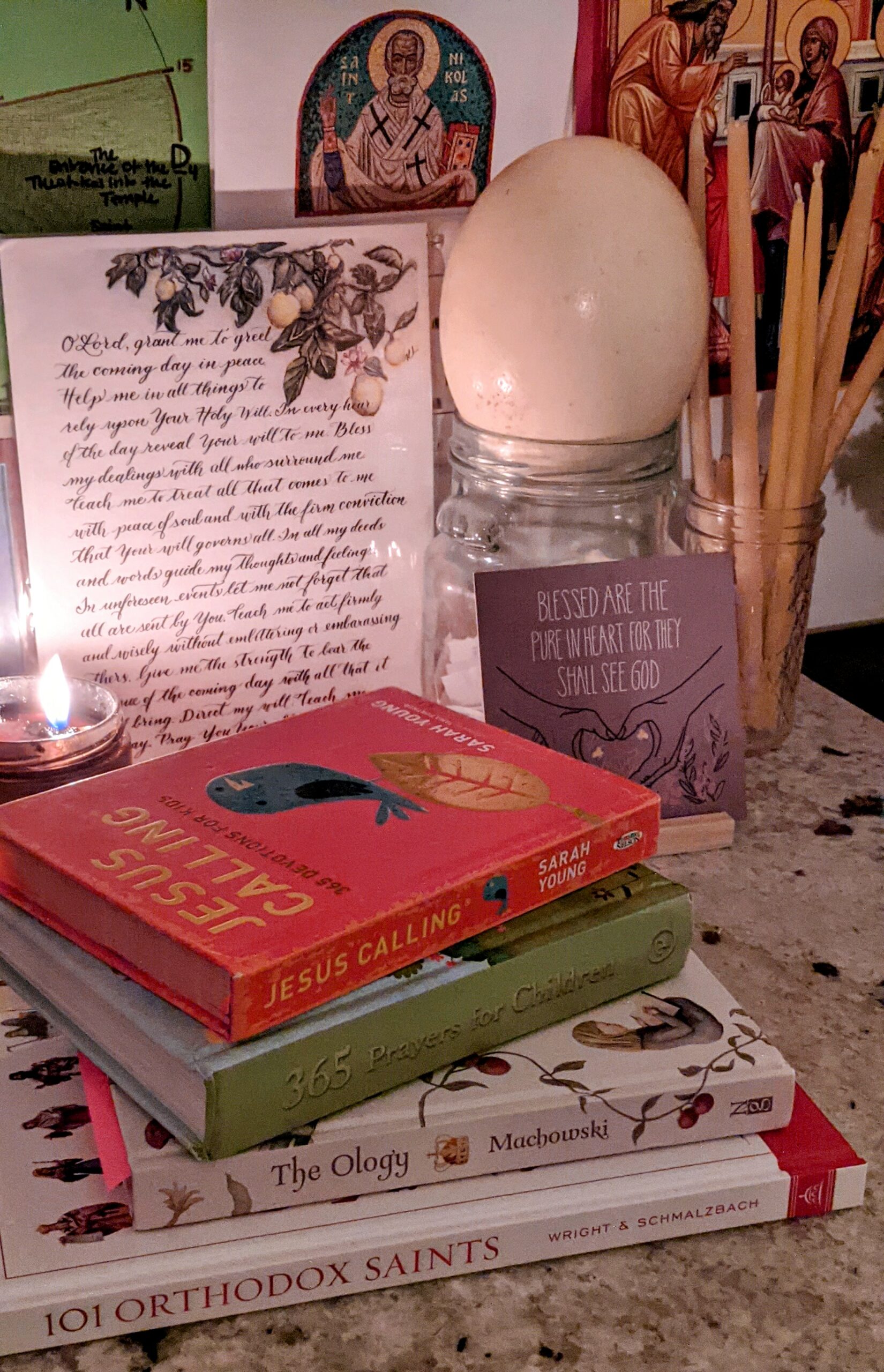 a concept that has become more popular recently in Christian culture. Merriam-Webster defines the term "devotional" as "a short worship service". But in general I see a devotional as any short spiritual reading or practice which aims to open our minds and hearts to the grace and glory of our Lord. Just a brief google search of "Daily Devotional for Kids" came up with so much stuff that I was even distracted away from this blog post for a good ten minutes (and the kids are still sleeping so I must focus!)
I have been very intent on trying to create more rhythms and routines in my family this year. More choices made ahead of time so that there is more energy in the moment for what really matters. And a daily devotional at the beginning of the day simply acts as a way – aside from prayers – to open our children's hearts to the vast wonder and mystery of our God as well as the concrete ways that we can use His teachings to guide our lives moment by moment and day by day. It can also act as a way to make sure we are placing more God-focused activities on our to do lists filled with chores, schoolwork, music, math, arts, sports etc which are beautiful and formational but not always spiritually formational.
I enjoyed a recent podcast episode by Hannah Vasquez on A Minimalist Approach to Feasts Days and recognized in it that sometimes we set our bar so high that we overwhelm ourselves or simply give up. Instead if we set basic attainable goals we can remain encouraged and keep moving forward. Last year I wrote a blog about setting an intention to do one little thing each day (see here). By setting a time of day or creating a name for the time like "devotional time" we can set expectations for ourselves and our children.
In our house the attempt to create a devotional time looks like this – we select a time around meals or just before we begin studies and have a small group of books that are age appropriate (aiming at the median age of the children who will sit and listen). I give the children a choice of which book to read from. Right now they are really enjoying 101 Orthodox Saints. We then read a page or two and briefly discuss. That's it. Can there be one take away? Ideally, but sometimes we can just let the words sit. If I can I like to ask one follow up question per child – aimed again at their age. So simple and can take only a few minutes – but a way to make a daily connection with our Faith not only through prayer but through slowly deepening their understanding of God. A few minutes each day adds up to a rich spiritual foundation over the course of our children's young lives!
Some of the other books in our little collection right now include:
Especially as we head into this Lenten Season the beautiful Tending the Garden of Our Hearts daily meditations is a wonderful addition. I would love to hear what books you and your children love reading together.
With love in Christ,
Sasha