This post is a few days late for this year, but the message of the Bridegroom matins has been driven into us over these past days and, as such, is clearly a vital lesson for us to fully understand and to teach our children.
The truth is that I have always struggled with the oil in the lamp. What does it represent and why wouldn't the worthy virgins have shared some oil? Aren't we told, as Christians, to put others needs even before our own? How are these women the example we look to for purity of heart if they don't share their oil? And how do I discuss this parable with my children when I don't fully understand it and haven't fully integrated it myself? Our children will help us to deepen and perfect our understanding of our Faith in this way – making us seek out understanding for things we may have glossed over before.
For this particular lesson I didn't seek out an answer, but rather had one given to me. This Lent I have been reading through the book Season of Repentance: Lenten Homilies of Saint John of Kronstadt. Saint John is one of my all-time favorite Holy Fathers and this collection of his Homilies is just lovely. In one of the last chapters he discusses the Bridegroom Matins and the issue of the oil lanterns:
What do the lamps and the oil for the lamps mean? The lamps are our souls, according to the savior's words: the lamp of the body is the eye (Matt 6:22), by "eye" He means the heart of man, or soul. The oil symbolizes alms, according to St John Chrysostom's interpretation, or good deeds in general. Therefore, the foolish Christians, going out to meet the bridegroom, did not prepare for their souls good deeds, which could have supported their spiritual life. The wise ones, it is said, took oil in their vessels with their lamps, meaning that they stocked up on good deeds in order to worthily meet the bridegroom.
I recognize there have been many interpretations by many holy and prominent fathers and mothers of the church, but St John of Chrysostom's idea of alms seems very fitting to me. We have been recently reminded, in the Sunday of the last judgment, that we will be judged by how we cared for others. This is so key! One might argue that all the rest of it – prayer, fasting, services, prostrations etc is all to humble us and bring us into communion with God's all-consuming love so that we can more perfectly love and show our love of one another.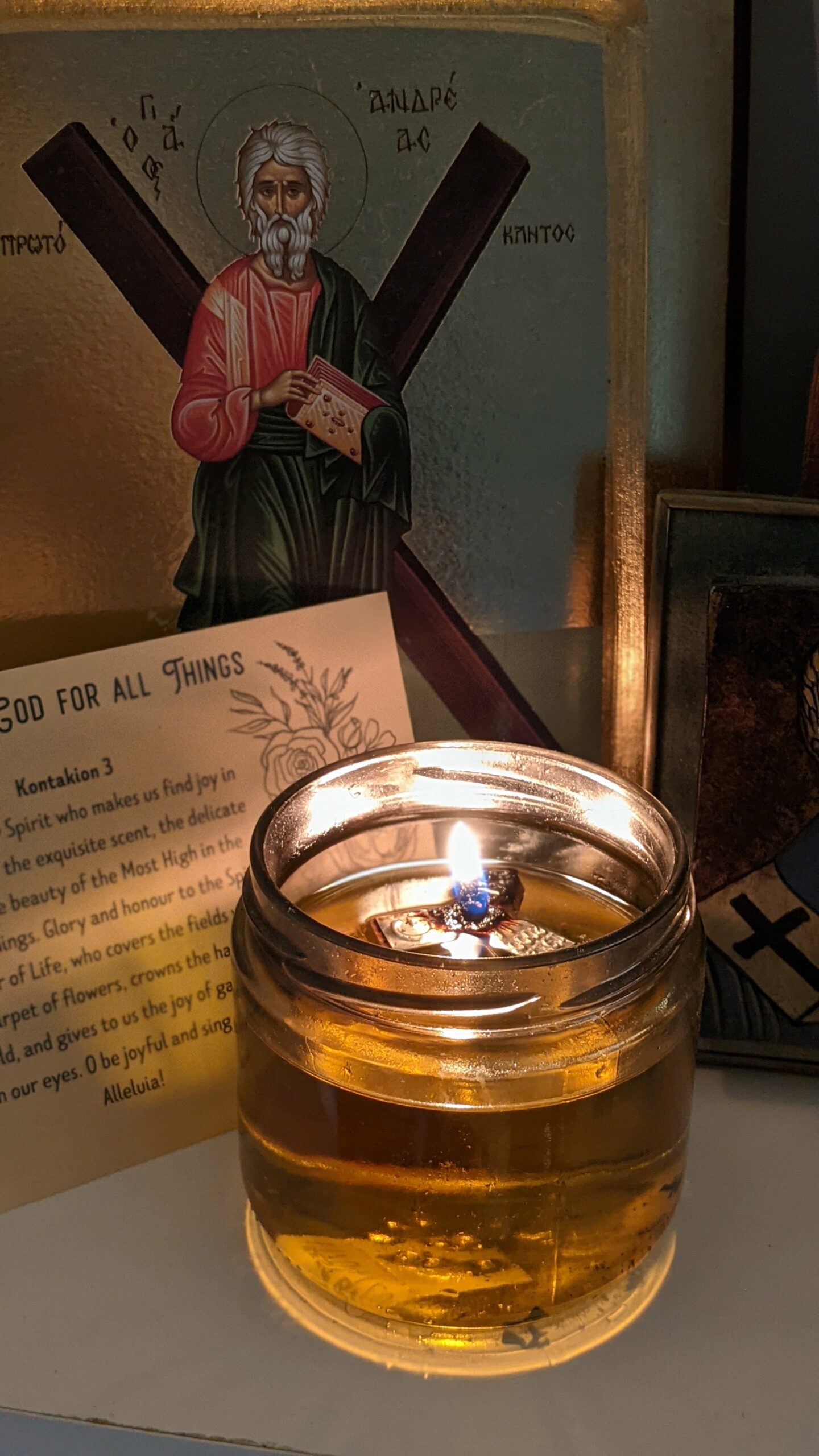 Another favorite quote of St. John of Kronstadt (from his great work My Life in Christ) suggests that this is the whole "meaning" of our earthly life:
The Lord keeps us on the earth in order that love for God and our neighbor may holy penetrate our heart. This is what He expects from us all. This is, indeed, the purpose of the world's standing.
Our family spent this Lent focusing on almsgiving (see this post) and now we find these lessons on the immense value – and not just value, but necessity, of almsgiving here at the end of this holy season. The symbolism of adding oil in the lamps, which are continuously burning down the oil, is one that I will hope to use throughout the year for myself and for my children (perhaps even with some kind of a kindness jar or visual – more to come in another post).
I pray this interpretation may also bring you and your families some peace, clarity and intention as we prepare to move into the Bright Paschal season – not in the spirit of liberation from fasting and so many services – but with a renewed sense of seeing Christ in everyone and serving Christ through them!
With love in Christ,
Sasha