For an angel of peace, a faithful guide, a guardian of our souls and bodies, let us ask of the Lord. – From the Liturgy of St John of Chrysostom
My mother and I were sitting chatting the other morning when she turned to me – "I read in your blog that you don't celebrate Santa with the kids". It was so odd to me that my mother – my closest friend and dearest confidant – found that out about this from my blog. At any rate, she did and was asking without judgement but simply because she tries so hard to respect and support me in the way we have decided to raise our children.
It got me thinking about the power that Santa holds for so many kids, and even grow ups, this time of year (a magic I work hard to not have my children destroy for others in their own knowledge of the Truth). I mentioned in one of my earlier blogs Miracles that I think that Orthodox faith is filled with enough mystery and miracles to warm and excite any young child's heart (or grown ups' for that matter). And one such wonder that is present daily in our lives is our guardian angels.
Guardian Angels are Real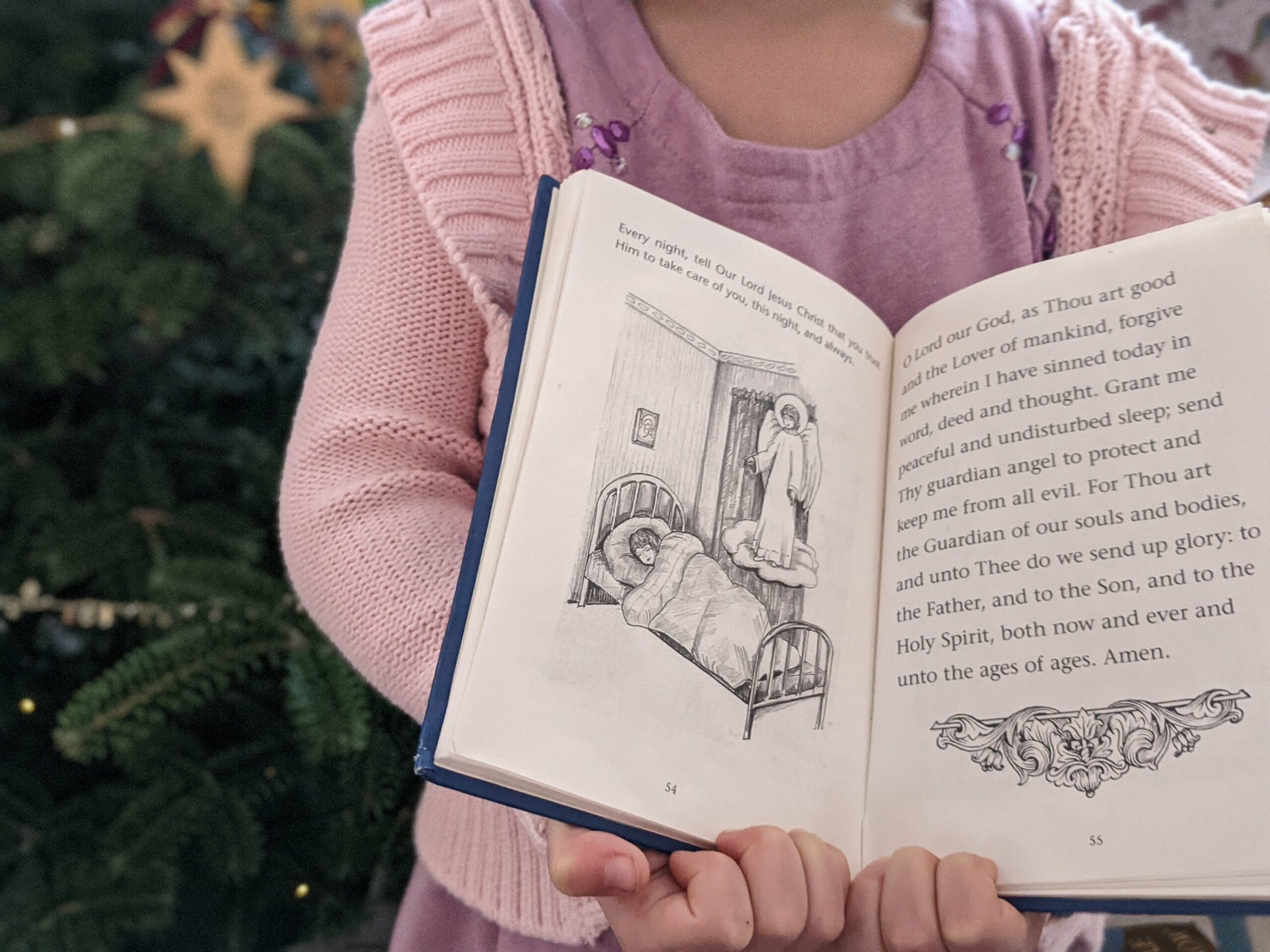 In our home we use the ROCOR Orthodox Children's Prayer Book for our evening prayers and in it are several drawings of a guardian angels including one hovering over a small child pictured here. My daughter especially always loves to see them as we say the prayers. I must admit the idea of a guardian angel somehow even to me (born and raised in the Orthodox church) seems incredible in the truest sense of the word – and yet our prayer books and liturgies are peppered throughout with references and prayers to this angel that each of us is given at baptism (I have read) to intercede on our behalf, to guard us in soul and body, to help guide us on the true and right path. There is no doubt that the Church believes that our guardian angels are real and important figures. 
The importance of a guardian angel first dawned on me during the first liturgy I attended after finding out I was pregnant for the first time and upon hearing the petition lettered at the start of this blog: For an angel of peace, a faithful guide, a guardian of our souls and bodies, let us ask of the Lord to which the choir responds Grant this o Lord. The awareness that tiny soul blossoming in my womb needed an angel of peace was so palpable and still, to this day, I make the sign of the cross over each of my children (and the unborn I have been blessed to carry in my womb) each time I hear this chanted. 
The idea that we have been assigned a special rank of angel for our protection is such a sure sign of God's mercy and love for us among His creation. It is an knowledge that should bring us much comfort and also help us in our humility realizing that God recognizes our fallen nature and need for a constant spiritual guide and companion. We are never truly alone – he has sent one of His messengers to always watch over us and be with us – to keep vigil for us while we sleep and to guide us in our waking hours. 
The Holy Fathers on Guardian Angels
St Anthony the Great said: 
When you close the doors to your dwelling and are alone you should know that there is present with you the angel whom God has appointed for each man…This angel, who is sleepless and cannot be deceived, is always present with you; he sees all things and is not hindered by darkness. (On the Character of Men no. 62)
and St. John of the Ladder wrote: 
If you feel sweetness or compunction at some word of your prayer, dwell on it; for then our guardian angel is praying with us. (The Ladder of Divine Ascent)
Bringing the "Magic" to Our Children
If we too choose not to participate in the secular mysticism of Santa, the Easter Bunny or the Tooth Fairy – we need not despair that our children will be deprived of moments of wonder and awe as we are daily reminded of our own mystical companion present with us and showering us with gifts and blessings all year round. Mother Alexandra, born as Princess Ileana of Romania, was an orthodox nun and spent the late part of her life trying to bring Orthodoxy to English speakers, founding a monastery in Pennsylvania that is perhaps one of the closest monasteries for those of us who live in the Northeast. She wrote numerous books and one in particular called The Holy Angels in which she describes the nature of angels and the part they play in our lives. In the book she recounts a story from her own young life of seeming to see some angles and it is a magical tale that will bring wonder to any child (or grown up child as we all are) who you read it to. I include it here: 
It was early morning, when I was seven years old, that I saw the angels. I am as sure of it now as I was then. I was not dreaming, nor "seeing things" – I just know they were there, plainly, clearly, distinctly. I was neither astonished nor afraid. I was not even awed – I was only terribly pleased. I wanted to talk to them and touch them.

Our night nursery was lit by the dawn and I saw a group of angels standing, as if chatting, around my brother's bed. I was aware of this, although I could not hear their voices. They wore long flowing gowns of various soft-shaded colors. Their hair came to their shoulders, and different in color from fair and reddish to dark brown. They had no wings. At the foot of my brother Mircea's bed stood one heavenly being, a little aside from the others – taller he was, and extraordinarily beautiful, with great white wings. In his right hand he carried a lighted taper; he did not seem to belong to the group of angels gathered around the bed. He clearly stood apart and on watch. I knew him to be the guardian angel. I then became aware that at the foot of my own bed stood a similar celestial creature. He was tall, his robe was dark blue with wide, loose sleeves. His hair was auburn, his face oval, and his beauty such as I cannot describe because it was comparable to nothing human. His wings swept high and out behind him. One hand was lifted to his breast, while in the other he carried a lighted taper. His smile can only be described as angelic; love, kindness, understanding, and assurance flowed from him. Delighted, I crawled from under the bedcovers and, kneeling up against the end of the bed, I stretched out my hand with the ardent wish to touch my smiling guardian, but he took a step back, put out a warning hand, and gently shook his head. I was so close to him I could have reached him easily. "Oh, please don't go," I cried; at which words all the other angels looked toward me, and it seemed I heard a silvery laugh, but of this sound I am not so certain, though I know they laughed. Then they vanished.
Recognizing Our Guardian Angel at Work
Since my own awareness of guardian angels has blossomed I have begun more and more to thank my own guardian angel for the ways in which I feel they interceed in my life – when my car skids off the ice and then comes to a safe stop, when I remember something very important as if out of the blue at the last moment – I try and make the sign of the cross and acknowledge the presence of God's protection. I have also begun to say it out loud to my children and to suggest they too are helped daily in small ways by an intercession on God's behalf. My 4 year old tumbled all the way down our stairs last weekend and ended up with a very bruised and scratch face but nothing else. Given how many people die or are seriously injured from falling down the stairs each year (including my husband's grandfather who died just earlier this year) I felt it truly a blessing and a sign of God's work in our lives. As we cleaned her wounds and iced her nose we talked about her guardian angel and said a small prayer of thanksgiving together. 
Remember our Faithful Guides & Bringing this to Our Children
Any excuse we can have to remember that God is always at work in our lives – and reminding our children of our reliance on Him and that the good we do is from God is a tremendous help in cultivating and maintaining some humility. Priest Seraphim Holland wrote a blog for his parish in 2009 about a concept of morning bows that he heard from a well respected bishop and added his own fourth bow to acknowledge our guardian angles. He writes that he recommends this brief contemplative practice to all his parishioners for each morning and has seen it bring many blessings to people's lives and hearts.
Upon arising in the morning, before anything else, direct your heart and mind towards God, and face your icons, or face east and with compunction, and without haste, make four bows, or better, four prostrations.

Do this with hope in God, and the sure belief that He will receive your prayer, as He received the widow's two mites, and protect you during the day, even if you fall into inattention and these prayers are the last you will say for the entire day.

Making the sign of the cross, with a bow of prostration during each prayer say:

Lord Jesus Christ, Son of God have mercy on me a sinner.
Most Holy Theotokos, save us.
Holy Saint ______ (your patron saint), pray to God for me.
Holy Angel of God, my guardian, pray to God for me.
It seems such a simple practice it could be nice to try it with our children – mine especially need to get their wiggles out and have a bite to eat before we say our morning prayers as a family, but this could fit as a simple practice for first thing as each comes down the stairs in the morning. We will give it a try. 
Dear Lord thank you for not abandoning us to the chaos of this fallen world and for the knowledge that each of our children also has a constant guide and companion sent by you. The knowledge that they are not without your sword and your shield, even when they are not with us or out of our sight, is a true blessing.
With love in Christ, 
Sasha