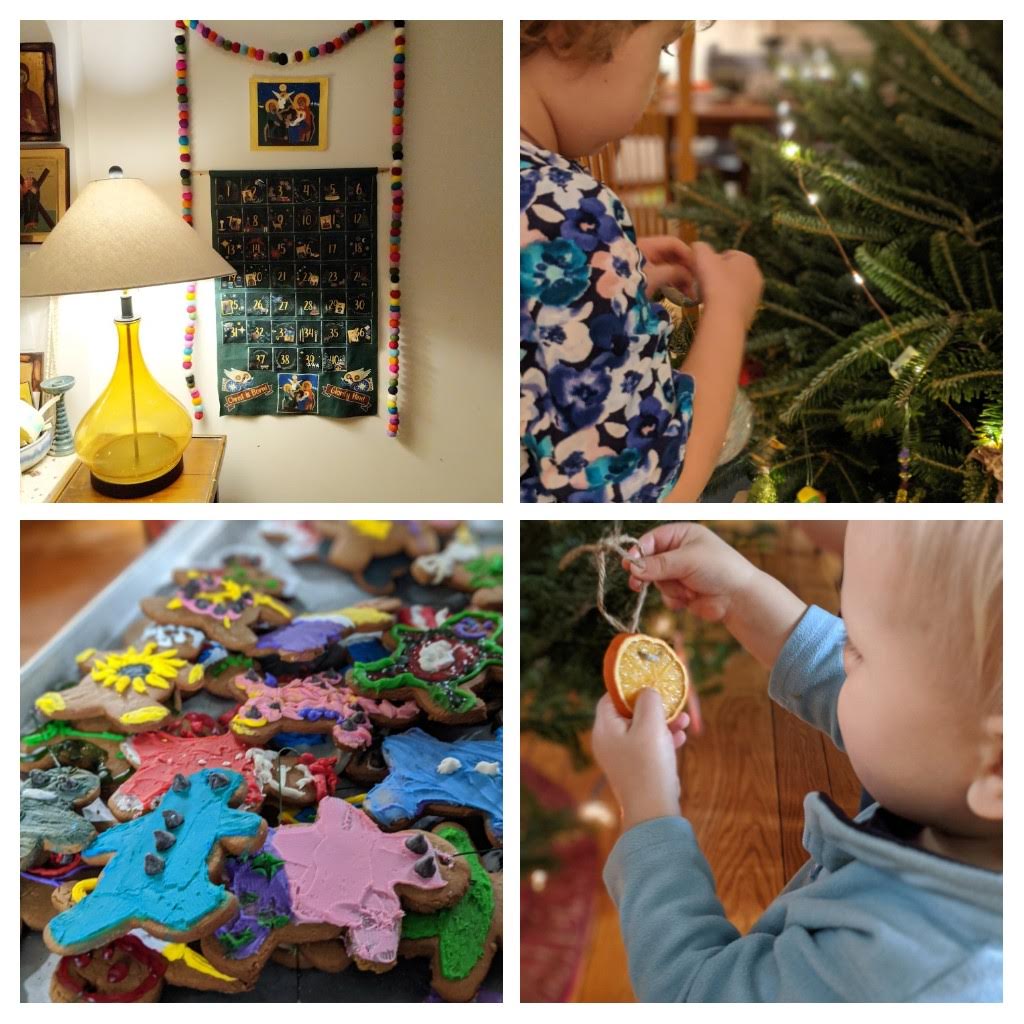 In our home we celebrate by the Old Calendar and so aren't quite in Advent season yet – but seeing so many of you begin the celebratory season of the Nativity Fast in posts and pictures I couldn't resist getting in on the good cheer. We need some good cheer right now. I even heard from one of our young Old Calendar matushka's that she's put the Christmas tree already up though we are only a little less than 2 months away from January 7th.
The draw of the holiday season – which still, by God's grace, seems to permeate strongly in secular culture – is infectious. Christmas choral music, "a season of giving", "a season of peace", and a sense of goodwill suffuse the air this time of year. And our children can feel it too. At my eldest's preschool a few years ago they did mock interviews for the New Year and his biggest excitement for the New Year was to "celebrate Christmas with my family." What a blessing! And very much on us, especially in these long days of "social distancing" and isolation, to bring it to life vividly – in our homes and with a focus outwards towards our communities.
There are so many fantastic resources out there for Orthodox parents that I will hope to just list my favorites and then some others I hope to try out in big and small ways this year.
I organized things into the categories of Prayer, Fasting and Almsgiving to keep this a Faith-centered and not just jolly-making time (although both are welcome). I highly recommend that you pick a few activities from each category to attempt (or add to your own traditions) – you can always come back for more if you have the time and energy:
Prayer
As you are able, try and mark each day of the Nativity Fast as special with an Advent Calendar (of all 40 days) and/or Jesse Tree tradition, with a special reading or homily of some sort for each day, including the celebration of the major feasts and Saint's Days that fall within the season. I love Elissa's book Welcoming the Christ Child. There are also 6 Sundays during the season each with a different theme – consider focusing on the theme either leading up to or in the week following the liturgy. Additionally, a few lovely curricula have been created for children – here are two examples for $12 from OrthodoxMom and a free one from the Bulgarian Orthodox Diocese. I also include anything sensory (lights/ sounds, imagery) under prayer because for young children, especially, the sensory elements of the season make a big different in keeping the spirit of the season alive.
Decorate:
The Advent Calendar/ Jesse Tree – linked are my personal favorites but anything (anything!) can work – don't let the perfect be the enemy of the good here – it truly is the thought that counts.
The Tree

Though not a Christian tradition it has become a symbol of the season and a lovely way to display icons, angels and symbols of the faith. Try to add Christian ornaments each year if it's not a focus already – you could make one with your kids (Pinterest has lots of ideas) – something to do with all the paper icons you may have lying around and not be sure what to do with.

The Creche

We have two at our home, one which the children can play with (respectfully) and the other that hopes to be a bit more decorative.

Advent Wreath

Originally not an Orthodox tradition – but one that has been adopted by many and can help to mark each week of the season and focus visually on important parts of living as Christians: faith, hope, love, peace, repentance and holy communion
Sing/ Listen/ Make Music: This is a time to make music – with your voice, with an instrument, with the radio – just "make a joyful noise!" In our parish we have been holding a candlelight caroling service for the whole town for the last 10 years – it is an amazing festive event with hundreds of people signing and celebrating Christ's birth together – this year, for obvious social distancing reasons – that won't happen – but we are hoping to bring our voices to the streets in small numbers to cheer on some communities that may be more needy right now. A beloved song, from my husband's youth, sung by the children each year is The Friendly Beasts – consider learning it as a family this year. Here is a video version for the tune, but a Capella is lovely and simple.
Read:
We have a huge stack of books on Christmas and the Saints of the Season as well as simply the Winter season that we pull out for this time and tuck away after the holidays to make them fresh again each year. Here are a (1) few (2) lovely (3) ones to add to your collection. Books are perhaps the most powerful way to convey messages about God and his kingdom to the littlest children.
Fasting
For so many Orthodox Christians we focus heavily on the act of fasting from food. This is so important and harder this time of the year when we are perhaps celebrating with those who don't fast. However, there are lots of lovely resources out there to keep the season festive and keep the fast. With veganism on the rise I find that the spirit of fasting can be lost in the ease of substitutions if our focus is solely on what we are eating. Beyond fasting from foods we can maintain a fasting spirit. I have always loved this quote – and for our littlest, who don't fast from certain foods – we can use the below principles taken from this post by Abbot Tryphon, and adapted for little children by me here, to guide our fast. Children, starting around age 4, I find, enjoy memorization and are good at it – keeping this as a part of prayers perhaps even with a cheerful marching tune or choosing to focus on one element every few days could be a lovely way to begin to introduce the concept of fasting and welcome the spirit of fasting (beyond the table) to our littlest.
FAST from worrying about yourself & FEAST on caring for others.
FAST from feeling disappointed and FEAST on hoping in our God.
FAST from laziness and FEAST on joyfulness.
FAST from worrying about if others are being truthful and FEAST on living the truth yourself.
FAST from bad thoughts and FEAST on happy thinking.
FAST from shadows of sadness and FEAST on the sunlight of peacefulness.
FAST from speaking about others and FEAST on trying to keep some silence.
FAST from problems that worry you and FEAST on prayer that gladdens your heart.
FAST from mean-spirited words and FEAST on kindness.
FAST from feeling bad for yourself and FEAST on gratefulness.
FAST from being angry and FEAST on peacefulness.
FAST from remembering the bad and FEAST on recognizing the good.
FAST from wanting what others have and FEAST on loving others.
FAST from thinking we are the best and FEAST on recognizing our need for God's grace.
FAST from wanting for yourself and FEAST on giving to others.
Almsgiving
Finally, and so importantly, can the focus be kept on seeing the Nativity Fast and Nativity itself as a time of "giving" rather than receiving? Our family focuses on one present per child and something homemade and places emphasis on making gifts – first for the others in the family and then circling outwards to neighbors, friends, the world and those in need. Some ideas I love:
Lights for Neighbors

This year especially our outward manifestation of the season – even in simple lights – can bring some joy to those around us.

Christmas cookie parcels
A Caroling Sing for neighbors or a community in need
Ways for Giving:
The season will look different this year, but the wonder of God's incarnation is no less powerful. In fact, perhaps this is one key area where all of the outside distractions are perhaps just that, distractions, and where those of us blessed to have little children with us at home can focus on our little churches and families to help bring this needed joyful season to life for the benefit of not only our own souls but that of the whole world.
"Acquire the Spirit of Peace and a thousand souls around you will be saved." St. Seraphim of Sarov
Wishing you and your families a blessed Advent.
In Christ,
Sasha
Additional resources:
http://ww1.antiochian.org/content/nativity-resources-orthodox-christian-families