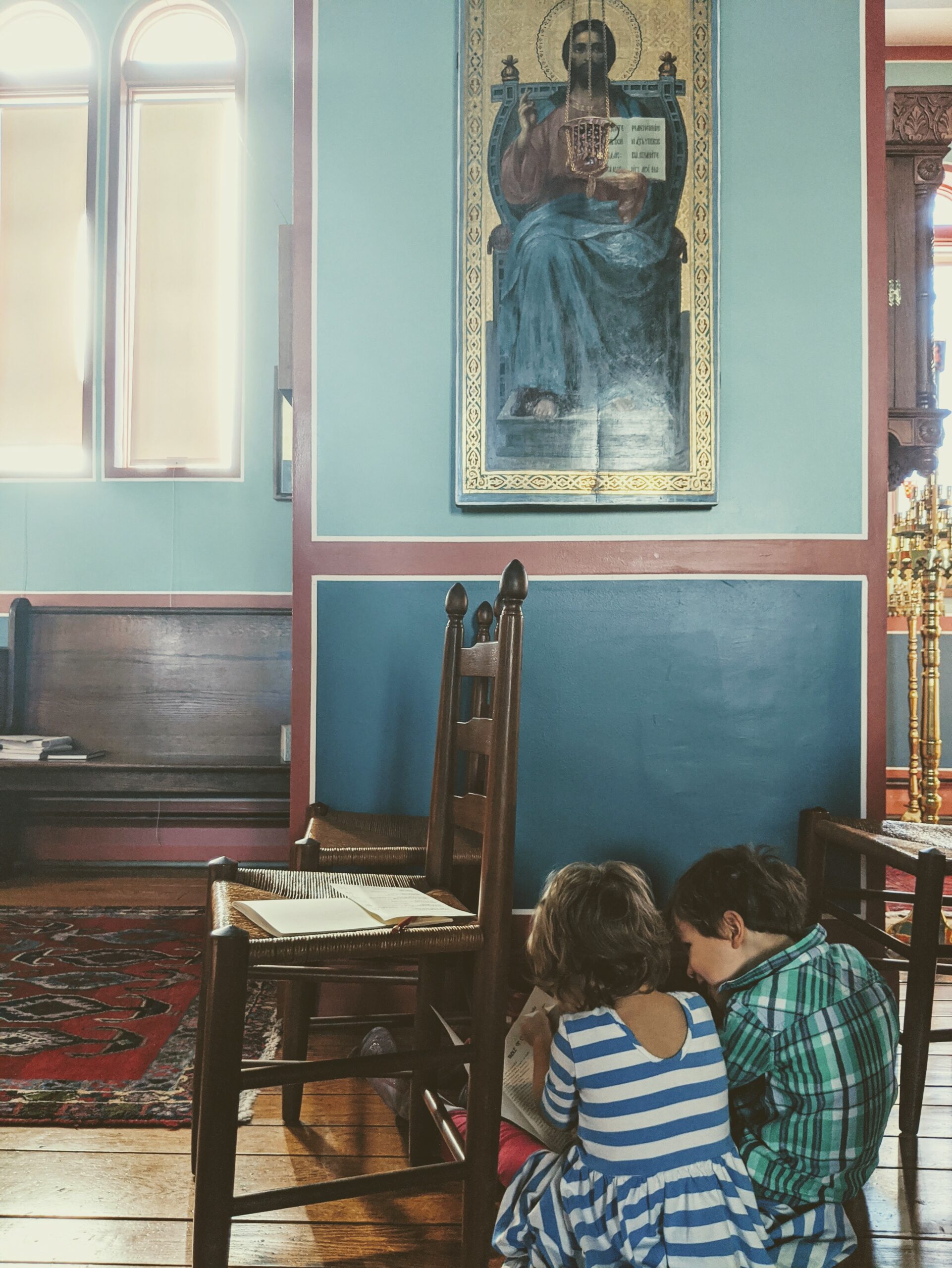 Speak more to God about your children than to your children about God. – St. Epiphanios
I remember the first time I read the above quote I was kind of blown away. I was already a mother and was putting my energy into trying to make sure my children felt surrounded by the church, by talk of God and by signs of faith. I must admit that I have such a terrible fear that my children will get swept away in the mass current of disbelief that pervades much of society that I feel like in these, their earliest days, it is so important for them to hear and think about God in everything. I see it as an effort to protect them against one day imagining that God is just like Santa Claus or the tooth fairy – someone who people pretends exists but then, when older, realize doesn't. (We don't do Santa or the tooth fairy for this reason as well.) This is such a fear of mine. The fact is that there is very little in our secular world that will speak to God – not many schools, rarely Government (either party), certainly not consumerism or capitalism (neither of which thrive with true Christian values). So isn't it my job to make sure I talk about Him a lot to make up for all that?
The Power of a Mother's Prayer
I grew up with a very pious mother, but also one for whom faith was and is quite a private affair. She was raised by Russian refugees – her grandparents – extremely pious, believing people for who God simply was and no great effort had to be made to prove it because it was never in doubt. My mother grew up in this cloud of faith and her faith is simply the bedrock of her life, but in a quiet and non-evangelizing way. We always went to church. Always. But we didn't pray openly together at home, that I remember, or celebrate name's days or even the Great Feasts. I went to secular private schools, had few to no Orthodox or even Christian friends, not many friends at all to be honest. And as an only child of a single mother trying to pay for private school with her own small business, I spent a lot of time alone and much of that in front of the TV. I look back and wonder how I ever made it through to the other side with my faith intact – and, by God's grace, more than intact but a burning ember within me that, despite the doubt that always seems to coexist with faith, enlivens my mind and heart with a desire to know and be close to God? It wasn't by outwards acts, words or traditions, but by God's grace and by my mother's steadfast prayer for me.
Even writing this now brings tears to my eyes. I recognize how much I try to do differently than my mother did – noticing disappointments that come up – that she didn't push my father harder to speak to me in Russian, that I wasted so much of my youth in mind-numbing television programs, that I didn't celebrate all the little traditions of the church… but I can see that what she did in prayer for me was infinitely more valuable. Thank you Mama! Your faith and your prayers were and are the greatest gift.
Putting it Into Practice
So how do we put more effort into praying for our children? In my last post I talked about making the effort to bring prayer – both formal and informal – into every moment of our lives as best we can. In our informal prayer we find that our children will naturally become a focal point – praying over skinned knees, while making their beds or folding their clothes, in the evening as we tuck them in. Formal prayer for our children seems to me to be more elusive. Many, if not most, of the formal prayers of the church were written by monastics and don't include specific language around children. In reading and researching a bit around this topic the most common formal prayer I found was the Akathist to the Mother of God – Nuturer of Children. I will admit that I had heard about this prayer and, mistakenly, assumed it was the same as the well-known Akathist to the Theotokos. When I read it I was very surprised, and delighted, to find another Akathist had been written dedicated to asking the Theotokos to mother our children and interceed on their behalf. Many lovely posts and recordings and printables have been made of this prayer and are at the Orthodox Parenting website along with a small reflection on the Akathist itself to be found here. Here I include a particularly beautiful excerpt that perhaps all of us could set as a goal to memorize and be able to carry in our hearts this coming year.
O All Hymned Mother of our Sweetest Jesus! Accept this small hymn of supplication for my children as a sweet fragrance and take them under Thy compassionate protection. Grant them to think, know, hear, say and do, only that which brings them close to Thee and Thy Son, and helps them attain eternal salvation. And send them in this present life all that is profitable for the salvation of their souls, that they may cry to God: Alleluia.
Sarah Wright of the Orthodox Motherhood blog has a post exactly on Prayers to Pray for our Children which includes this Akathist as well as two other small daily prayers for our children and a free printable to add to a prayer book or to post in your prayer corner.
Finally, Annalisa Boyd has a book The Aesetic Lives of Mothers with prayers, many written by her, for the many seasons and challenges of motherhood. I will admit that I bought the book when it first came out imaging it to be a book about being an Orthodox Mother generally. In a truly humbling testament to where I was in my spiritual understanding and life at that time, I was quite disappointed to find that it was more a collection of prayers for mothers with a few very human and personal reflections from the author Annalisa Boyd interwoven. I wanted a book to sit down with and read through – "I already have a prayer book" I thought. In the last few weeks as I have contemplated these posts and the importance of prayers for our children I have finally shed some of my fear of our own layperson prayers being unworthy – especially my own. Even the beautiful Akathist above I cannot find the source of and have heard may have been written simply by a God-loving woman who recognized the power of Akathist prayers and the need for one speaking to the Mother of the Church, the Mother of God, on behalf of our children.
Integrating all of it into a personal or family "rule" of prayer
So finally how can we find a system for integrating all this on a regular basis. Each person and family will find their own rhythm. However, simply reading/reciting our formal prayers won't integrate this necessary part of our prayer and perhaps we can go beyond the moment-to-moment prays of the heart from our children to have some daily formal prayer for them built in. Khouria Frederica Mathewes-Green speaks about saying the above Akathist as a parish on a regular basis and reads the prayers aloud here. Others might try and work in a few sections of the prayer here each day (as we can with the psaltar). Currently I have a printed copy as a bookmark in the book I read before bed and pray it this way. Last year I first listened to this episode of Hannah Vazquez's podcast All These Things and was struck by the idea of a homemade prayer book (perhaps from a small photoalbum she suggests) that you can add beloved prayers to, as well as copies of the standard morning and evening prayers to make your own prayer book for daily use. I made this as a gift for two dear friends last year and perhaps we could gift it to ourselves and even make copies for children who are reading to store some of their favorite prayers (see more ideas for this in the final post of this series to come).
"Speak to God and God will speak to their Hearts"
While inspiring to think of making new prayer books and memorizing prayers, we must not allow the perfect to be the enemy of the good. We must start now – even with just a favorite go-to arrow prayer like "God shine Your grace upon my children!" In the beautiful words of St. Porphyrios below we must speak to God and have faith that God will work His Grace in them.
With love in Christ,
Sasha
"Pray and then speak. That's what to do with your children. If you are constantly lecturing them, you'll become tiresome and when they grow up they'll feel a kind of oppression. Prefer prayer and speak to them through prayer. Speak to God and God will speak to their hearts. That is, you shouldn't give guidance to your children with a voice that they hear with their ears. You may do this too, but above all you should speak to God about your children. Say, 'Lord Jesus Christ, give Your light to my children. I entrust them to You. You gave them to me, but I am weak and unable to guide them, so, please, illuminate them.' And God will speak to them and they will say to themselves, 'Oh dear, I shouldn't have upset Mummy by doing that!' And with the grace of God this will come from their heart." He also said, "It is not sufficient for the parents to be devout. They mustn't oppress the children to make them good by force. We may repel our children from Christ when we pursue the things of our religion with egotism." (St Porphyrios, Wounded by Love)