You are the light of the world. A city that is set on a hill cannot be hidden. Nor do they light a lamp and put it under a basket, but on a lampstand, and it gives light to all who are in the house. Let your light so shine before men, that they may see your good works and glorify your Father in heaven.
+ Matthew 5:14-16
Do you know that? 
I had this moment of profound self-doubt a few months ago. A moment of wondering just what I was doing, what difference I can actually make, what it is that God wants of me. I believe it wasn't thinking born from despondency, but from a deep desire to make a difference and an understanding of my limitations as a mom of young kids, in the middle of a pandemic, working only part-time. It was a moment of crux between the part of me pre-motherhood that traveled around the world working for NGOs and hopeful-minded to do great things, and the me of now who spends more time on the to-dos of keeping little ones alive and thriving than on being an activist or missionary. I was sitting in my car at a red light on my way to work – a rare moment of being alone – and into the midst of my doubt I heard these words – "You are the light of the world". I won't presume to say that God spoke to me, perhaps my guardian angel was tapping me on the shoulder, whatever it was it was from God – and it brought me profound peace and comfort in that moment and in many since. 
I don't often think of myself as a light of the world. As Orthodox Christians we are called to live lives dedicated to loving and serving God and our neighbors. Our lived faith stands upon the practices of prayer, fasting and the giving of alms. As mothers of little ones it can be hard to feel like we practice any of these well. Prayer looks profoundly different for many of us – far less time dedicated (or attempted to be dedicated) to formal prayer. Fasting may fall away for a while during nursing periods and pregnancies – and when we do fast we don't do it with our littlest and so some of the "remembering" of fasting can feel lost. And almsgiving – giving of ourselves to our neighbors and parishes – money, time, energy – feels like such a challenge when we may feel we spend our whole days giving of ourselves to our children. (Of note, I plan to discuss each of these topics separately in future blogs because I have truly come to believe that being a mother is a gift that can actually make each of these pillars of our faith richer and more integrated and important in our lives. However, that is not obvious and many times we may feel that while we are meeting the basic needs of our own family we provide little else to light up the world.)
Yet this is exactly what we are called by our Lord Jesus Christ himself – words spoken to his followers – and we are his followers – we are the light of the world. Or we can be – we are called to be – we are, dare I say, destined for this. Perhaps you don't struggle with feelings of inadequacy the way I do or did at that moment. But do you truly recognize that God has plans for you to be a part of His plan and the diapers, the laundry, the lessons at home, the patient tying and retying of shoes, shepherding our children through liturgy, and many many other moments of our daily lives with littles just might be part of His plan? These are holy moments – or chances to be if we view them as such – if we do them with joy (despite the frustration), peace (despite the time crunches) and love (despite the bickering). 
St. Theophan the Recluse is quoted as saying: "Of all the Holy Works, the education of children is the most holy…" While we may not all want to or be able to homeschool our children, whatever education we choose for our children we are their primary educators. The word educate originated in the 15 century from the word educaten meaning "to bring up (children), to train" (according to the online etomology dictionary). Each and every moment with our children is an opportunity for training, for imparting virtues – thanksgiving, peace, love, patience, simplicity, silence… Ours is holy work.
Do our children know? 
There are many of God's promises to us that bring me tremendous comfort – the knowledge that "all things work together for good to those who love God" (Romans 8:28) and that "He Himself has said, 'I will never leave you nor forsake you.'" (Hebrews 13:5), and many others. Likewise, knowing that He has called me (and us) a "light of the world" in any way that I can be a mediator of His love and good works gives me the strength to continue to try and do the next right thing. These can feel like very discouraging times – from the individual struggles of households, to the collective struggle of our nation and our world. We need encouragement. And our children do too. God wants to encourage us and He wants us to encourage one another. Our kids need to be reminded constantly that they are profoundly loved, not just by us, but by something so much bigger, someone so much bigger – to be reminded that He is "everywhere present and fillest all things" and to remember that He has called them the "light of the world." As we prepare for a long dark winter (at least here in the Northern US) we can bring this in visually with the lighting of candles and fires, we can make time to slow down and be together – finding ways small and large to bring the peace of Christ into our hearts and into our worlds – writing letters together, baking something for a lonely neighbor, preparing gifts for others who won't get any gifts this year (e.g. Operation Christmas Child), singing songs of peace for the upcoming "season of peace" – there may perhaps be no other time of the year when we can sing out songs of adoration in the streets without worry of offense – so let us start now – let us sing and let us let our little lights shine. 
This Little Light of Mine (Original Negro Spiritual Lyrics)
This little light of mine
I'm going to let it shine
Oh, this little light of mine
I'm going to let it shine
Hallelujah
This little light of mine
I'm going to let it shine
Let it shine, let it shine, let it shine
Ev'ry where I go
I'm going to let it shine
Oh, ev'ry where I go
I'm going to let it shine
Hallelujah
Ev'ry where I go
I'm going to let it shine
Let it shine, let it shine, let it shine
All in my house
I'm going to let it shine
Oh, all in my house
I'm going to let it shine
Hallelujah
All in my house
I'm going to let it shine
Let it shine, let it shine, let it shine
I'm not going to make it shine
I'm just going to let it shine
I'm not going to make it shine
I'm just going to let it shine
Hallelujah
I'm not going to make it shine
I'm just going to let it shine
Let it shine, let it shine, let it shine
Out in the dark
I'm going to let it shine
Oh, out in the dark
I'm going to let it shine
Hallelujah
Out in the dark
I'm going to let it shine
Let it shine, let it shine, let it shine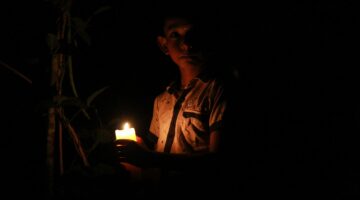 Photo by Rajesh Ram on Unsplash