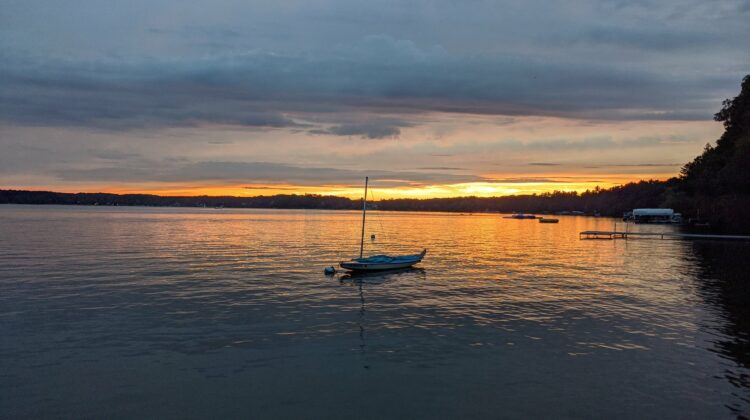 "Where shall I place, child of Jesus, the spiritual intuitions springing from silence! How the eyes of understanding are opened and see Jesus in sweetness greater than that of honey! What new wonder is worked from legitimate silence and attentive understanding! You know these things, therefore compel yourself. A little has been revealed to you; struggle and you will find yet greater. I have you in prayer just as I promised you; I wonder if you were prepared?"
– Elder Ephraim of Philotheou Mount Athos, "Counsels from the Holy Mountain"
When you are living with small children, silence is generally not the first descriptive word that comes to mind. Silence can feel even elusive except when everyone is finally asleep. Although it happens rarely, the moments when my children are all sleeping in the same place at the same time (e.g. after an exciting day at the beach) have always been some of my most satisfying moments as a mother. The sense that they are safe and resting, as well as just seeing their peace-filled expressions, is such a balsm for my soul. Thank you Lord for your many blessings!
There are also, and perhaps even more magical, moments when they are awake and absorbed in something and we are together in silence. I find these happen most consistently when we are in the natural world. Often these are moments of wonder. When I started writing this post we were just driving home from an epic 2 week vacation at a large shared family cabin on a lake and these moments of silence and wonder seemed to be everywhere. My two year old on my lap as we watched for loons on the lake. (He now does an impressive loon call.) My 6 year old lying on his belly over the edge of the dock patiently trying to coax a crawfish into his net. My daughter and I out on a morning paddle staring silently in awe at the depths we could see through the glassy surface.
We know from scripture and the teaching of the great holy elders that silence is critically important to our souls. We must have silence in us, around us and created by us to allow ourselves to make space and connect with God.
It is in silence that we can fully be present and aware of our inner state and of the kingdom of heaven within us. When we are constantly surrounded by noise we are distracted. And when we are constantly making noise we become boastful and prone to slander. In the noise our souls flail and in silence we can find ourselves again.
So how can we begin to share the treasure of silence with our littlest children especially when we ourselves so often shun it?
Silence is a threefold creation it seems to me. First there is the silence of our surroundings which, we may be surprised to realize, are rarely truly silent. Then comes the silence of our own lips and the avoidance of idle chatter, slander, and the like (which we reviewed a touch in the True. Helpful. Kind blog post). Finally there is an internal silence – a quieting of our thoughts, which, I would argue, is the highest form of silence and the hardest to attain. This final silence does, however, flow much more naturally from frequent encounters with the first two types which create space to observe and perhaps quiet our thinking mind.
For the littlest children I believe that starting with the most obvious form of silence – quieting their worlds for periods of time, is the easiest and most effective first step.
We listen to A LOT of music at my house. My husband and I both love to sing and that love has rubbed off on all of our children. We constantly have music playing and even have a Google speaker so that my two oldest know how to put on just about any song they would like to hear. We do a lot of show tunes and musicals. We sing in church. I also try to have Ancient Faith Radio playing for at least an hour each day. None of this is silence.
I noticed how little silence we create when we were at the lake house and my kids tried to ask for various songs saying "Hey Google…" We didn't have the speaker set up and I didn't end up setting it up. The silence, and the sounds of nature and just quiet bodies of family moving around were so soothing. I noticed I had been missing silence.
Since we've been back we have been more intentional about silence although I am noticing us slipping back into old patterns. Then this past week we started the Tending the Garden of Our Hearts virtual summer camp and behold day one of Camp – whose theme is on Prayer – talked a lot about needing to find silence/stillness to pray. We also heard about St. Elijah and how he comes to know and show us that God speaks to us not in loud clanging but in a "still small voice". The session even set up a three minute challenge to be still and silent and just connect with God. Amazing. And so challenging to watch my kids try. Hard, but doable and a skill to be practiced.
In her book Walking in Wonder, Montessori-trained teacher and Orthodox writer Elizabeth White, writes a whole chapter on finding quiet including the Silence Game (see a Montessori explanation here), thinking of quiet things (clouds, water), finding silence in nature (our favorite) and making a space dedicated for taking a silence break. All her ideas are wonderful and I highly recommend her short and highly readable book.
Quite frankly the idea that you can even begin to train small children in this art and should has come as quite an insight to me. I am excited to find ways to bring more and more silence into our lives with love and compassion for the wiggles and giggles that even we grown ups have. And, of course, knowing that we can only teach what we know I intend to make silence and stillness regular and intentional parts of my daily rhythms – with plenty of room for singing and rejoicing too 🙂
As always would love to hear your thoughts.
With love in Christ,
Sasha