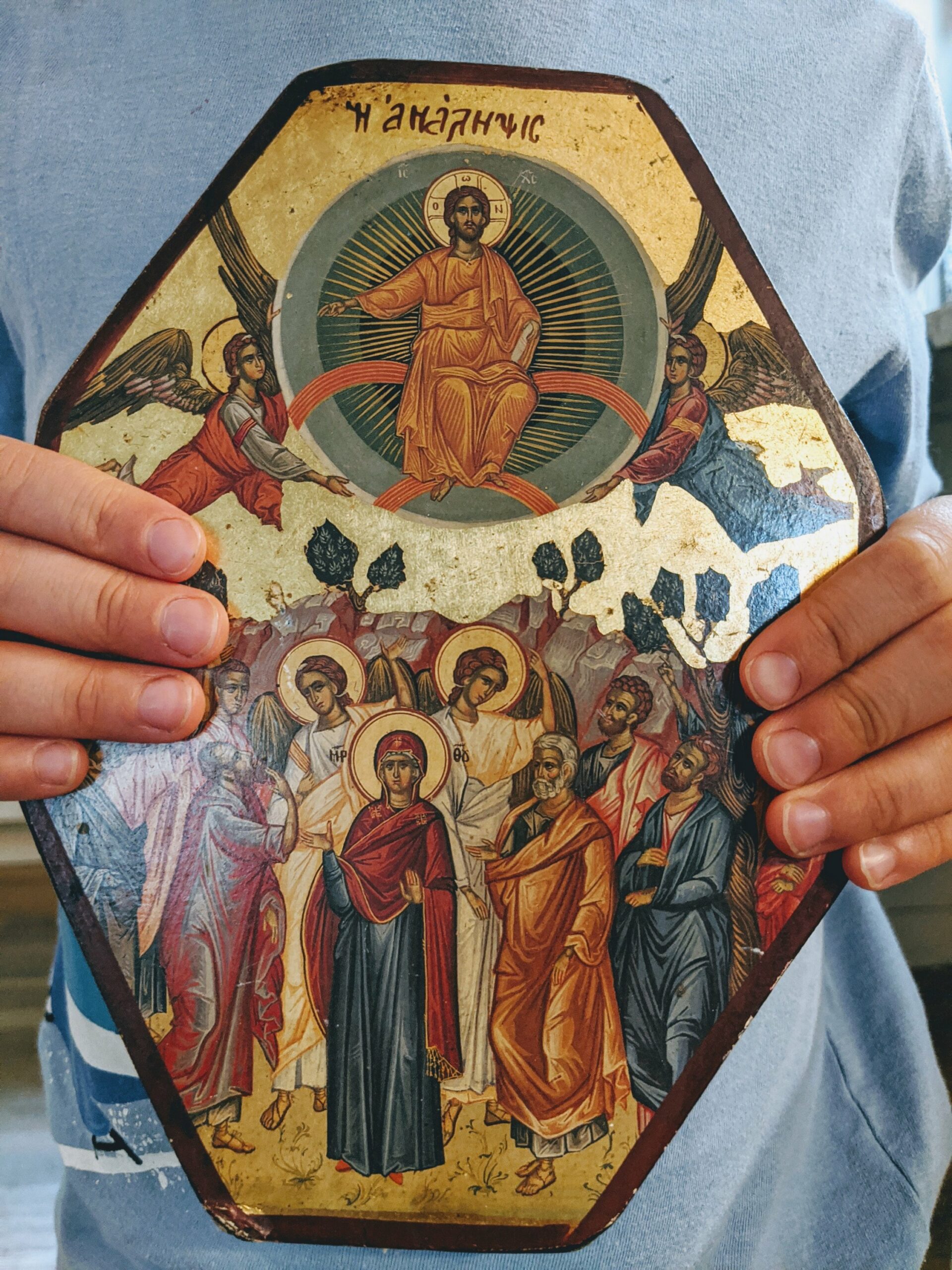 In my last post I discussed that we can take this time of less outward distraction (i.e. social distancing and quarantine) to really pay full attention to the rhythm of the Church year and celebrate and anticipate the Great Feasts just as we might have been anticipating the end of the school year or a big community event.
My daughter keeps asking me "It is still Easter?!" and I keep smiling and saying YES! But we know that the Paschal season, like all seasons (including someday Coronavirus season), comes to an end and we will soon stop singing Christ is Risen! before each meal. While Pascha is, by far, the most important celebration of the year for us as Orthodox Christians, each of the Great Feasts can be celebrated with a smaller version of the same gusto. We can anticipate the event, buildup to it, celebrate it and then take leave of it slowly.
So much of the power and wonder of Pascha for our children, and for ourselves, is in the anticipation and build up. So while in the past I have tended to spring a great feast on my children – unexpectedly taking them to church during the week and spending the day in celebration – I am hoping to be more intentional and spend the week in a mini-anticipation of the event.
Anticipation:
Thinking of the anticipation of the feast in much the same way as Holy Week anticipates the feast of Pascha (minus the many extra services) we can:
Discuss

: the feast's significance. That means learning or remembering the feast ourselves – including importance of Jesus' physical body being lifted into heaven and taking a seat at God's right hand – reestablishing communion between God and man. Also the foreshadowing of His second coming. Watch a video even: I find my children are very visual and I have enjoyed the lovely videos from the Virtual Sunday School and also we have enjoyed the VSS recommendations of live-action videos (here is one). This is also a sweet animation summary of the death, resurrection, ascension and descent of the Holy Spirit.

Prepare

: for whatever way we will choose to celebrate.

Perhaps choosing/making/buying white clothes to wear for the services (see suggestions) and preparing a special meal. Children can't resist a good sweet so perhaps meringues, as some have suggested, they have a cloud-like quality to them and are actually pretty easy to make.
Learn, or at least listen to, the festal hymns and sing along during the service
Celebration:
Lots of others have written about how to celebrate with our children and I include some links below.
Ideas I like a lot and plan to try:
Attend

the virtual vespers and actual service (it may be smaller at your church and perhaps you can physically attend).
Take a

family hike

to the top of a nearby hill perhaps with a picnic

Connect

– this is a lovely activity page for kids.

Rejoice

: We will all miss greeting one another with "Christ is Risen!" but we can use the traditional greeting and response I read about from Sarah @ Orthodox Motherhood: "Christ Has Ascended! From Earth to Heaven!" today and for the next 10 days.
Leave Taking:
Consider the 8 days between Ascension and Pentacost as both a leave taking of ascension and build up to Pentacost (which I hope to write about next weekend).
For Ascension:
Keep the greeting "Christ Has Ascended! From Earth to Heaven!" going
Take time to cloud watch (thanks again to Sarah) – such a simple pasttime and lovely this time of year – talk about where Jesus went
Consider daily saying the Nicene Creed if you don't already and notice especially the words: Note each time you say the Creed (the "I believe" my kids call it) – "and He ascended into the heavens and sitteth at the right hand of the Father, and he shall come again in glory".
Christ is Risen! And soon shall Ascend.
With love in Christ,
Sasha
Resources:
1. Virtual Sunday School – Tending the Garden of our Hearts
2. Ways to Celebrate the Feast of the Ascension – Orthodox Motherhood
3. A Family Celebration of the Ascension of Christ – Orthodox Parenting