Christ is Risen!
I was reflecting last Sunday as we were "in church" how much more difficult it is to engage our children in church without all of the ritual and sensory experience that our physical church provides.
I remember when I became a mother how it felt like going to church with children was so hard. Don't get me wrong it has lots of challenges! Not only in trying to help our children find moments of focus and in not disturb other parishioners, but also in trying to maintain our own spiritual connection and time for quiet communing with God.
And yet as with so many things in parenting I see now that, for me, going to physical Church was actually the easy part and that trying to keep home Church alive with the same spirit and fullness of the physical Church is the incredible challenge.
My children are young and, at this age, they quickly become accustomed to new things. That has its advantages obviously. Children's adaptability and resilience are admirable and a true example for all of us. But I also worry that they could be becoming accustomed to not going to physical Church and that is a deep sadness for me.
So much of the way that I have come to understand the importance of church for my children is in the experiential. It's not in the words of the prayers, per se, but it's in the physical space and the atmosphere. It's in the smell of the incense, the flicker of the candles, the rows and rows of Saints faces beaming down at us. It's in the chanting. I've always had this sense that if I can just get my children to church the rest will follow. I know that that's how it was with me growing up. There is something mystical about being in church that simply cannot be explained. And I worry is it possible to create the same sort atmosphere at home?
I am going to brave to say the answer is yes. Otherwise, honestly, I'm not sure why I would be writing this post as it would only make things feel worse in an already difficult situation. Don't get me wrong I would go back to our physical Church in a heartbeat if I could and, in fact, we are making an effort to try and go on occasion to the small services where we can keep the numbers under 10. We are already a family of five which makes that tricky. But the great liturgies of Sunday are, for now, a seemingly distant memory.
I do know we can take heart because, as many people have been writing and pointing to, many great Saints rarely if ever were able to attend church or take Holy Communion. And yet they attained an inner spiritual State and communion with God that led them on the path of holiness.
For those less saintly of us, perhaps we can work on making our own homes more of the "churches" they should be.
We talk about our "little churches" a lot. And hopefully many of us have a established a little church in our homes – either before the pandemic or now out of necessity. Our icon corners. An icon in each room. Creating an atmosphere. And yet now that are big church is not as accessible our little churches must grow to take up that space.
What each of us does to make that happen will look different. I don't think it's going to be easy, but no worthwhile spiritual struggle is. I certainly have not figured this out yet by any means, but I am realizing how necessary this is to do. There is no doubt this can only enhance our lives even once we are all able to return to our beloved community churches. I would love to hear ideas that you have. What's been working for you and also what hasn't. In my home and for this week it means trying the following (in no particular order):
1. Have a vigil lamp burning : I finally got a vigil lamp burning. It's just a mason jar with a cork float, olive oil and a wick. I'm trying to keep it lit all the time. If you can't or won't have a candle burning then consider an LED candle or fake candle. There is something about the glow against the icons that is so comforting and evocative of church.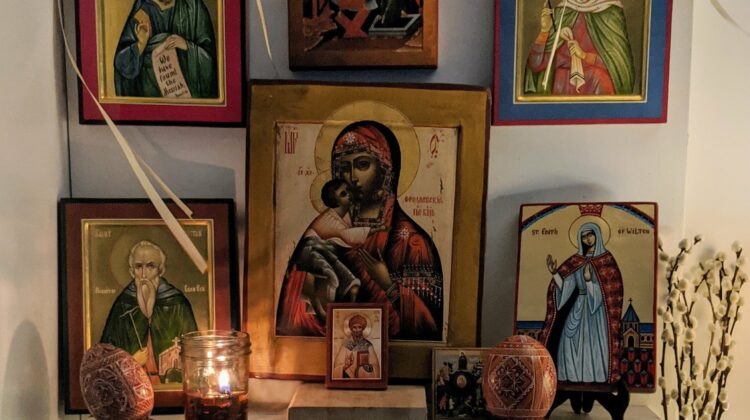 2. Read spiritual books daily with our kids: It means reading scripture or lives of the Saints everyday. We've been doing this specifically with a collection of Arch books that I borrowed from our church and some lives of the Saints written for children from ancient faith.
3. Integrating (more) prayer & prayerful moments into each day: It means being really serious about morning and evening prayers. Thankfully in my home we have a nice rhythm established of basic morning and evening prayers. But now I'm working to get the children to come to the icon corner first thing and especially with my littlest (24 mo) just letting him hold the icons, learn the names of the saints we display there, feel the heat of the vigil lamp and see it's flickering glow.
4. Fill our space with holy images: Icons if they can be. Crosses, which can be as easy as making your own. (I have a blog post to come about that.) Printed images with quotes from The Holy elders. Anything to help us feel constantly connected wherever we look.
5. Anticipate & Celebrate the Great Feasts: I just purchased online a set of 12 feast icons which has been on my to-do list for a long time. I bought them from here, but there are lots of less expensive ways or more expensive ways to do that. This year's calendar from Draw Near Designs is focused on celebrating each feast and has activities and recipes. In these days when there can sometimes seem to be little to look forward to we can always look forward to the next great feast.
6. Memorize prayers: Young children are so primed to want to memorize. Even my just-turned-two year old can now sing along with Christ is risen in both Russian and English. I don't have a great way of helping kids memorize aside from daily reading a prayer and encouraging them to repeat a new line each day. Perhaps some of you have better ways or tricks? Certainly putting anything to song is extremely helpful. Right now we are working on the Optina prayer. It's one I've always wanted to memorize with my kids as well as one that seems so incredibly helpful and fitting right now.
7. Participate in services as much as possible: I mentioned this in a previous post – now there is almost no excuse to not be attending services or at least having the sound of services permeating through the house. Our local church is online now and my priest of 36 years now has the incredible energy and dedication to have vespers every single evening and liturgy three times a week. This has long been such a blessing for our whole church family and as well as our local community. But now that we aren't there physically each week we are making more of an effort to be present in these services. Just streaming the services on my laptop somewhere near where we're at and taking note of favorite hymns, important prayers etc has the effect of bringing church into our homes more and more.
8. Make church time experiential: I posted on this previously also, but it's so key to bring the elements that we love about church into our own home. For us we have a small iconostasis we've made by the TV we use for services. We have a candle that we light from our vigil lamp downstairs as the service starts. We have been making our own prosphera. And my husband created a small area to hang our censor after we process up to church with it for service.
9. Take time to teach "in church": All of us spend time with our children during church explaining things – showing them icons or small details etc. But also we temper this with keeping quiet and not disturbing others. Now we only have ourselves to disturb. So rather than whisper quietly into one child's ear we can talk to the whole family and point things out on the screen. We have two different versions of guides for children on The Divine liturgy one with more images for younger children and another with explanations for an older child. We have the children find where we are periodically and follow along.
10. Rejoice always, pray without ceasing, in everything give thanks! (Thessalonians 5) There is so much struggle and worry these days. However, we know that we require struggle to grow and that God purifies us through our struggle and how we respond to it. Rather than focus on what's wrong with our lives, our communities and the world can we work more to count our blessings, model it for our children and have them daily practice gratitude towards God? We always start our family evening prayers with "What do you want to say thank you to God for?" Let us work to not get so bogged down in our own self pity and mourning and, as we are able, focus on the many blessings we are given each moment. I hope you find many all around you!
With love in Christ.
Sasha