A blessed Holy Week to all of you reading this this week. I originally wrote this much earlier and I'm only able to post it now after struggling with my login here. At any rate, if you are reading it another day, remember, it doesn't need to be Holy Week to talk with your kids about Christ's death and resurrection – we should be talking about it and marveling at it as a family all the time! It is the foundation of our Faith.
Anyways… there is really no reason for me to post since SO many people have done an amazing job with this, but I did want to post a few times a week (and I am up at 5am and have a spare moment) so here are some brief thoughts and a small list of some of the amazing resources I have seen.
1. "Attend all the services"
Firstly – I would argue that the most important thing to do during Holy Week is attend the services. With kids this can be challenging at the best of times – and even more so because now it is virtual. And yet it's virtual nature also means that we have no real excuse NOT to attend – firstly because most of us are a captive audience at home and, secondly, because, even if we are not or are working from home, we can watch them whenever we want – they are almost all recorded, some are morning and some are night. I know it is a tall order. And, as always, each family will figure out what is best for them. But we are going for imperfect right now (and always really), but with, hopefully, our hearts in the right place.
So we are trying to "attend" all the services. I worked last night (as I always do seeing patients – but virtually from our home office) and after work walked into our den, turned on the services and cuddled in front of it on the couch with my kids. Lord forgive me if this is not as I should be doing things! My kids were listening – I was pointing out different parts of the service, we were singing along as we knew how. But it was also late for them and we were getting on PJs and brushing teeth at moments too. In the daytime, when I'm not working, I am streaming the services in the kitchen while the kids play in the room and I meal prep and clean up. We are never disrespectful "in church" but we are not always 100% attentive – except during Gospel readings or specific prayers. As Holy Week progresses, at the later services, I won't sit down, but my childhood memories of all of us kids sleeping in sleeping bags in a corner of our church during services are precious and, though we don't do that now in our real church, I am ok with a little of that at home.
2. Every moment has the potential to be shown to "glorify" God
Yes, there are very specific things we do this week – or many of us do – dye eggs, make special foods, arrange our Easter baskets. We should definitely still do those – that is a big part of what connects our physical world with the spiritual celebration of this time to come. And traditions are really important and what, often, helps kids stay connected to faith even
as they start to grow and, possibly, become more skeptical. But we don't have to do every craft in the book or have a set plan for how we are going to "teach lessons". God's lessons will teach themselves if we create the opportunities and look for the opportunities He offers us. Any moment can be a conversation starter. Two recent examples with pics:
My kids have been doing A LOT of Magnatile projects – and my son keeps building these tunnels that then turn into "churches" in the form of a cross. Then the kids notice it and we bring icons over and says some prayers or have a little "church" time.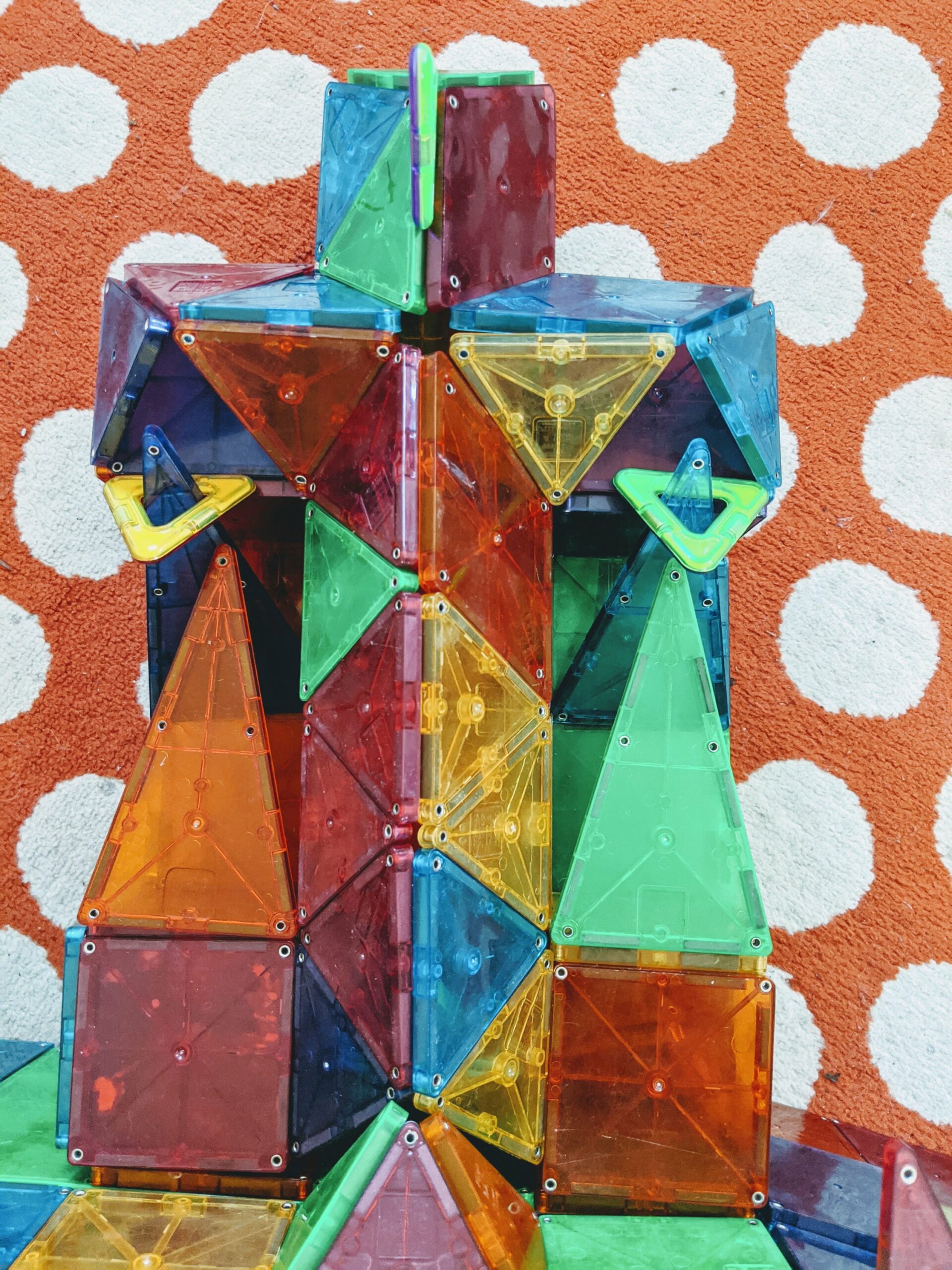 We have been going for daily nature walks to see the glory of God's spring unfolding and when we notice how nature can push beyond our manmade boundaries in amazing ways we also can discuss the power and glory of God.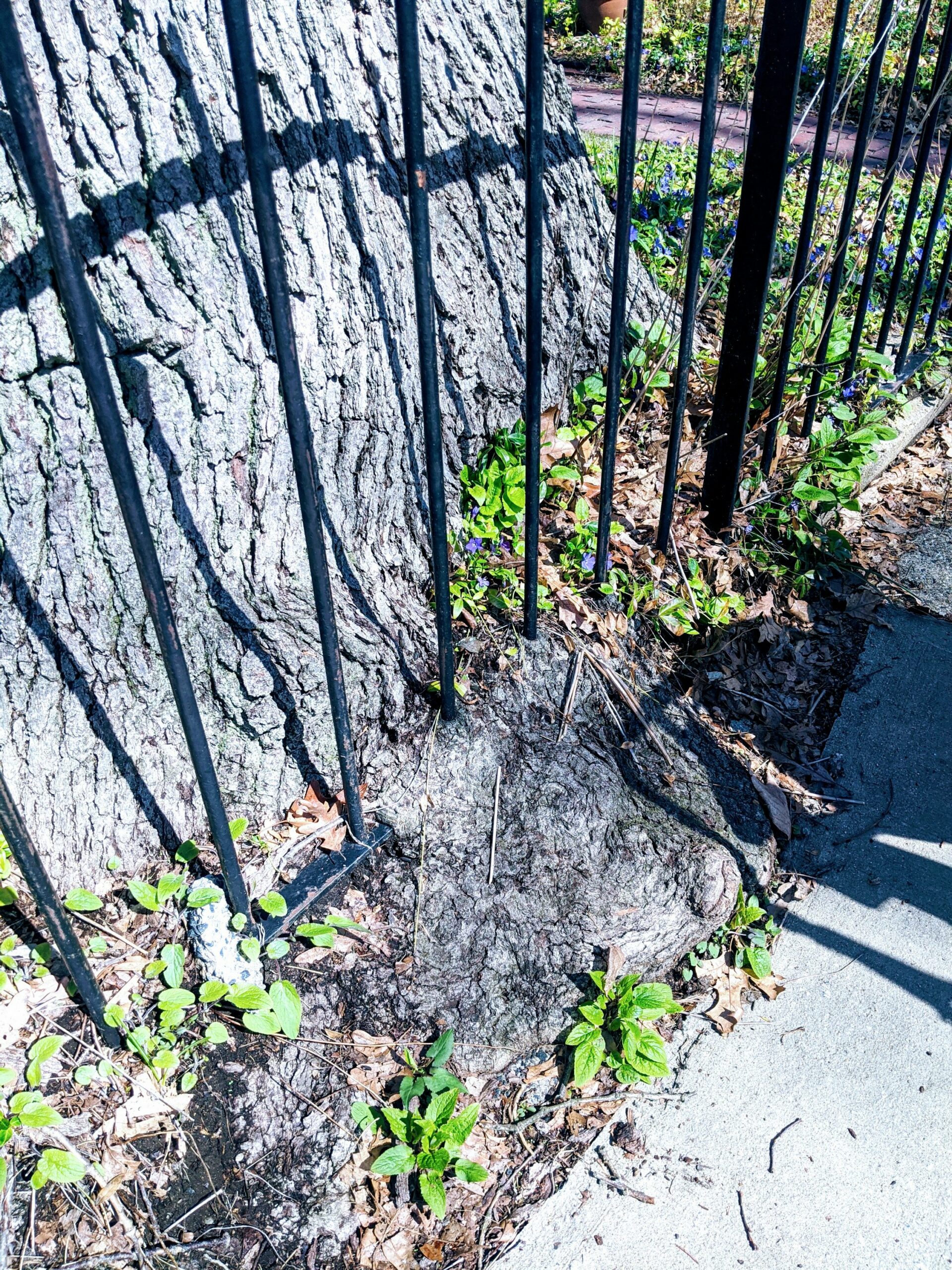 3. Use this time to really buff up your Little Church at home
We are all at various stages in the development of our home churches. Start where you are at and add on. If you don't have an icon corner – put a bunch of icons (or print outs or whatever you can) together in one place with a candle and some spiritual books. If you have never had a vigil lamp could you make one or make sure you keep a candle burning during services? Can you burn some incense somehow or if you have never used a censor but happen to have one and some charcoal and some incense (this was me!) can you finally figure it out? Censing our house this week was my daughter's ultimate delight and she keeps asking to have a "church celebration" where we cense the whole house – thankfully we will have many opportunities this week! Wherever you are at, whatever you have – make it work – use holy oil or olive oil and have your kids give and receive a blessing for Unction. Have your kids be involved in prepping and make sure your little church permeates your whole space – your home is part of our living and breathing Church and where you spend the most time, so take this time to make it feel that way.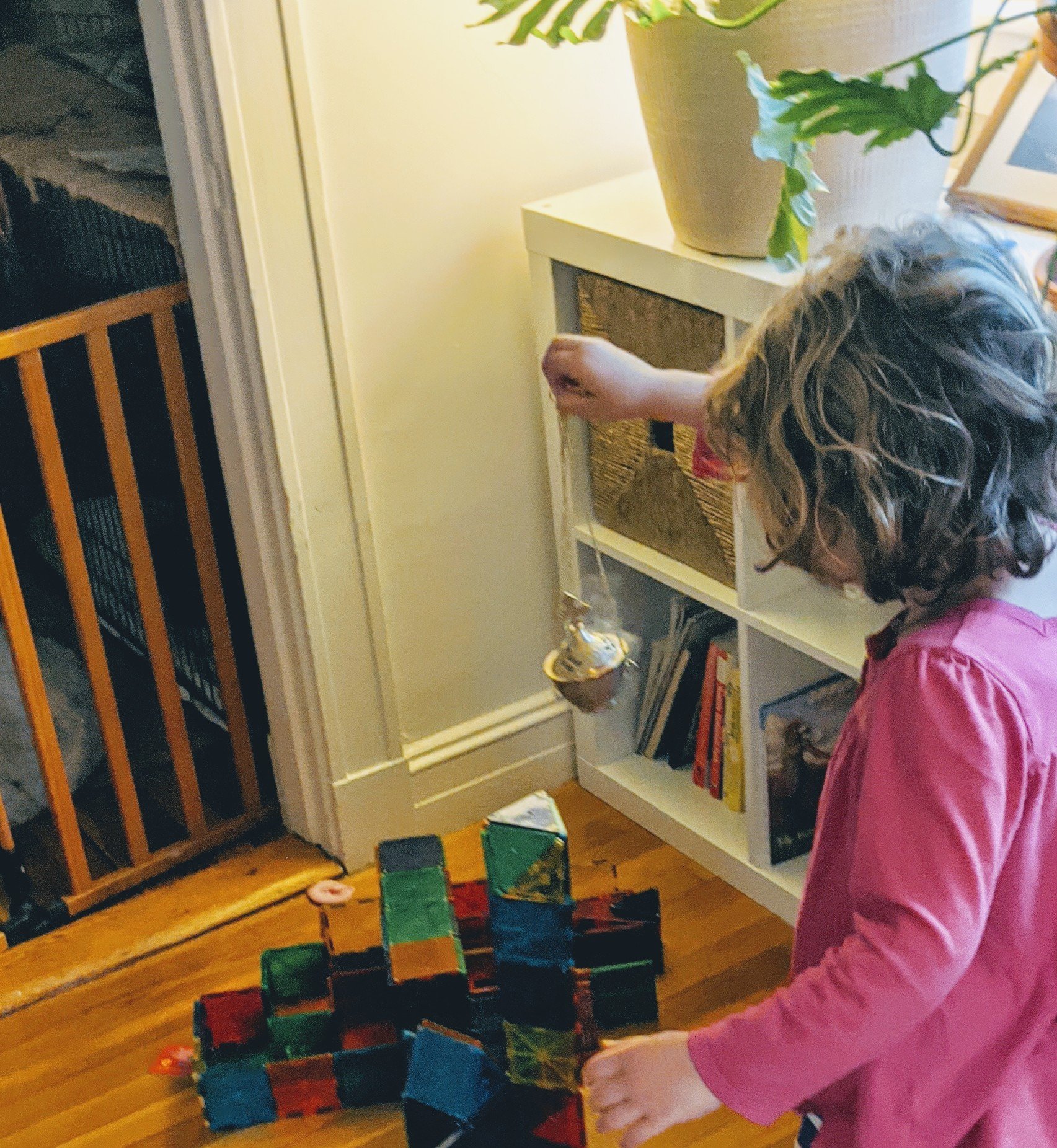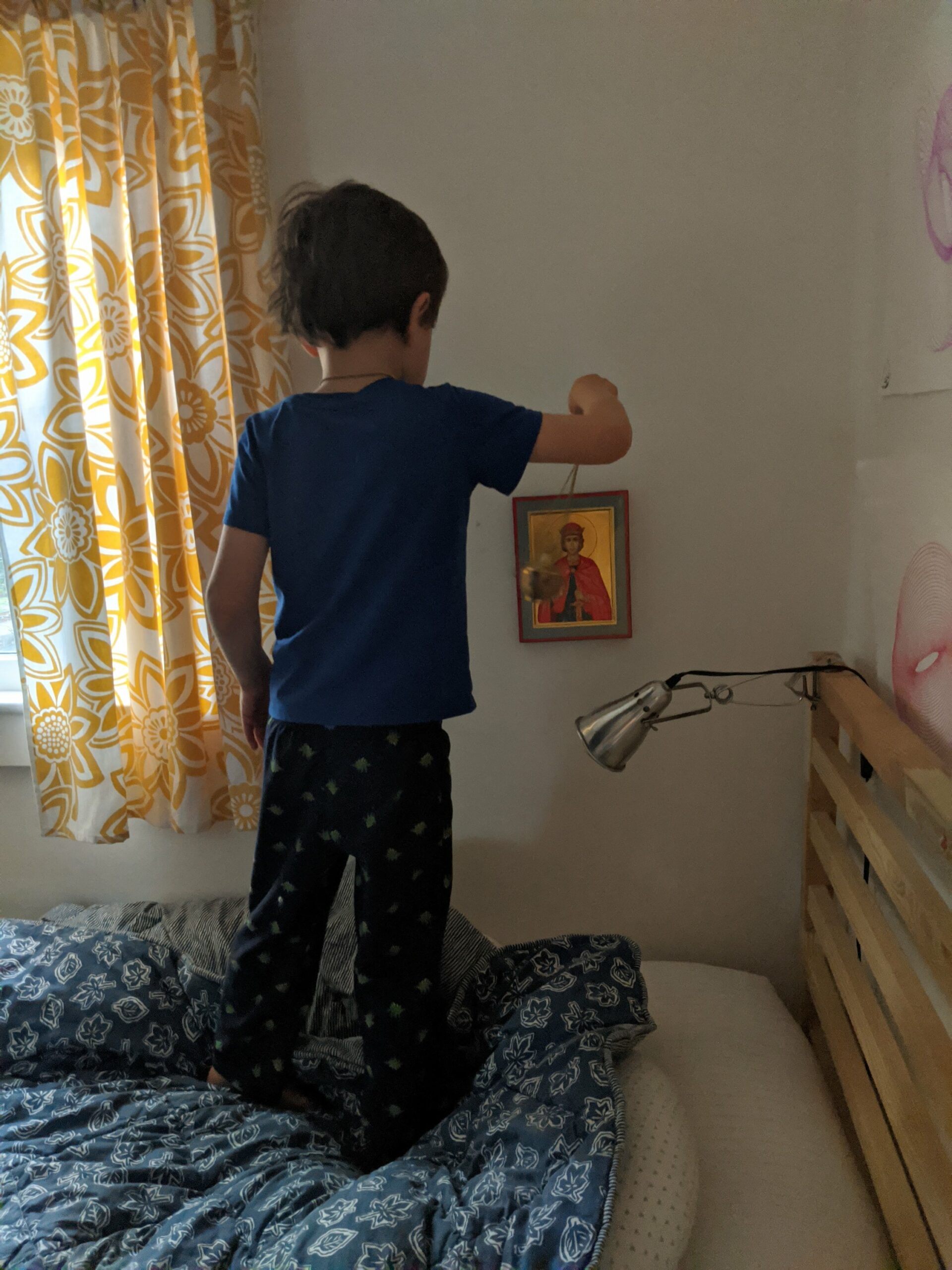 With love in Christ,
Sasha
A Few Resources:
(Each one has a plethora of resources within it)
Check out the Tending the Garden website resources – so many and so great! https://tending-the-garden.com/holyweek/
They will have Sunday school virtual lesson today for the rest of the week.
Try Sylvia Resurrection Easter Egg Hunt
She is also collaborating with other Orthodox mama bloggers on instagram – if you are on instagram – try to connect with #paschainthedesert (I do not know how to use hashtags at all, but appreciate the tagline!)
My friend Sarah again with her own list and daily prayerful pause