"Beloved, let us love one another, for love is from God, and whoever loves has been born of God and knows God. Anyone who does not love does not know God, because God is love." – John 4:7-8
When my eldest was just almost two and verbal enough to talk with me I would put him to sleep with my last question as "Who loves you?" He would list grandparents, me and his father, friends, neighbors, dog, anyone he could think of. Interspersed among the other names he would remember "God, Jesus, Mother Mary" – prompted by me from early days, sometimes that day too. Then he would fall asleep with the sweet feeling of being fully and completely loved.
I come from a long line of worriers and while I work hard to put my trust in God, as a mother, I find myself aware of the fact that I may not be around to shepard my children for the whole of their young lives. If there is one lesson I would want to have imparted on them in this life, it is that our God is a God of love – that love is from God, that God is love. That His love is bigger than anything we could possibly imagine. That to be an Orthodox Christian means to aim to love (and know the love of God) "to the end and without exception".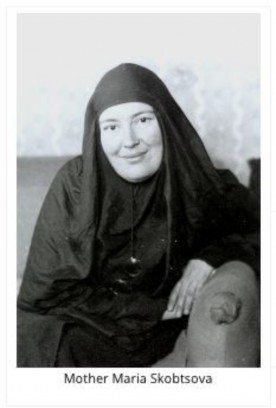 "​No amount of thought will ever result in any greater formulation than the three words, 'Love one another,' so long as it is love to the end and without exceptions."
– Mother Maria Skobtsova of Paris
In our modern day society, especially where I live, religion can be seen as such a negative thing – rules that tell you not to do things, not to just go with the flow, and that there is just one Truth and you can't just live whatever way feels good. Worse yet, to be religious – especially something as ancient and unchanging and single-minded as Orthodoxy – can seem to be almost paramount to being a hater. And yet NO! God is love and He has commanded us above all to love Him and to love one another.
"By this all will know that you are My disciples, if you have love for one another." – John 13:35
How can we let our children know – know in the very depths of their souls – that love is what being a Christian is all about? I am still figuring this out, of course. Currently I'm just trying daily to infuse this concept throughout everything whenever I can. Here are some things I am working on:
Talking about it in the moment
Another child was unkind to my 3 yo daughter at the playground –
"I'm sorry that happened. That must have made you sad/mad. That was not a kind thing to do. And still we know God asks us to love everyone and pray for them anyways, right? Let's say a little prayer for them since they must be feeling bad to be unkind like that!"
A mistake is made – my 5 year old son is feeling ashamed and it shows –
"We all make mistakes. What's important is to ask forgiveness. I still love you. Does God still love you even though you… ?" [Pause, wait, he knows the answer I am looking for is yes].

"Yes, He loves you no matter what. He loves you more than anyone in the whole world, more than even mummy and daddy. We love you so much too. Let's see what we can do to make this better."
Someone uses the term "stupid" or "disgusting" or "hate" etc. –
"I can see that makes you really mad/upset/sad but that word [fill in the blank] is not loving and not from God."
Using Imagery to Make It Concrete
My 3 year old daughter has been really sensitive of late – much more easily upset by having something not go her way, more physical – hitting her brother, wanting to kick me (although holding back), and waking more at night for reassurance from us. When these things happen as parents we try so hard to figure out the why – something happening in her preschool? Feeling more left out as the middle child? A developmental stage? Certainly this is important – and I also know that it's important to simply recognize that she is feeling down and she needs some extra TLC.
There is a BEAUTIFUL book for children from 2006 called ​Have you filled a bucket today?​ If you don't know it you should and your children should too. It is a really powerful way of introducing the concept of how our interactions with others affect both the other and us. It makes this concrete, both in words and pictures, in a way that is accessible to little kids – suggesting that each of us carries an invisible bucket that carries around our "good thoughts and good feelings about ourselves". In essence when we are kind and generous with others (read: show them love), we fill their buckets and our own and when we are mean or uncaring, we dip into their buckets as well as emptying our own.
My daughter and I read this recently and we have been using the language a lot.
"Looks like you are feeling sad/angry/disappointed. Is your bucket full right now?"

"When you hit your brother like that how do you think it makes him feel? Does it fill his bucket? How does it make you feel? Does it fill yours?"
And she gets that – she can visualize the pictures from the book – she can connect the dots and it seems to help. At this tender age we really need to make things so concrete – the subtleties are lost.
There are also many lovely Christian and even Orthodox books – one we enjoy of late is ​Anthony the Great​ written by a deacon who attends a sister parish of mine. What are your favorites?
Showing that true love in unconditional
We also work ​really​ hard on not shaming – and it is so hard – such a natural fallen instinct to want others to feel badly when we feel badly. The fact is that if we are called to love unconditionally as God loves us – and if we truly believe our love as parents is unconditional then we need to show that. It's a tricky one. I know there may be many other opinions out there and please share them! I am still working this all out with much fear and trembling. In our house it means remembering and reenforcing that God loves us no matter what we do and that we are called to do the same.
Love suffers long and is kind; love does not envy; love does not parade itself, is not puffed up; does not behave rudely,  does not seek its own, is not provoked, thinks no evil; ​does not rejoice in iniquity, but rejoices in the truth; bears all things, believes all things, hopes all things, endures all things. – Corinthians 13:4-7
Understanding my own relationship with God to be able to guide others
As with so much of parenting working out our own demons and coming to terms with our own ability to love and relationship with love is vital to try and teach it to others. So how is it that we love our God? What is our relationship with Him? What I know about mine is that it is still quite based in fear. And, yes, we are asked to have a fear of God. We hear that. The fear of the Lord – and that's important, but it doesn't need to be the foundation of our relationship with Him – at least not as I've come to understand it. That foundation should be love. The modern day Athonite monk, Father Maximos, whose conversations have been compiled in several books by author Kyriacos Markides, discusses the three spiritual stages along which we mature in our relationship with God as have been defined by the holy elders. Briefly, the first is "Slaves of God" – in which we are motivated to follow God out of fear. The second are "Employees of God" in which we are motivated to do good things so that we will receive good things and the third and final is "Child or Lover of God" where we are motivated by our love for God. Fr. Maximos describes that this third and perfected stage is the "only stage that is real and must be projected as reflecting the true teachings of the Ecclesia on the nature of God as a loving Father "(​Gifts of the Desert​ p.139) In other words, our true natural state is to desire to follow God primarily because of our profound love of Him. I believe this is how it should be with our children as well. Firstly, that they desire to listen to us out of a place of love and not only fear and also they seek God out of love
Remembering that I can practice what I preach
A few years ago my husband and I were staying at a family cottage in the woods. My son, age 2, was sleeping in a different cabin 500 yards away with my mother and I was feeling uneasy – just a bit anxious and separated and was struggling to sleep. After a few hours of tossing and turning my husband noticed I was still awake. He turned to me and smiled. Then he asked "Who loves you?" And just like my son I whispered back a list – those still in this world, those who have departed and whose memory is eternal, the Trinity, Theotokos, the Saints and my guardian angel, etc. Then I fell asleep ​with the sweet feeling of being fully and completely loved.
As the Father loved Me, I also have loved you; abide in My love. – John 15:9
Postscript​: Now your turn. Please tell me (and, with your permission I will share with others) what you do to nurture love and help your little ones tune into and internalize how massive and all-consuming God's love for us is?