Religion holds powerful sway over people's lives—but not always in ways we might expect. We typically imagine that the faithful check their brains at the church door and follow whatever dicta religious leaders offer. Maybe not.
While religious belief represents the greatest influence on how people voted in our recent presidential election, the opinion of their pastors mattered far less to them, according to research by Barna. A third of adults said their faith had "some" or "a lot" of influence on them. But less than half that total ascribed the same power to their pastor.
Like most surprises, this is unsurprising. In 2014 Ligonier Ministries and LifeWay Research conducted a survey to establish a baseline of religious belief in America. More than half of respondents agreed their pastor's words had no real authority over their lives, even from the pulpit.
Whatever their personal beliefs, Americans' faith in their pastors and churches has been in significant decline for decades. When the Gallup organization asked people to "rate the honesty and ethical standards" of various professionals in 2015, respondents placed clergy down at number 6. They fared better than bankers and lawyers, but nurses, pharmacists, medical doctors, high school teachers, and police officers were all considered more trustworthy and ethical than pastors and priests.
Not even half, just 45 percent, of respondents said clergy's honesty and ethical standards were high or very high. The number has never been overwhelmingly high, but this is an all-time low. Gallup started asking the question back in 1977. Sixty-one percent rated clerical honesty and ethical standards high or very high then. It's been as high as 67 percent (1985), but ever since the figure has trended down.
Pastors and priests look somewhat better than the institutions they represent. Confidence in organized religion has also been in decades-long decline. But it's never been lower than right now, according to Gallup. While the "the church or organized religion" ranked higher than any other institution in 1973, it started to turn south in the middle 1980s, when for the first time confidence fell below 60 percent. The televangelism scandals of the era could explain the drop.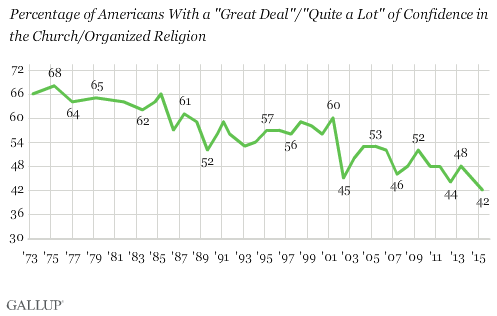 Through the 1990s institutional religion made a comeback, slowly and unsteadily again reaching 60 percent in 2001. That same year, trust in clergy at 64 percent was the highest it had been since 1985. Then the Catholic child sex abuse scandal hit in 2002. Trust in the clergy fell to 52 percent, and confidence in organized religion plummeted from 60 percent to just 45 percent. Today only 41 percent of Americans put much faith in institutional religion. That's four points worse than when the sex abuse scandal hit.
"The church and organized religion is losing its footing as a pillar of moral leadership in the nation's culture," says Lydia Saad of Gallup. For causes she points to the "self-inflicted wounds" of scandal, as well as the growing number of disaffiliated Americans. "[T]he nation is becoming less Christian and less religious, and those outside of Christianity naturally view the church with less respect."
These have certainly had their effect, but there is a larger trend to factor.
In The Twilight of the American Enlightenment, historian George Marsden examines the decline of institutional religious authority and the rise of individual autonomy, beginning in the 1950s. "The meaning of life, everyone seemed to agree, could be found not by looking to tradition or to community, either past or present, but rather, by looking within," says Marsden. "Individual development, individuality, and self-fulfillment should be the preeminent goals."
Paradoxically, America witnessed a religious revival through the same period. As one marker, church attendance rose dramatically. But Marsden concludes this uptick in faith masks the privatized character of its expression. Robert Bellah, Phillip Hammond, Alan Wolfe and other social scientists observed the same shift. Religious authority is increasingly grounded in individual preference, not religious leaders or institutions.
That's the new normal for American religion. When it comes to determining whether we're "good Christians," we rank following individual conscience higher than following the actual teachings of our churches, says Duke professor Mark Chaves. And just one in ten agrees the local church has any authority to say whether a person is or is not a Christian at all, according to Ligonier and LifeWay.
Americans are exceptionally religious. And our faith influences many aspects of our lives, including our politics. But we trust ourselves above our pastors and churches to determine what that faith is and means, which seems more particularly American than Christian.
Image: Alejandro Rdguez, mod.