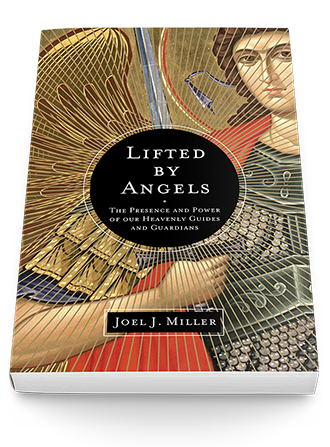 Angels move in and around our daily lives. If that reality seems dim to us now, it beamed for the early Christians. Through their writings, sermons, songs, and art, ancient Christians confessed a vivid and compelling belief that angels help carry us to and through a saving experience of Jesus.
Lifted by Angels: The Presence and Power of Our Heavenly Guides and Guardians goes back to the Scripture and those early Christians to present a vision of angels as seen through their eyes and experiences, exploring the angelic role in God's plan of salvation; different ranks and functions of angels; the fall of Satan and his demons; the assignment of guardian angels; angelic guidance and direction; their involvement in worship and prayer; and their protection through doors of death.
The angel on the cover is from a Byzantine icon of Michael the Archangel. Notice the sword. This is no Precious Moments presentation. For the early church, angels were a life and death affair. They still are. If you're interested in knowing more, you can get a copy at the following retailers. You can also see below what others are saying about it.
"Many Christians — made uneasy by New Age or neo-pagan angel enthusiasm — are reluctant to believe in angelic interventions at all. Lifted by Angels restores to us our own biblical and historical understanding: that angels are God's servants and messengers."
Frederica Mathewes-Green, author of The Jesus Prayer
"Joel J. Miller presents us with a vision of angels firmly grounded in salvation history: active at the creation of the world, involved in its fall, ministers in its salvation, servants to the Lord Jesus, harbingers of the age to come. He succeeds brilliantly in rescuing angels from the distorting effects of popular culture."
Metropolitan Savas (Zembillas) of Pittsburgh
"In Lifted by Angels Joel Miller examines traditional Jewish and Christian angelology in rich and extensive detail. Especially valuable and inspiring are the author's numerous citations of beautiful patristic texts. No one will think of angels in the same way after reading this book. It is highly recommended and without reservation."
Fr. Patrick Henry Reardon, author of Christ in the Psalms
"Wonderfully done and provides insight into an oft-misunderstood subject."
Fr. Stephen Rogers, senior priest, St. Ignatius, Franklin, Tennessee
"If we sometimes feel alone in our spiritual struggles, it might be because we have lost touch of what Christians of old knew about the unseen angels of God. In Lifted by Angels Miller uses Scripture, Christian art, early church writings and tradition to lift the veil between the earthly and the spiritual realms. He lifts it ever so slightly, not in speculation, but just enough for us to catch a memorable glimpse of those heavenly hosts whom God has sent to comfort and aid us on our journey home."
James M. Kushiner, executive editor, Touchstone
"Joel Miller has culled through the rather extensive loci of angelology in Scripture and the Church Fathers and Christian iconography to give us a better picture of these invisible beings. . . . Miller's extensive sources will appeal, not only to readers of Scripture, but also students of patristics, apocrypha, and iconography."
Homiletic & Pastoral Review