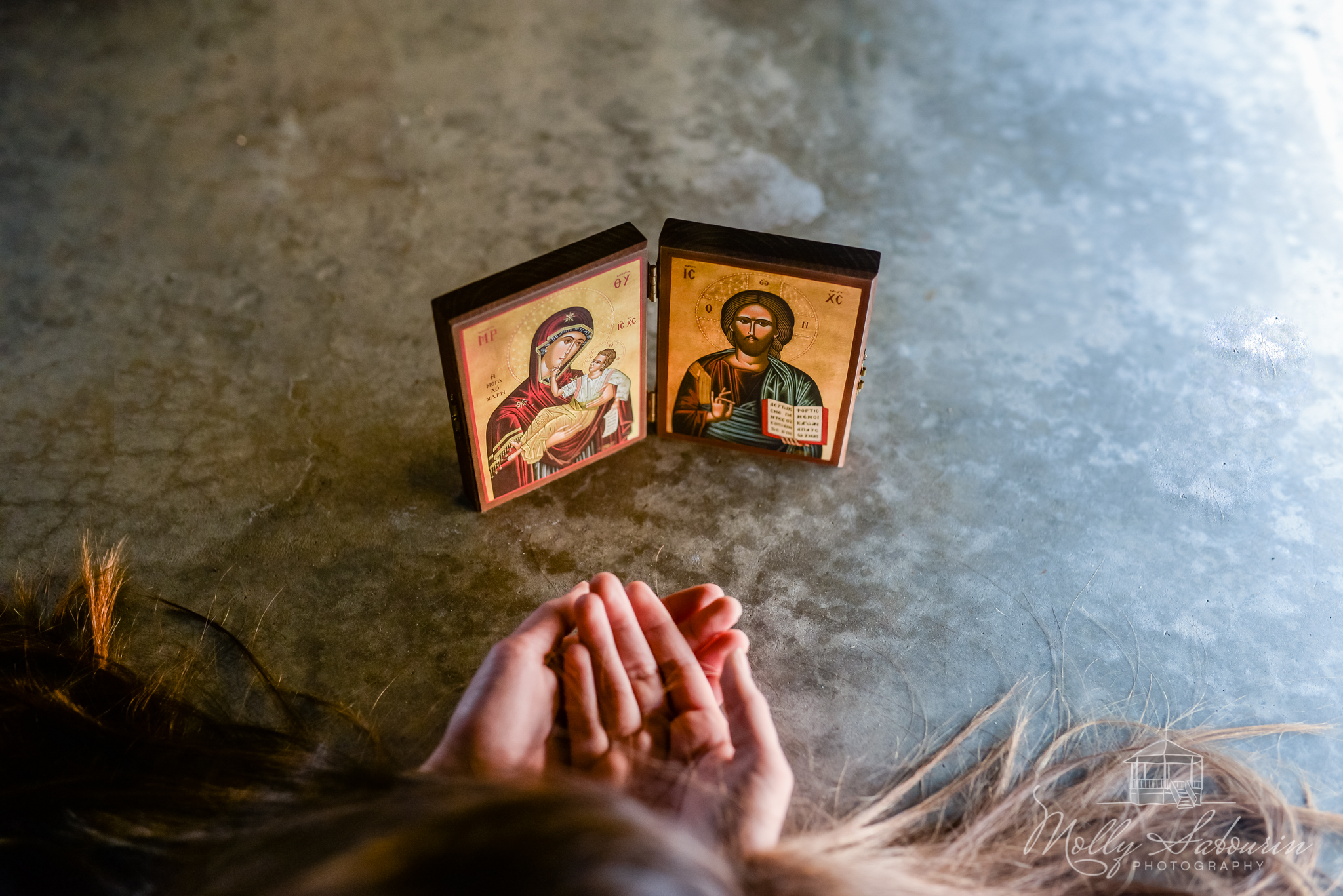 "6. Make some prostrations when you pray."
-Fr. Thomas Hopko, 55 Maxims for Christian Living
My son will be graduating from High School next year and is equal parts excited and apprehensive about the future. Independence is thrilling but also intimidating, what with all its new demands and responsibilities.  A couple of weeks ago, my husband and I were talking with him about job interviews, forging connections, making a good impression, etc. "Here's the deal," we confided, "Everyone struggles with insecurity. When it comes to confidence, you kind of have to fake it till you make it."
We assured him this was common practice among adults. Though your knees may be knocking and nervous sweat staining the collared shirt under your neatly pressed cardigan sweater, you can still project professional self-assurance by making eye contact and speaking deliberately. How you carry yourself directly affects how you feel about yourself.  Your chosen body language can have a powerful impact on your personal psyche.
We are one seamless whole: body, mind and spirit. Our physical habits affect our thoughts, perspectives and emotions. In his endearingly practical and inspirational book, "Coach Wooden's Greatest Secret: The Power of a Lot of Little Things Done Well, "former UCLA Coach John Wooden suggested his readers:
Build a habit of smiling at people. People who smile on the outside tend to be more optimistic and enthused on the inside. Smilers make a good impression on everyone around them. Smilers acknowledge others and create a positive vibe. In your home, around the office, at the store, or walking down the street, greet people with a warm friendly smile. Make smiling your habit. You'll be amazed how a little thing like a smile can change your life in big ways. 
I have indeed found that smiling makes a difference not only in my mood but also in my relationships. Smiling invites conversation. Smiling makes one approachable. Smiling is contagious. Emotionally speaking, smiling is medicinal, especially when combined with listening ears. As with the gaining of confidence in a work setting, sometimes the ownership of a desired emotional state, such as joy, must be preceded by the adopting of certain physical habits, in this case a facial expression that exudes kindness and warmth.
With Lent around the corner, in anticipation of a season filled with repentance and solemnity, I've been thinking about how body language affects me spiritually. Yesterday, I drove past a church sign saying "Jesus is My BFF" and the first thing that came to mind were high-fives, bear hugs and a big thumbs up. That reflexive mental image felt strange and foreign, so utterly far removed from my perception of Christ as shaped by my journey into Orthodoxy.
It's been 20 years since I first experienced an Orthodox Lenten service with its haunting tones and plenteous prostrations. Though at first it struck me as exotically intense, I've grown to whole-heartedly embrace the Orthodox Church's whole body approach to worship and asceticism. The sights, sounds and smells I experience in an Orthodox service are like nothing I encounter when out in the world. It is heavenly, unearthly, completely "other than."
The incense, hymns and iconography transport me from the temporal to the eternal. By lifting my voice in prayer, standing at attention and making the sign of the cross, I become more than a mere observer. I become an active participant in the timeless adoration of God the Father, God the Son, and God the Holy Spirit.
Throughout Great Lent, the body, mind, spirit connection is especially profound. By abstaining from physical excess through communal fasting, we strengthen the spiritual muscles needed to abstain from sin. By prostrating, over and over again, till our leg muscles ache, we access humility and reverence beyond anything we find "out there," in a materialistic society where the repentant denying of oneself is seen as fanatical and absurd.
Fr. John Breck in an article he wrote entitled, "And Why Do We Make Prostrations?" explained that,
 In bending our knees we assume an attitude of humility before the God to whom we offer our prayer. Kneeling, then touching our forehead to the ground, we acknowledge our sinfulness; we create a living image of our fall into sin. Our very posture represents a confession of that state, a calling to mind of our spiritual poverty, of our susceptibility to passions of greed, lust, anger and malice. As we make our descent in body and in spirit, we confess as well the Name above every name, the Name that "upholds the universe," as the Shepherd of Hermas expresses it, and upholds our personal world as well: "Lord Jesus Christ, Son of God, have mercy on me, a sinner!"
It is with fear and trembling, and quiet expectancy, that I approach these Lenten weeks so effective at bringing me to the end of myself. For only there, at the end of myself, stripped of all pretense and pride, trivialities and diversions, do I undergo a seismic shift in my soul from mere acknowledgement of Christ's Resurrection to an all-consuming longing for it with every fiber of my spiritual, physical and emotional being.
"Let us begin the fast with joy!
Let us prepare ourselves for spiritual efforts!
Let us cleanse our soul and cleanse our flesh!
Let us abstain from every passion as we abstain from food!
Let us rejoice in virtues of the Spirit and fulfill them in love,
That we may see the passion of Christ our God,
And rejoice in spirit at the holy Pascha!
(Vespers of forgiveness Sunday)