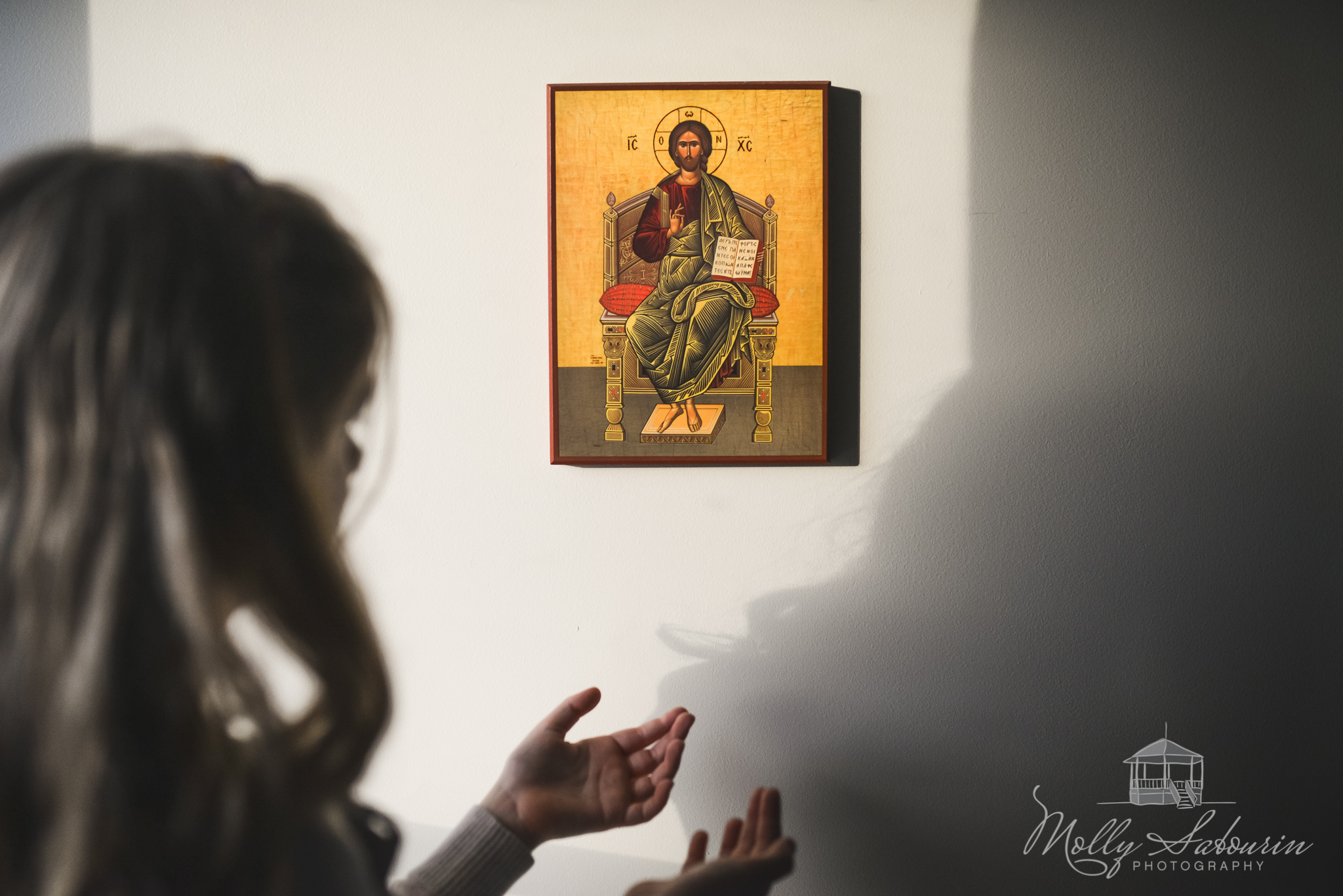 "3. Have a Keepable Rule of Prayer."
-Fr. Thomas Hopko, 55 Maxims for Christian Living
In my dream I am pushing a cart of laundry in need of folding down the streets of Chicago; my chores follow me everywhere. Right as I'm debating whether to find a place to sit down and get to work or just keep on walking, my alarm jolts me back into consciousness.
What day is it? is my first thought. It takes a few seconds to figure out if I should prepare for Church, a weekend outing, or getting my kids off to school. Five times out of seven, it's the latter.
My hand gropes around in the dark for my glasses and I cringe as the cold outside my blankets hits my body. Why, oh why, did I not make better decisions the night before? Six hours of fitful sleep are not nearly enough to fuel me. The resulting exhaustion fogs my brain and leaves me nauseous.
Months ago, my disciplined mother quit caffeine cold turkey and says she feels great, naturally wide awake and alert. I am thrilled for her, really and true, but her compelling testimonials have done absolutely nothing to quell my own caffeine addiction. I will swear till my dying day that the existence of coffee is undeniable proof of God's benevolence.
It's while I'm standing there in front of our coffee maker, willing it to brew faster, inhaling that most intoxicating aroma on earth (followed closely by bacon frying), that the "What ifs," "Must dos" and "Should have dones" begin breeding and multiplying then swarming my awakening mind. Good grief, I've only been up for like eight minutes and already I'm behind.
At this crucial juncture, I have a decision to make – one that will impact, profoundly, my perspective on each event, interruption, interaction, and setback I encounter today. Will I freefall into this brand new morning or anchor myself to Christ through prayer?
It would seem to be a given that I would choose prayer every time – I am certainly no fan of frustration, impatience and anxiety. But the truth is, I struggle to make starting my day with prayer a top priority. It's not that I don't want God's assistance, its just I'm easily distracted.
Once again, I have to fight against impulses to first check my e-mail, start breakfast – to try and answer the demands of the day all on my own. Ironically, I whisper a prayer for the wherewithal to pause and pray then, pulling myself away from the coffee maker, turn to face the small icon of Christ on our kitchen wall.
O Heavenly King, the Comforter, the Spirit of Truth, Who art everywhere and fillest all things; Treasury of Blessings, and Giver of Life – come and abide in us, and cleanse us from every impurity, and save our souls, O Good One.
Holy God! Holy Mighty! Holy Immortal! Have mercy on us.
Pouring my mind and my heart into these words is an act of surrender. By submissively laying at the feet of Christ my self-focused fears, assumptions and desires in order to remain open and responsive to His mysterious will, I admit and own my helplessness.
I can do nothing, not one single selfless, courageous act without Christ's intervention. My peace of soul and ability to love my neighbor are entirely dependent on God correcting my thoughts and overriding my passions with His wisdom and mercy.
In these few weighty moments of rededication to running the race toward salvation with perseverance, I find comfort in the remembrance that the unforeseen circumstances I encounter in this life are not random, but rather fraught with redemptive purpose.
O most-holy Trinity: have mercy on us. O Lord: cleanse us from our sins. O Master: pardon our transgressions. O Holy One: visit and heal our infirmities, for Thy name's sake. 
Lord have mercy, Lord have mercy, Lord have mercy…
Then joy independent of my circumstances rises above the stress and irritation bound up in earthly reasoning and cares. Nothing else matters except union with Jesus Christ, who is present in every minute detail of my existence.
When your intellect in its great longing for God gradually withdraws from the flesh and turns away from all thoughts that have their source in your sense-perception, memory or soul[mind]-body temperament, and when it becomes full of reverence and joy, then you may conclude that you are close to the frontiers of prayer [meditation].
– Evagrius "On Prayer [Meditation]" from The Philokalia Vol.
Even here and now in this still, dark kitchen, Christ is with me. Thank You for my family, my home, this coffee, the rising sun, for Your tireless compassion… Amen, amen, amen. Having reordered my priorities, I much more calmly enter back into the thick of it, inch by inch, my eyes open and ears listening for the whispered directives of the Holy Spirit.
This is indeed the day the Lord has made, a day to cherish and revere. Dear God, help me choose and continuously re-choose to rejoice and be glad in it.