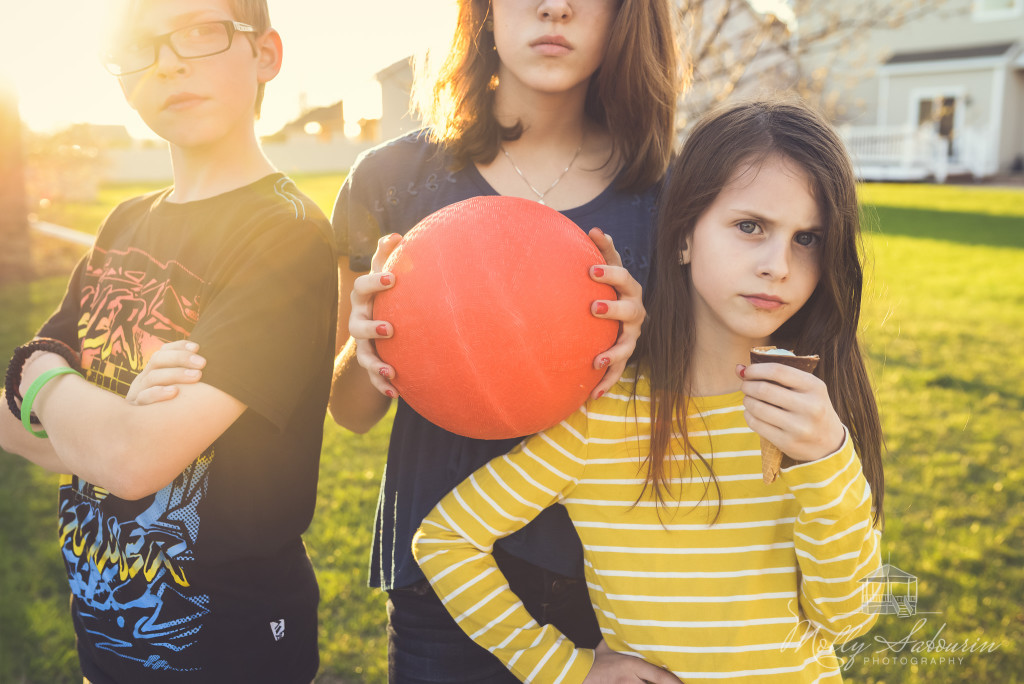 Every day, my youngest son comes home from school with new rips in his jeans. "It can't be helped," he tells me. You see, Four Square is a very physical game, and playing Four Square at recess is just what you do in the 5th grade. And not diving across the blacktop to return a wicked serve? Unthinkable.
My kids' passion for this popular playground/driveway pastime comes in waves. Now that springtime has finally planted itself here in NW Indiana, they've been playing it obsessively, which is great because they are outside and interacting with each other, but also kind of miserable because tensions run HIGH in a cutthroat battle for the King Square. It's hard to practice patience and self-control amidst sly rule changers, not to mention flagrant rule breakers. "But that's not not faaaaiiiir!" You end up screaming. "MOOOOOOMMM!
Apparently, however, despite the crazy competitiveness it evokes in adolescents, Four Square also has some character building qualities. I learned that just this week when my son Ben told me, "Four Square has actually been teaching me a lot about forgiveness."
"Really?" I said,  "How so?"
"Well, my friends and I used to get angry with each other if we got out, and we would stay angry the whole recess. Now we are learning how to shake it off after just a few minutes and get on with it."
"I think that's pretty great," I replied sincerely. "Most adults still struggle with letting go of their grudges."
I said this, because I know this…firsthand, unfortunately. Once bugged by someone's words, opinions, actions, or inactions, it is difficult to disentangle yourself from the growing resentment choking your best laid plans to remain selfless in the face of injustice…or just plain annoyance. As a mom, wife, neighbor, Facebook user, I have been there, and done that! Being rubbed the wrong way is part of humanity's unavoidable messiness. We ALL have quirks, vices, and horrible, no good, very bad days. We read into things, miscommunicate, fall prey to jealousy and pride. The question isn't "What if we offend or become offended?" but "How do we recover from our setbacks as quickly as possible that we might once again love as Christ loves, without judgment or any expectation of reciprocation?"
In my own case, staying spiritually alert is of utmost importance. Soldiers in battle are acutely aware of their enemy. Their senses remain heightened, as they assume they could be attacked at any moment. Letting their guard down is very dangerous. Fr. Thomas Hopko, of blessed memory, in his 55 Maxims for Christian Living said, "Have no expectations except to be fiercely tempted to your last breath." On the mornings when I wake up conscious of the enemy trying to render me fruitless, not through big tragedies but rather petty irritations, I'm much more likely to call out for mercy when on the brink of reacting impulsively and lovelessly to common everyday frustrations.
My go to prayer is this one:
Lord, grant me to greet this day in peace, help me in all things to rely upon your holy will.
In every hour of the day reveal your will to me. Bless my dealings with all who surround me.
Teach me to treat all that comes throughout the day with peace of soul and with firm conviction that your will governs all.
In all my deeds and words, guide my thoughts and feelings. In unforeseen events, let me not forget that all are sent by you.
Teach me to act firmly and wisely, without embittering and embarrassing others.
Give me strength to bear the fatigue of the day with all that it shall bring. Direct my will, teach me to pray.
All this we ask and make in your most Holy Name. Amen
Often, I'll just concentrate on one sentence at a time, taking on my day one errand, chore or conversation at a time. Bless my dealings with all who surround me. Bless my dealings with all who surround me…
In the Screwtape Letters, C.S. Lewis wrote:
"We must picture hell as a state where everyone is perpetually concerned about his own dignity and advancement, where everyone has a grievance, and where everyone lives with the deadly serious passions of envy, self-importance, and resentment."
Egotism is poison, and bitterness such a very heavy burden to bear! Humility, however, is light and freeing! And forgiveness? Well forgiving and being forgiven is to taste of God's Kingdom while still on earth! Forgiveness is a heavenly state of being that allows for hundreds, thousands, endless chances for renewal! Forgiveness remembers how blessed we are to be loved "as is" then goes and does likewise. Forgiveness is the antidote to spiritual paralysis and despair!
St. John of Kronstadt said:
"'If he trespass against you seven times in a day, and seven times in a day turns again to you, saying, I repent; you shall forgive him' (Lk. 17:4).
As the Searcher of hearts, the Lord knows that men are liable to very frequent trespass, and that, having fallen, they often rise up again; therefore He has given us the commandment to frequently forgive trespasses, and He Himself is the first to fulfill His holy word. As soon as you say from your whole heart, 'I repent,' you will be immediately forgiven."
 Just last week, we Orthodox Christians followed Jesus to His death on the cross. On the way we witnessed his abuse in the form of beatings, betrayals, jeers and unjust accusations.   Through his example we were shown what to expect, and how to respond to the injustices, big and small, we ourselves would encounter on this earth. Jesus didn't fight back. He didn't set the record straight. He did not harden his heart toward those who hated and wronged Him. "Father forgive them!" he called out, setting a precedence of mercy and humility so irrational, and so far out of our reach, we'd be forced to rely on Him wholly to override our natural tendencies toward pride and indignation.
We are not the masters of our own feelings of attraction or revulsion; these come from places in ourselves over which we have little or no control. All we can do is try not to follow inclinations which make for barriers within the community. We have to hope that the Holy Spirit will come to forgive, purify and trim the rather twisted branches of our being. Our emotional makeup has grown from a thousand fears and egoisms since our infancy, as well as from signs of love and the gift of God. It is a mixture of shadow and light. And so it will not be straightened out in a day, but will take a thousand purifications and pardons, daily efforts and above all a gift of the Holy Spirit which renews us from within.
― Jean Vanier, Community And Growth
Fall and rise again. Fall and rise again. We will stumble, we will fail, but we are asked to keep trying. Count to ten, hold your tongue, say "I'm sorry", pray before you comment on the internet, don't ever give up hope. God's mercies are new every morning.
You lost your cool? A dozen times today already? Hey, we all have. We all do. Repent, shake it off, and begin again.