Last weekend I, and everyone else in NW Indiana, went to Hobby Lobby. My oldest (and much craftier than me) daughter likes to make homemade Christmas gifts for family members and approximately 35 of her closest friends so we have to start the process early, lest we find ourselves up till 1:00 am Modge Podging and glitter gluing on the eve of her winter break from school.
The aisles were packed with people who had similar ideas about getting a jumpstart on holiday planning. Carts were overflowing with winter wreaths, felted snowmen and all manner of sparkly ribbon. You could smell the excitement, fake pine scent, and yes, already, just a touch of stress in the air.
Thanks to Pinterest, HGTV and Better Homes and Gardens, the message we receive loud and clear when it comes to celebrating Christmas is "go big or go home."
Wait…what's that? Are you telling me you haven't ordered Christmas cards or finished your homemade Jesse Tree and Advent Calendar? You haven't been collecting festive gluten-free cookie recipes, or stocking your gift closet with thoughtful presents for your loved ones throughout the year? You say you are already struggling to stay on top of normal everyday demands and break out into a cold sweat when you think about all that's required to create a "perfect Christmas?"
Well, welcome to my reality! Read on!
This year, my 40th year, has been my year of restraint. This year I've been learning the value of healthy boundaries and simplification. Excessive multi-tasking, over sharing and over comparing, and high expectation setting are all habits I've been prayerfully weeding from the proverbial garden of my soul. My access to peace is dependent on stillness and attentiveness, attributes impossible to attain, it turns out, when my mind is buzzing with too much noisy stimuli.
This advent, instead of aiming too high then burning myself out, I'm going for small, consistent and quiet, leaning on the Church to keep my priorities straight by way of attending Her services, singing Her hymns and participating in Her sacraments. This season, instead of looking outward at how everyone else is doing Christmas, I'm striving to keep my focus fixed firmly on Jesus, approaching the manger like a lowly shepherd with nothing to offer but repentance and awe.
My family and I will snuggle up with our own unique traditions as we await the birth of Christ, traditions just right for us involving treats for neighbors, Charles Dickens's Christmas Carol, readings from Meditations for Advent, shoes filled with chocolates and candy canes from St. Nicholas, the hanging of beloved and nostalgic tree ornaments. None of these will require a lot of money or sewing skills, neither will they be featured on style or parenting blogs but I'm fine with that, really…finally.
This advent, instead of beating myself up over not doing more, I plan on decidedly choosing less – less fighting the crowds at shopping malls and box stores, less of stuffing my already full schedule with additional projects and commitments, less rushing, less pining for material possessions, less wasting my time and energy browsing the internet for cool Christmas ideas only to become overwhelmed and dissatisfied, less forgetting to be still, grateful, joyful.
Advent is such a precious gift to all of us who are tired, uber-aware of our own unworthiness, and aching for a reprieve from worldly pressures. "Come," this season of preparation calls to us, "lay aside your busyness, passions and distractions, and reflect on the Mystery of  the Incarnation. Allow it to sustain you, define you, and fill you with Light, and compassion for your neighbor."
The Church's invitation to prepare for the Nativity is above all a command to us to open the gates of repentance, that Christ may enter our very being and be born anew in our hearts, and to offer our virtues to the newborn king. Instead of gold, we offer charity; instead of frankincense, prayer, instead of myrrh, repentance. Then, like the song of the angels and the adoration of the shepherds, our worship will be pure and our love without pretense.

Vassilios Papavassiliou, Meditations for Advent
And speaking of meaningful gifts, I have one for you! I love, love, love investing in people and their God-given talents and vocations. Thus I was more than happy to participate in this giveaway from Aaron and Emily Reynolds, co-owners and founders of "The Simple Soap."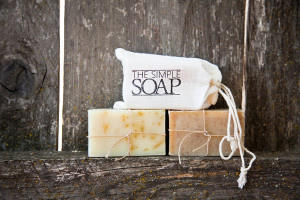 The Reynolds are recent converts to Orthodoxy, and have a great thing going with their monthly subscription boxes of homemade organic soaps that smell absolutely divine! Here is an excerpt from their website:
3 Bar Monthly Subscription Box
$ 19.99
Each month we'll send you three organic, handmade bars of soap. With over 20 amazing scents, each month's soap is sure to excite your senses. You'll love the excitement of exploring the unique blend of soap in every box. A single bar of soap will usually be enough for one person for an entire month. Our soaps are perfect for everyday use in the shower or by the sink. They also make an amazing gift that just about everyone will love.
You can see all of their soaps HERE and follow them on Facebook HERE. Today, I'm giving away three of their beautiful soaps: Organic Brisk Mint, Organic Fresh Citrus Scrub and Organic Cinnamon Scrub! To enter into the drawing leave your name and e-mail address in a comment on this post. On Monday, I will randomly choose a winner!
Thank you, Aaron and Emily!
And thank you fellow journeyers for falling and get up again and falling and getting up again right along with me! May this Advent flood your heart with hope and mercy, and increase your faith.